Welcome to MidWeek Tease, where authors share tempting snippets to tide you over till the weekend. A huge shout out to author Angelica Dawson for hosting our blog hop every week!
Happy Fourth of July! We thought we'd add a little summer heat today, ever mindful of the liberties we enjoy.

EXCERPT
Paul gathered Jen into his arms for a long hug. "You both look scrumptious. Good enough to eat. Right, Brett?"
Brett nodded. Jen noticed Kim made no move to break away from Brett's arms. She watched the olive-skinned woman drag her lips across Brett's wrist before lifting it up and sliding onto the curved bench.
Jen slid in from the other side, with the guys sitting on either end. A bare leg brushed against her left leg, a trousered one against her right. If those legs were meant to only tease, she'd be very, very upset.
BLURB
Hot to the Touch (Swinging Games, Book 15)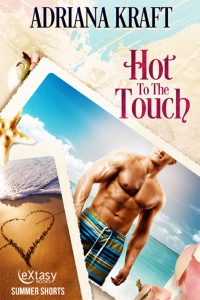 Can the summer get any hotter? Escaping Southern Indiana summer heat, swingers Brett and Jen check out a Minnesota clothing optional RV resort, where the rules are very different from the swing lifestyle venues they're used to. When they spot a hot looking couple in the swimming pool, they're definitely interested, but they know better than to make the first move. Will Paul and Kim turn out to be players, or will Brett and Jen get a cold shoulder?
BUY LINKS
Amazon   Barnes & Noble    Kobo
Smashwords   Extasy Books
~ o ~ o ~ o ~ o ~ o ~
Be sure to check out the rest of the Midweek teases from these marvelous authors: