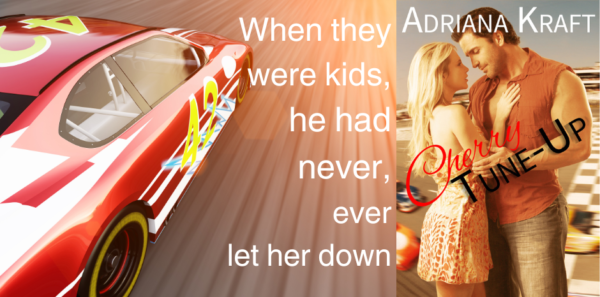 She's desperately seeking a sex tutor –
what if he demands total control? 
Now that Mr. Kraft and I have published fifty books, I thought it was time to give some of the backlist a little love. First up? (Up being the operative word…) Cherry Tune-Up, first released in 2007, then revised, updated and re-relased in 2013.
BOOK INFORMATION
Title: Cherry Tune-Up
Publisher: B&B Publishing: Ebook
Released: December, 2013
Novel: 31,000 words
Cover Artist: Rebecca Poole
Heat Rating: Four Flames
Explicit sex: M/F, F/F; Ménage: F/F/M; light bondage; cosplay; voyeurism; anal sex; sex toys.
BLURB
Desperate for a crash course in lovemaking, Bobbi Jo Martin seeks out her childhood best friend. A successful contractor with NASCAR dreams, Jack Day has never forgotten her—but how will he protect his heart?  In a moment of sheer genius he decides to play the role of master…
BUY LINK
https://www.amazon.com/dp/B00H5WCXSI/
WHAT THEY'RE SAYING…
Five Stars at Amazon:
Bobbi Jo and Jack are sizzling, and then they put Joy into the arrangement and wow! Bobbi Jo learns more than she imagined. It's a romantic, fun tale. Enjoy !! D. Hart
The very first word that came to mind when I finished this book was HOT! and I do mean HOT!! Crystal
Let me be Bobbi Jo – what a delightful story! Sheila
EXCERPT
Chapter One
Bobbi Jo Martin hung back in the shadows under the Highway Thirty-Seven Racetrack stands. Acrid smoke, fumes and dust from a long night of racing swirled in the hazy light but couldn't entirely block her view of her childhood best friend. There he was, Jack Day, strutting toward a red pickup with a buxom brunette hanging on each arm. She cringed—they must be the spoils that went to the winner of the feature race.
Deflated, Bobbi Jo shuffled toward her rental car. She'd had no contact with Jack for nearly ten years, but she just knew he'd help her with her current problem. When they were kids, he had never, ever let her down. She glanced one last time at the two women scrambling into the pickup. A solution would have to wait.
Her skin chilled, then suddenly turned hot. She needed him, damn it. She slid behind the wheel of the car, started the engine and rested her head on the steering wheel.
Bobbi Jo had a surprise for Jack—but would he welcome it? He had to relieve her of her virginity. Her childhood sweetheart had to teach her how to be a captivating lover—and there wasn't much time. Two weeks from tonight would be her wedding night, and she had to be skilled at lovemaking by then.
She banged her fist against the steering wheel. Why did he have to be involved with those two women tonight, of all nights? She'd hoped to set up a chance meeting in a public place. Now she'd have to go directly to him.
Would he want her? Goosebumps pebbled her arms. She couldn't let him reject her. He had what she wanted.