We've been writing fictional erotic romance adventures about couples who swing for over four years now – today, we thought we'd take our readers behind the scenes for real!
JJ's Western Swing is a friendly, comfortable on-premise swing club located about an hour west of Las Vegas, in Pahrump, Nevada. Club hosts Jenny and Johnny offer parties in their private home – but don't be fooled into thinking this is a small venue or that it might cramp your style. Their home is a spacious ranch on two and a half acres, surrounded by a privacy fence. There's room inside the fence for up to three RV's (electrical hook-up only), but be sure to make a specific RV reservation if this is an option you'll need.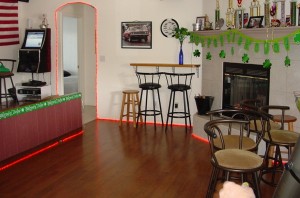 Inside the house, you'll find a dance floor, juke box, a small stage with a stripper pole (and there will always be someone who pole-dances…), two private playrooms, an open playroom with a massage table and various restraint equipment, a full kitchen, buffet and dining area, and a couple smaller gathering spaces, with plenty of seating.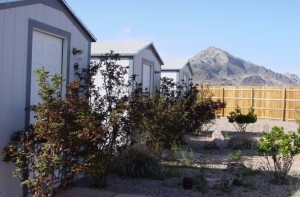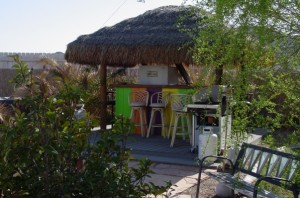 Outside there's a swimming pool (open in season), a hot tub (usually year-round), a tiki bar, a fire pit, several bungalows for additional play rooms, and again, lots of seating. Towels and bathrobes are available by the hot tub, and also by the massage table. The bungalows have air conditioning and heating, comfortable beds, and space for storing overnight luggage for guests who've elected to spend the night.
How to dress? Any way you want! Some party-goers are in street clothes – jeans or shorts, tee-shirt or polo shirt, for example. Others wear sexy club clothes. There are no limits on what you may reveal, and it won't be long before at least a few people are wearing no clothes at all. Sometimes there's a theme, such as St. Patrick's Day, or sexy lingerie, or Halloween. Themes will always be posted on the website.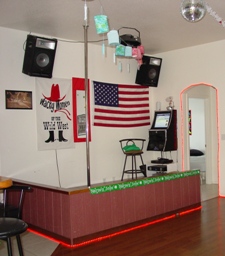 The party usually gets started sometime between 7:00 and 8:00 p.m. on a Saturday night, and the juke box plays as long as people are awake. There's lots of opportunity for dancing, and anyone is welcome to take a turn at the pole, as well. A buffet supper is set out once the party gets going – excellent food, and plenty of it, traditional Irish corned beef and cabbage for St. Patrick's Day, for example.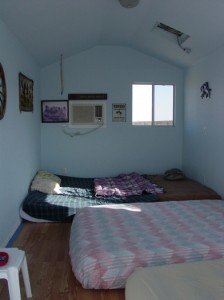 Splitting off in pairs or foursomes or more-somes may get started after 10:00 or 11:00. The only end-point for play is governed by whether the bungalow you're playing in is reserved for a couple to spend the night – they'll probably want you out of their space when they're ready to sleep.
The morning-after party might get going between 9:00 and 10:00 a.m., with coffee and always a generous home-cooked brunch. Guests may lounge, play, use the pool or hot tub, dance some more, or just gather and chat, and the party will ultimately break up by mid-afternoon on Sunday.
Typical attendance at parties is anywhere from fifteen to twenty-five couples. Single women are welcomed, and select single men may attend by invitation only. There do appear to be a number of "regulars" who are often in attendance, but don't let that put you off. This club is the polar opposite of cliquey. Both the hosts and the regulars go out of their way to help newcomers feel welcomed. The ambience is one of acceptance, and party-goers of a wide range of ages and body types enjoy the special benefits of friendship that come with being in the lifestyle. If you've never had a swing club experience, JJ's Western Swing is a comfortable, relaxing and welcoming venue to get your toes wet.
If you go:
Reservations: Check out their website at http://www.jjwesternswing.com/ for information on upcoming parties, and be sure to make a reservation. Parties are typically held monthly or more frequently, depending on the season. When you sign up, you'll have an option of reserving an overnight stay and joining the morning after party – and if you didn't reserve for overnight and change your mind after you arrive, there'll probably be a way to make that work. If you're an SLS member, you have the option of putting a JJ's party icon on your profile and checking the list of who else is attending from SLS.
Cost: There is no standard cost to attend the party. Instead, party donations are used to offset the cost of hosting, and a portion of the donation is given to a local charity working with victims of abuse. Most couples who stay overnight and attend the brunch average about a thirty dollar donation. As with many swing clubs, drink set-ups are included, but party-goers are responsible to bring their own alcohol.
Location: The town of Pahrump is about sixty miles from the Las Vegas strip, a mostly easy drive over a well-maintained highway (Nevada State Rte. 160) with passing lanes in the mountainous section. The elevation at the pass is 5502 feet, so in winter months you'll want to check for weather conditions if it's raining in the valley, because it can snow at the pass. The address and complete directions are available at the club WEBSITE.