Welcome to MidWeek Tease, where authors share tempting snippets to tide you over till the weekend. A huge shout out to author Angelica Dawson for hosting our blog hop every week!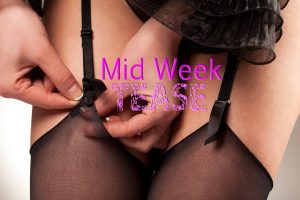 Last week we sampled Brett and Jen's very first swinging date with another couple. By Book Five in the series, The Adventure Continues, they're seasoned swingers, and they stage their very own house party. Here's a peek at what happens later on…
EXCERPT
Jen yawned. "Has it only been two months since we threw that party that launched Donna and Ryan?"
He thought a minute. "Yep, almost two and a half months. And they certainly are still soaring. How about us—are we still soaring?" Brett swallowed as Jen skimmed his cock until it became rock hard.
"Our sex lives have never been better," she replied. "And you know it. Swinging has inspired us to try so many things we never would've thought of. Not that everything needs to be tried more than once."
"You didn't look like you enjoyed the cuffs."
"Nope, not me. Works for some, but not for me. What about you, Brett—are you satisfied with what we have?"
He winced. "What you and I have is fantastic. And throwing Donna and Ryan into the mix has been fun, if not challenging at times." He scowled. "Still, I fear getting into a rut. Will all of this become so routine it won't matter?"
"That's hard to imagine. I hope we don't get jaded. We have met swingers who seem to have lost the spark."
"Exactly."
"How do we prevent that from happening to us?"
"I'm not sure. We probably need to listen to our own advice—remain open to surprise. Continue seeing this as an adventure to be experienced for what it is. Some of our playmates will become lifelong friends, others will fade after the newness has worn off, and others, as we know, only want a onetime encounter in the first place."
Jen chuckled. "You're right—the pool of playmates is quite fluid. Good that we enjoy the process of finding new prospects and that we like meeting new people. It's been a while since I seriously looked for new contacts. Maybe it's time." She leaned down to bite his shoulder. "But first I want you in me."
He raised an eyebrow as her last sentence hung between them and her neck flushed. "Where?"

MORE ABOUT THE SERIES
In our fifteen-book Swinging Games series, you can experience the thrill of anticipation, the anxious moments of that first lifestyle encounter, the heat of three, four and more-way erotic adventures, house parties, swing clubs, lifestyle resorts and more, through the eyes of our hero and heroine, Brett and Jennifer Andrews. Here's how they got their start:
What's a girl to do? Happily married with all her children grown, Jennifer Andrews has finally figured out she's bisexual – but just turning on to hot f/f fiction and videos isn't enough. She wants the real thing, and she wants to share it with Brett. Addition sounds so much better than subtraction. Will the swing lifestyle be the answer they're seeking? They're determined to find out.
Book One, Anticipation, is all about how much just the fantasies of what might happen send their sex life spiraling to giddy heights.
Book Two, Hook-Ups, takes the reader on an up close and personal tour of Brett and Jen's first swinging date with another couple. It's available FREE at the Extasy Books website.
It's no surprise that once they dip their toes into the swing lifestyle, they dive right in – for a total of fifteen adventures. We hope readers will be enticed to dive right in and revel in the fantasies Brett and Jen inspire.
FREE BOOK, BUNDLE SALE
If you hurry, there are two bargain ways to read this series:
Book Two is always FREE at the Extasy website:
http://www.extasybooks.com/swinging-games-1/hook-ups/
The bundle of books One through Five is ON SALE at half price for a limited time at Extasy Books, only $5.28.
http://www.extasybooks.com/swinging-games-bundle-1-5/
It's easy to download Extasy ebooks to your Kindle:
1) set up an Extasy Account if you don't already have one
2) add extasybooks.com to your approved email list in your Amazon account
3) add your device email address to your ExtasyBooks.com account
4) select the "Send to Kindle" option when you download your book
~ o ~ o ~ o ~ o ~ o ~
Be sure to check out the rest of the Midweek teases from these marvelous authors: