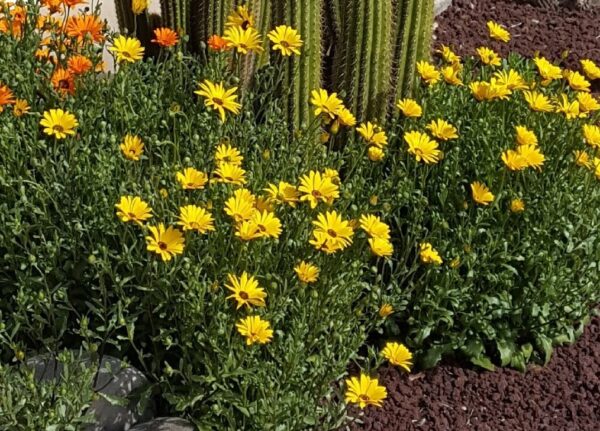 Most of the year here in the southern Arizona desert, "gardening" consists of either (a) nothing, or (b) moving landscape rock around. Having spent many years in the upper Midwest, I miss so many of my perennials – the snowdrops, daffodils, tulips, iris, peonies, and hostas I kept in several beds. None of those would survive here.
So I always welcome the moment when I can get my hands in the dirt again and cultivate growing things.
Thankfully, now is the season for setting a potted plant in the ground, and now is when our Desert Marigolds send up what seems like thousands of seedlings in front of the house.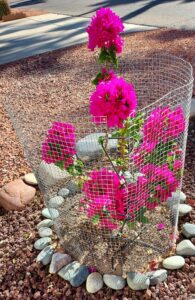 I've nursed a fledgling bougainvillea in its pot through two summers and one winter. It's finally happy and established enough to be set in the earth. We spent a week digging the hole – with our hard soil, the process consists of soaking the spot with water, waiting a couple days, digging down 4 or 5 inches, then repeating the process – to 10 inches, for this one. But it's planted and thriving.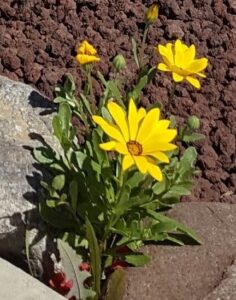 And the marigolds? Here's a photo from a few years back. They're a major natural wildflower throughout much of the Sonoran Desert, and our plot was seeded with them when we moved in. I quickly learned that unless I thin them as they emerge, I'll have a messy non-lovely patch of tangle. Since they pop up everywhere, each year I decide where I want them to end up, then rake the rocks over the spots where I don't want them, uprooting the sprouts. This year, they'll circle the white Oleander we just planted out front as well.
Most of the characters in my novels are too busy with other things to spend time gardening, but that doesn't mean they don't like gardens. Here's a scene from a recent release, Smoldering Passion. Melissa lives in a walk-up apartment in Brooklyn, but she's only a few blocks from the beautiful Brooklyn Gardens, where she often escapes when she needs a break.
EXCERPT
Melissa stood and rotated her shoulders. She had to get out of her apartment. It was a beautiful day, and she didn't want to spend it all inside.
She grabbed her keys and some cash and headed down the stairs to street level. She walked briskly, suddenly knowing where she wanted to be.
Shortly, she turned in at the entrance to the Brooklyn Botanical Gardens and slowed her pace, pausing to watch the ducks in the Japanese water garden. This was space for relaxing – for breathing deeply, soaking in colors and breezes and scents. The riot of spring blooms was long gone, and summer was at its peak.
She headed for the Shakespeare Garden and was relieved to find a shady bench empty in a secluded corner. Daisies, black-eyed Susans, and daylilies formed a casual cluster in yellow, white, and orange beside the bench. Further off, some taller mauve blooms she couldn't name were full of butterflies, and a curly-headed toddler ran up to them laughing gleefully. The child's parents stood nearby, holding hands, happy, as if they had no care in the world.
BOOK INFORMATION
Title: Smoldering Passion
Passion Series, Book One
Can be read as a stand-alone
Author: Adriana Kraft
Publisher: eXtasy Books
Publication Date: April 7, 2023
ISBN 9781487438159 ASIN B0C211488L
Length: 70,259 words   249 Pages
Genres: Erotic Romance, LGBT Romance
Pairings: MF, FF, FFF, FMF, MFM
Tags: Contemporary, Menage, Bisexual, FM, FF, New York City, struggling artist, age gap
Heat rating: four flames
BLURB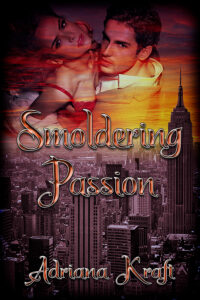 Her passion smolders. Will it ignite?
When art student Melissa Hopkins finally unpacks the two boxes her Aunt Phoebe left for her and sees Phoebe's black and white photos, it's like opening Pandora's Box. A simple quest to find a new job morphs into an about face—not just in her art, but in her career and personal life. Short on funds now that her graduate stipend is ending, she applies to work where Aunt Phoebe once worked: a center for sexuality and sex studies.
Sworn off women after a disastrous relationship, Center Director Harry Gage ignores the danger signals and hires the striking young woman who reminds him of his former lover. Her air of innocence will captivate center viewers, so he's sure she'll be a hit on camera. What he's not prepared for is how she pierces his heart.
When the sparks flare up, is it love or just sex—and what must each of them risk to find out?
UNIVERSAL BUY LINK