Welcome to MidWeek Tease, where authors share tempting snippets to tide you over till the weekend. A huge shout out to author Angelica Dawson for hosting our blog hop every week!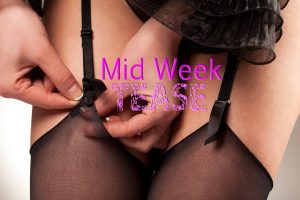 I really loved this comment from last week: "Here's to being fired and kissed at the same time!" So we'll pick right up with the moment where we left off…
EXCERPT
Tia's lips parted tentatively.
Needing no more invitation than that, Meg leaned into Tia to cover her lips with her own. Tia's soft moans filled her ears and her heart.
It was Tia who shifted enough to begin exploring Meg's mouth with her tongue.
Holding back a chuckle, Meg responded in kind. She loved the feel of Tia's hands roaming over her bare back to clutch her rump. Their loins began grinding in unison, making Meg lose her breath.
And then Tia broke away abruptly. Her eyes had a wild look about them that Meg had never witnessed. With obvious effort, Tia steadied her breath and nodded. She grinned slightly. "Don't be alarmed. Our time will be soon. But not now. I have other clients to see. Sunday. Will you be available Sunday? I don't work on Sunday."
"I'll be here." Meg exhaled sharply, trying to regain her footing. "I take it I'm no longer a client."
Tia shook her head, and her lips twisted into a wide grin. "I thought you fired me."
"I did." Meg chuckled, padding across her living room to retrieve her checkbook.
"What about your boyfriend?" Tia asked as Meg wrote out the last check she'd give Tia. "Will he be gone?"
"Don't worry about Jack. He'd love to watch, but it's his loss. He has a weekend poker tournament. He probably won't be around until sometime on Monday."
Tia nodded. "Good." She took the check and stuffed it in a small purse.
BLURB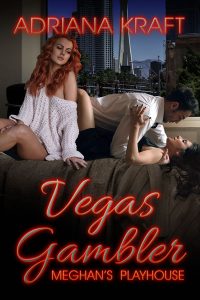 Time off in Vegas with her latest squeeze? Nothing could be better—unless maybe Meg adds another woman, or perhaps another man as well. What happens in Vegas…
Fresh with success from a recent stint in a musical on the Las Vegas Strip, Meghan Keenan takes some time off to play with her current flame, Jack Hawthorne, professional poker player. She's delighted to add her petite masseuse Tia Minh to the mix and even more thrilled when she learns Tia's relationship with her boyfriend Tony Sanders is on the skids. It's the perfect challenge!
Tia has different ideas—she thinks Tony would be perfect for Meg, and she conspires to throw them together any way she can.
Ever the gambler, Jack catches on to Tia's game quickly and keeps the ruse going behind Meg's back. Who knew his heart was up for grabs?

BUY LINKS
Vegas Gambler by Adriana Kraft
Meghan's Playhouse Book 5
Release Date: February 23, 2018
Extasy Books
Isbn 978-1-4874-1333-0
Word count: 26,000
Genre: Erotic Romance, ménage, LGBT
Heat Level: Five flames
SALE
From now through April 15, all our backlist books are on sale 30% off at Extasy Books! This includes books one through four in Meghan's series, as well as all our Swinging Games and other erotic romance books at Extasy.
~ o ~ o ~ o ~ o ~ o ~
Be sure to check out the rest of the Midweek teases from these marvelous authors: