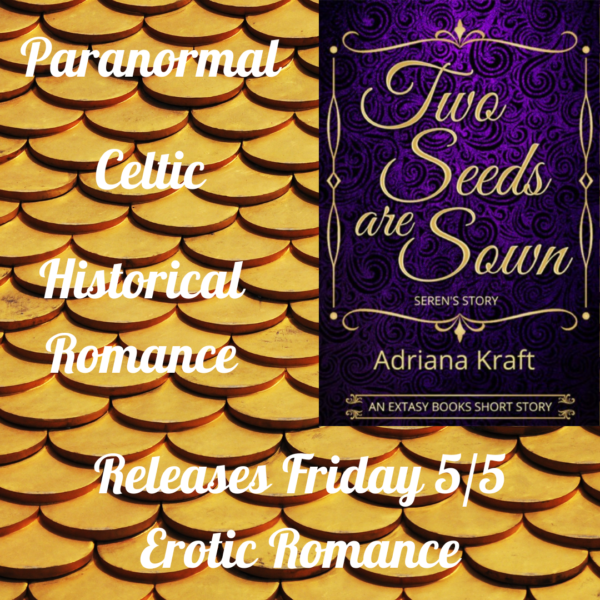 Resist, or yield? The choice is not Seren's alone.
Welcome to MFRW Hooks, where the authors of Marketing for Romance Writers share snippets from their stories to entice you into wanting more. Be sure to click on the links at the end to travel!
Off and on for the last several months, I've been devouring fiction set in the first four centuries AD, focused on the Celtic peoples and the Roman occupation of Britain. So it's probably no accident that sometime last winter, my husband and I unearthed a plot fragment we'd played with and never followed up on: What if a young Welsh tribeswoman was captured by a high-ranking Roman soldier to be a courtesan for him and his wife, and was separated forever from her only child, a daughter? And then, what if it's her task across time to re-unite her family through bringing together a descendant of her daughter and a descendant of her later Roman son?
Seren's Story, a two book erotic romance series, is the result. Book One, Two Seeds are Sown, releases this Friday at Extasy Books, and Book Two, From Beyond the Curtain, will follow in July.
EXCERPT
Set Up: It's been three days of arduous travel since Seren was captured, but she now stands in a lavish stone bath with the wife of her captor…
Once they'd stepped out of the water and toweled off, Livia pointed out two gold bands on the nearby shelf. "You will wear the smaller bracelet around your left ankle and the larger band around your throat. As you can see, they are beautifully adorned with our family crest. No one of Roman descent will dare touch you without my consent."
Seren stood perfectly still as the woman attached the bracelet and the torc.
Livia grinned at her. "You could waste hours trying to get them off—hours you should be thinking about me. Now then, for the time being, you will not be given your own room. You will either sleep with me, with my husband, Scipio, or with both of us. Understand?"
Seren nodded. She listened carefully to her fate. Escape would be difficult. And she couldn't even try until she'd earned a degree of trust.
"You will have no household duties," Livia continued, "other than to tend to my boudoir and baths. I will instruct you further in our language to improve your fluency. I will teach you board games, more of Roman culture—you will want to blend in when we return to Rome. And of course I will teach you more of the refined arts of lovemaking. I would also like to hear about your mystic religion. It sounds so fanciful compared to ours, but I have an eager mind."
Danger signals flared in Seren's brain, but she kept her face carefully schooled. Sharing a few harmless tidbits might be a way to humor her captor and perhaps build trust. But what did Livia already know? She and her husband weren't far off the mark—Seren knew for a fact she was special.
Seren's father had made this clear. She'd been given special training as a woman because of her gifts. Her father had taught her that long before her time, the Romans had massacred all the Druids they could find, but her father was not her only teacher. From her grandmother she'd learned that the Romans would never succeed in stamping out the magical gifts—the powers that often passed from mother to daughter or to granddaughter, or rarely, to sons. The powers Seren's grandmother had passed to her. Seren vowed never to let Livia know any of this.
BOOK INFO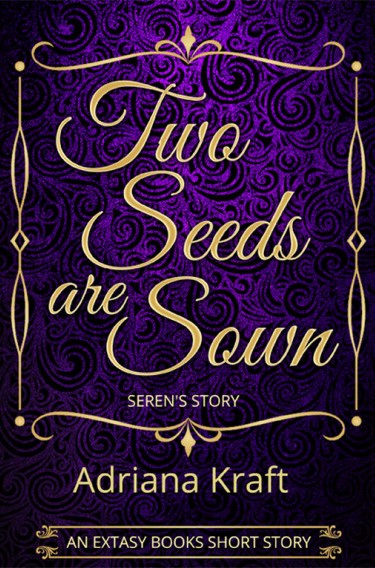 Title: Two Seeds are Sown
Series: Seren's Story
Author: Adriana Kraft
Publisher: eXtasy Books
Publication Date: May 5, 2023
ISBN  978-1-4874-3893-7
Length:   6238 words   24 Pages
Genres: Erotic romance, Historical Romance, Paranormal
Pairings: FF, FM, FFM, MFM
Tags: Celtic, Roman Britain,
Heat rating: 4 flames
BLURB
Resist, or yield? The choice is not Seren's alone.
Late in the Roman occupation of Britain, a young Welsh tribeswoman is hand selected and captured to serve as a courtesan to a Roman Legate and his wife. Escape proves impossible, but Seren is never completely abandoned. Her grandmother's cryptic prophecy through their psychic connection seals her fate—it will be Seren's lot to yield. The words both relieve Seren and further mystify her: You must find pleasure in your present life. Fulfillment will not be yours until after you cross into the next.
BUY LINK
Pre Order at Extasy Books, all formats available:
https://www.extasybooks.com/Two-Seeds-are-Sown
Additional Links coming soon!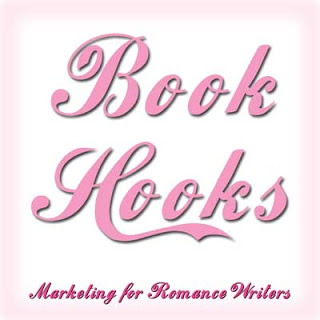 Don't miss the rest of today's enticing book hooks – click on the links to travel!