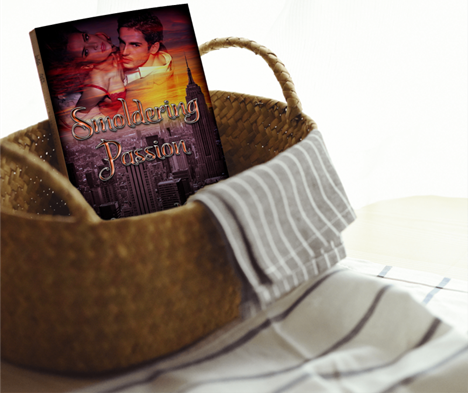 Her passion smolders – will it ignite?
Welcome to MFRW Hooks, where the authors of Marketing for Romance Writers share snippets from their stories to entice you into wanting more. Be sure to click on the links at the end to travel!
Smoldering Passion (Passion Series Book One)
Coming to Extasy books April 7:
https://www.extasybooks.com/coming-soon/Smoldering-Passion
EXCERPT
Set-up: Melissa's first day on her new job…
Standing outside the modest Greenwich Village brownstone that housed the Center for Sexuality and Sex Practices, Melissa smoothed out her skirt and ran her fingers through her hair. She'd settled on an outfit she considered neither too frumpy nor too sexy. The pink blouse had been purchased at a middle-of-the-line chain store, and the black skirt fell well below the knees. She'd shied away from anything that might be construed as form-fitting and provocative.
She entered the reception area and was greeted with a warm smile by the kindly older woman who'd welcomed her the previous week. But it was the other woman, stepping toward her with hand extended, who caught her attention.
The olive-skinned woman had an infectious smile that put Melissa immediately at ease. They must be about the same age and were very similar in height and build. The woman wore a colorful peasant dress gathered at the waist and flowing freely at her ankles.
"Welcome," she said, "I'm Inez Ramirez. Harry asked me to show you around."
Melissa shook the woman's hand, not at all surprised by the warmth of her touch. She exuded warmth. "Hi, I guess you know I'm Melissa. Melissa Hopkins."
Inez nodded. "Did Harry give you much of a tour when you were interviewed?"
"Not really. I saw his office, and that's about it."
"We'll start on this floor. Follow me."
"How long have you worked for the Center?"
"Eighteen months." Inez led the way into a large room with wall-to-wall bookcases and files. Three computers, printers, and techie things beyond Melissa's knowledge sat on several desks and tables. "This is our library," Inez said with obvious pride. "We're also hooked up with three university libraries. We have access to just about anything that's been done in the area of sexology."
Melissa looked around curiously. "This is rather daunting. So are you a research associate, too?"
Inez smiled. "Yes. And much of our work takes place in this library. Of course, in addition to standard books, journals and papers, we have photo collections, film, video, and DVD collections."
"Of course," Melissa muttered. So how many references included her aunt?
"One of our major ongoing tasks is taking archival data and transferring it to the latest storage options. You are familiar with the computer and storage systems?"
"Some. I'm computer literate, but I don't know much beyond basic word processing." She frowned. "Funny, Mr. Gage hardly mentioned the library at all. He didn't provide much detail."
Inez laughed. "That doesn't surprise me. Harry—and we do call him Harry, not Mr. Gage—is the idea man. He's extremely committed to the Center's vision of educating and helping individuals own and honor their sexuality, but he's hardly a detail guy. That's more Claire's bailiwick."
"Claire?"
"Claire Johnson. Our co-director."
"Co-director?"
"He really didn't give you much detail. Claire Johnson and Harry co-direct the Center. Claire's in charge of marketing and development—kind of the pragmatic anchor for the vision man. Come on. I'll show you the main production room."
When they stepped into the next room, Melissa had to work at breathing. The room was mammoth. It had probably been two or three rooms in a previous era.
"There are at least two stages set in here at any one time. Depending on what we're working on, there may be more. Watch where you're walking. We don't want you tripping over cables your first day on the job."
"Thanks." Melissa chuckled. The floor was littered with cords running every which way. Much of the lighting system was in view, and there was a sound system and all the props of any stage.
"The bedroom set is quite standard," Inez's eyes twinkled, "though the bed is king-size. Over here is a fake fireplace, a plush carpet, and a couple easy chairs."
Melissa tried not to focus too much on what actually transpired on the bed, the carpet, and the chairs. She needed to take this entire situation one baby step at a time. "So are all the productions done here?"
"Goodness, no." Inez sounded surprised. "That'd get pretty boring for the actors as well as the viewers. These sets can be replaced, but the Center also has several rich benefactors who periodically provide access to their homes. And of course, there are outdoor shoots."
"Outdoors," she squeaked.
"Of course. Come on, I'll show you our offices."
She led the way upstairs. They walked past Harry's office. He didn't seem to be in. Another door had the label Claire Johnson, Co-Director on it. Interesting that Melissa hadn't met the other co-director—but maybe there was a sharp division of labor between the two directors.
At the end of the hall, Inez turned into a medium-sized cozy office area. There were two desks facing each other. Behind one desk were colorful pictures of sun and surf. Clearly, that was Inez's work area. The wall behind the other desk was bare.
"That'll be your workspace," Inez said. "Our computers are networked with those in the library. I hope you don't mind sharing. Did you expect your own office?"
Melissa shook her head. "I didn't know what to expect. Maybe a cubbyhole. Harry never said. But this should be fine. It's quite spacious."
"We each have a desk, but we share the worktable and the couch."
"How many people work at the Center?"
"On a daily basis there are only eight of us. Much of the work is done by independent contractors. On days when there's a shoot, we might have a dozen or more people running around here."
"So most actors are what you call independent contractors?"
She saw a look of puzzlement flash across Inez's face. "Yes, most are couples. Most are married, actually."
"But not all."
"Right."
"So how many singles are there?"
"Two women and two guys." Inez looked like she was about to swallow her tongue.
Melissa blinked and gasped. "You?"
Inez nodded.
"And me?"
Again, Inez nodded.
"Harry expects us…"
"Yes." Inez's tone hardened. "That is part of what you signed on for, but if I don't live up to your expectations, I…"
"No," Melissa interrupted. "I'm sorry. I don't want to offend you. It's just that I've been trying to adjust to this whole thing in the abstract." She squinted at Inez. "But you're hardly an abstraction."
Inez giggled. "I hope not." She smirked. "So I will be your first woman?"
Melissa managed a faint nod.
Book info
Smoldering Passion (Passion Series, Book 1)
By Adriana Kraft
Release Date: April 7, 2023
Length: 69,000 words
Tags: Erotic Romance, LGBTQ, Steamy, Menage, FM, FF, MFM, FFM, FMF
BLURB
Her passion smolders. Will it ignite?
When art student Melissa Hopkins finally unpacks the two boxes her Aunt Phoebe left for her and sees Phoebe's black and white photos, it's like opening Pandora's Box. A simple quest to find a new job morphs into an about face—not just in her art, but in her career and personal life. Short on funds now that her graduate stipend is ending, she applies to work where Aunt Phoebe once worked: a center for sexuality and sex studies.
Sworn off women after a disastrous relationship, Center Director Harry Gage ignores the danger signals and hires the striking young woman who reminds him of his former lover. Her air of innocence will captivate center viewers, so he's sure she'll be a hit on camera. What he's not prepared for is how she pierces his heart.
When the sparks flare up, is it love or just sex—and what must each of them risk to find out?
Click on the links to travel to the rest of today's hooks: