It's Halloween! All month long we've been featuring our romantic suspense The Unmasking, structured around the Celtic/Pagan calendar. The story opens just before Halloween/Samhain. After sharing That Kiss on Halloween night, Nancy and Matt develop a fun-for-now fling—at least, that's what they're thinking until this moment.
To write this scene, I ended up digging deep into my own experience. If you're an author, do you ever write a critical moment from your own history into a book?
Last week I gave you a peek into our personal story with my Meet Cute post describing how Hubs and I met. I'd had my sights on him for a long time, but once we started dating, he got way ahead of me. Nancy's dilemma in the moment below comes straight out of my history: I was afraid to say yes, but I was desperate not to lose him. Will Nancy take the plunge?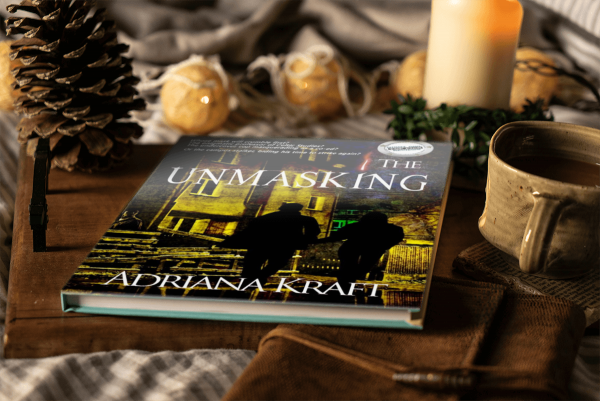 Matt has finally figured it out:
EXCERPT
"I love you, Nancy. And I don't know what to do with you."
Relief and fear swept over Nancy in such quick succession she couldn't tell which was which. He loved her and he still wanted her – relief, she decided. That was a start. So what was the fear? Hold on. Take your time. Speechless, she searched his face, her eyes brimming with tears, the bare beginning of a smile playing at her lips.
Matt held her gaze. "Are you ready for an open, honest relationship? Wherever it leads? No secrets. No withholding. No trying to protect me. Tell me what you feel, what you want."
There. That was the fear: he was too far ahead. Her smile froze in place. If she said no, she'd lose him. But she wasn't ready to say yes, either. Could they wait it out? Where to start? Clearly, it was her turn to speak.
"I'll try…"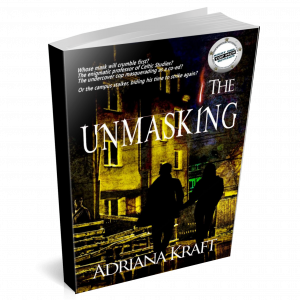 …I hope you'll read the book to find out if "I'll try" is enough – but then it's a romance, so you already know they'll work it out. For Matt and Nancy, the secrecy and betrayals are far from over.
Oh, and what did I do? I said "yes" even though I was quaking in my boots. We had tough sledding for the next couple months, but I've never regretted my choice. Happy Halloween!
BLURB
Whose mask will crumble first—
the enigmatic professor of Celtic Studies,
the undercover cop masquerading as a co-ed,
or the campus stalker,
biding his time to strike again?
Is anthropology professor Matt Bayfield the Blackthorn College rapist, or a potential ally? Aloof and unapproachable, Matt has academic ambitions. He can't escape Blackthorn College soon enough, and he doesn't want any entanglements to slow down his exit.
Nancy Appleby would like nothing more than to solve the string of campus rape cases before Thanksgiving so she can go home. The last thing she wants is a relationship to complicate her life—but she'll settle for a fling, especially when the sex sizzles.
The stalker has his own carefully crafted timetable, with a special date just for Nancy. Can Matt and Nancy force him out of his hidey-hole before it's too late?
BUY LINK
Available exclusively at Amazon
Always FREE to read on Kindle Unlimited