Some couples get a "Meet Cute" guaranteed to make your heart swoon. Cliff and Carol have a rougher beginning…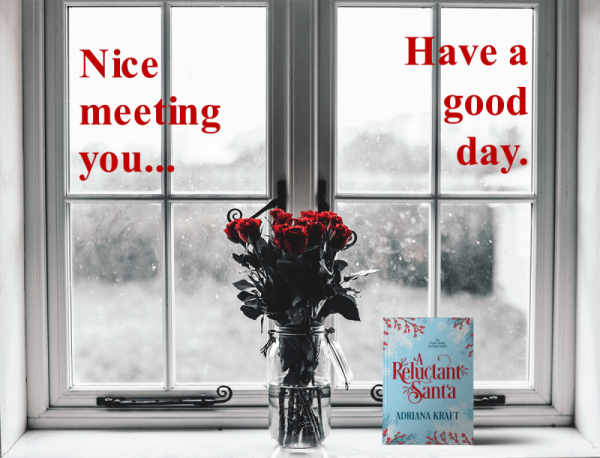 Welcome to Book Hooks, a weekly sampler by author members of Marketing for Romance Writers. Click on the links at the end to travel to this week's excerpts!
A Reluctant Santa, by Adriana Kraft
Release Date: December 2, 2022
Publisher: Extasy Books
Word Count: 12,698
Genre: Erotic Romance, Mature Heroine, Holiday Story
Heat Level: 3 flames
BUY LINK
Pre-order at Amazon
REVIEW
5 Stars
"Loved it. This was a fun book with a great storyline.  Carol and Cliff had super hot chemistry that made this even better. They made for a steamy story. It's a definite must read!
BLURB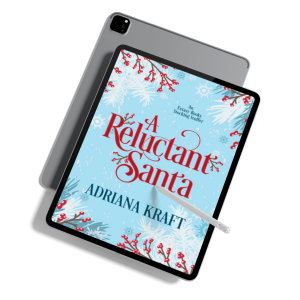 Is it ever too late to find happiness?
They're in their fifties. Grief-stricken (her) and battle scarred (him) from their previous loves, they don't want to risk more heartbreak, ever. They'll have to take it slow, talk it through, test the waters carefully. Can they make it happen at this speed, get it done in a short story, and reap the benefits of sizzling sex at their age? Why not?
EXCERPT
Set Up: Carol's best friend, Sue, has invited them both for lunch…
"Damn!" Sue looked at Carol, then at Cliff. "Sorry, I have to run. There's a crisis at work that apparently only I can solve. Enjoy your lunch. My treat."
Carol shook her head as Sue scurried off, thrust a handful of bills at the cashier, and exited the restaurant.
Cliff's soft chuckle redirected her attention. His short salt and pepper beard framed an inquisitive smile.
"I'm surprised Sue stayed as long as she did. You've known her much longer than I have. Is she always so obvious?"
"That's Sue." Carol absently brushed hair away from her eye. "What you see is what you get. A big heart, and too often more than a bit pushy. But the truest, dearest friend I've ever had."
Cliff nodded. "That's special. She left before the waiter came back to take our orders. Wonder how much she paid them! Do you want to stay? I don't know about you, but I'm hungry." He gave her a sheepish smile. "Besides, sharing a meal that's already been paid for with an attractive woman who seems as skeptical about this process as me might be an opportunity not to be missed."
Carol's breath caught—but she didn't want to look that interested. She shrugged. "Why not? So you don't do the so-called blind date adventure often?"
"Never. Until Sue twisted my arm so hard I thought it would break. By the way, I should add, I'm not disappointed I came. You do seem intriguing, and what is there to lose? We have a free meal to share, and who knows what we might discover.
"Sure. We can always walk away and say nice meeting you, have a good day."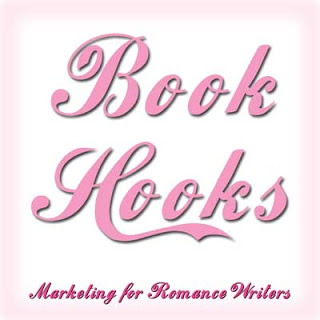 Click on the links below to travel to more tantalizing excerpts!