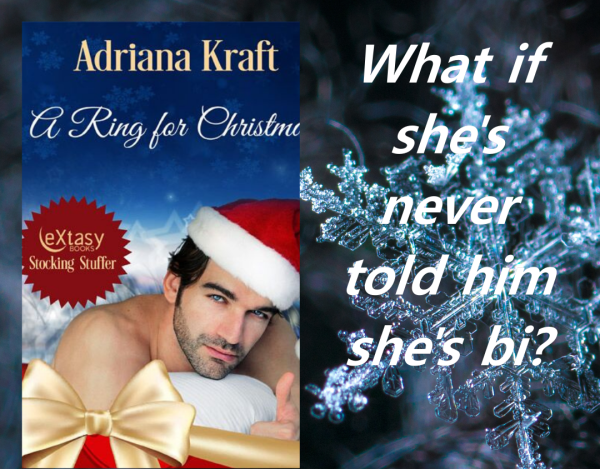 Welcome to MFRW Hooks, where the authors of Marketing for Romance Writers share snippets from their stories to entice you into wanting more. Be sure to click on the links at the end to travel!
When I and my husband first invented Meghan Keenan, we envisioned writing a sexy romp with lots of menage scenes, capitalizing on her bisexuality. We had no idea she'd hang around for so many books. We also were moved by the way she handles herself. She's always up front with potential relationships about the fact that she's bi and non-monogamous. What you see is what you get.
Her good friend in Las Vegas hasn't got that sorted out yet, and now she finds herself in a relationship that's turning serous but is missing a crucial piece of information…
BLURB
A ring for Christmas? Sometimes what you hope for and what you fear are one and the same.
In Las Vegas for a brief stint in a musical revue and ready for some uncomplicated sex with a kindred spirit, Meghan Keenan is only too happy to resume connections with her sometimes lover, Lisa Perkins.
But Lisa's in a quandary. Her most recent boyfriend has suddenly become serious, with hints of a diamond ring in her future – and she's never told him she's bisexual. What if he freaks? What if he makes her choose?
Professional photographer Bryce Henry spends his days up close and personal with beautiful models and actresses. Now he's deeply in love with Lisa and ready to pop the question, but even he wonders about long term fidelity. What does he want, and how bad does he want it?
What will happen when Meg takes hold of Lisa's problem and runs with it?
EXCERPT
Set Up: Lisa and Meg have spent the afternoon making love, and now they're sitting in Lisa's kitchen.
"So you think Bryce is going to give you a ring for Christmas?" Meg asked.
Lisa bit her lower lip and nodded.
Meg cocked her head to the side. "And that's not good? Or is it? Do you love him?
"Of course I love him," Lisa retorted. "That's not the problem."
"Well, he must love you, or he wouldn't be giving you a ring."
"I know he does." Lisa paused, tightening her finger around the coffee cup. "He says he does. I believe him. At least he thinks he does."
"Sounds like some hesitancy on your part. Are you hoping there will be a ring for Christmas?"
"Yes. But…"
Meg reached across the small table and patted Lisa's hand. "What is it? You know you can tell me."
"I know." Lisa pulled her hand away. "You're part of the problem."
"Me! How can I be part of the problem? I've only met Bryce a few times, including the other night. He seems like a nice guy. And the two of you seem to do well together."
"I don't mean just you." Lisa fought back tears. "Bryce doesn't know I'm into women. That I'm bi."
Meg gulped. "Oh my. And you think he'll dump you because you're bi?"
"I don't know. I should've told him."
"That's very true. Why haven't you?"
"I wanted to." Lisa looked away. "In the beginning, it didn't matter—we weren't serious. And then once things started to change, the time never seemed quite right. I didn't want to lose him. But now that he's been hinting about a ring, I seem to be paralyzed."
"But you have to tell him. Right?"
Looking back at Meg, Lisa nodded slowly. "He'll wonder why I waited so long."
"That can't be helped. Now is now. How are you going to take what apparently will be a leap of faith?"
"I don't know. I thought maybe you could help – that you might think of something I haven't yet. I've thought of simply blurting it out in the middle of lovemaking. Maybe he'd like another woman to join us. I've thought of writing a letter, but that seems too clinical and detached. I keep wringing my hands over this, but I can't get the words out."
"I take it you're not ready to give up women."
Lisa wet her lips. "I've thought about it. I can't do it. I'm bi. I like women as well as men. That's the way it is. I'm sure there are plenty of bi women who set aside their desire for the touch of a woman to be with a man. I don't think I can do it. That wouldn't be me. If I tried and failed, that would be worse than what I'm facing now."
BOOK INFO
A Ring for Christmas
Meghan's Playhouse, Book 4
Can be read as a standalone
Pages: 37
Words: 11, 276
Genres: LGBTQIA+, Erotic Romance, Holiday Story, Contemporary Romance, Menage
BUY LINKS
A Ring for Christmas is on sale at the publisher's, now through December 31, for half price:
BUY AT EXTASY BOOKS FOR $1.00  https://www.extasybooks.com/a-ring-for-christmas
BUY AT OTHER RETAIL OUTLETS  https://books2read.com/u/m2daPo
Click on the links to travel to the rest of today's hooks: