We're thrilled to be helping Beckey White and In the Pages of a Good Book celebrate their one year anniversary – congratulations, job well done! This Blog Hop runs today through Sunday, August 31. Enter my contest in the Rafflecopter link at the end, enter the hop contests, then click on the Linky List to travel to other authors and enter for their prizes.

FRIENDS
My husband is my best friend – how lucky is that? We were friends before we fell in love, so it's probably no surprise that's the kind of story we like to write, too.
Daisy Matthews and Nick Underwood start out being friends of a somewhat different nature. He's just launching into the world of Thoroughbred Racing, so he needs a mentor, and she fills the bill just fine.
What's she looking for? Someone experienced, gentle, and "safe," to keep her from still being a virgin when she turns twenty one in less than a month. Her own special variety of "friends with benefits," you might say.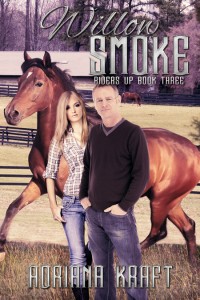 Willow Smoke
Riders Up, Book Three
September 1, 2014
B&B Publishing
Romantic Suspense,
Heat rating: three flames (explicit sex, m/f)
Pre-Order Link

BLURB
When the chips are down, there's nobody there. Willowy blond Daisy Matthews has survived the Chicago streets with this mantra but is unprepared for the much older Nick Underwood's urgent pursuit. The wealthy businessman receives a thoroughbred in payment for a bad debt and is thrust into Daisy's world. She teaches him about horse racing; he teaches her about love. When Daisy's seamy brother-in-law threatens Nick's safety, she doggedly tries to stop him by herself, but flees to the familiar streets when he attacks. Can Nick find her in time – and if he does, will she still want him?
REVIEWS
Five stars at Goodreads: "…dreams can become reality, love can transcend age… Exciting, engaging and very entertaining story. The character interplay is spot on and the story is extremely well written." Donna H.
EXCERPT
"So tell me," Nick said, "where can I find a horse named RainbowBlaze?"
"RainbowBlaze!" Daisy gasped and glared at him again. "Why? What do you want with her?"
"Damn, you've got to be the most protective woman I've ever encountered. If you must know, she's my horse."
Daisy opened her mouth as if to speak. She glanced quickly at the chestnut mare."There must be a mistake," she stammered. "RainbowBlaze belongs to Michael Barnes."
Nick crossed his legs and leaned against the stable wall, giving Daisy Matthews a slow satisfied smile. He'd found his horse. And he had a new employee. This could be more interesting than he'd imagined.
Furthermore, being his employee made Matthews safe to be around. He had a firm rule against personal involvements with employees. He flashed a look at the slender woman's nipples that showed faintly through an orange tank top. Didn't she know what she looked like?
Too young. He closed his eyes. He might be old enough to be her father. His eyes sprang open and he appraised her again. Maybe, maybe not.
GIVEAWAY
I'm giving away one free download of Cassie's Hope (Riders Up, Book One) – Click on the Rafflecopter link to enter!
Here are the Rafflcopter links for the main Hop Prizes:
One for the Kindle a Rafflecopter giveaway
One is for Just Authors
One is for an assortment of other goodies from gift cards to ebooks…
Click to Travel
Click on the Linky-Link graphic to travel to other Hop participants.