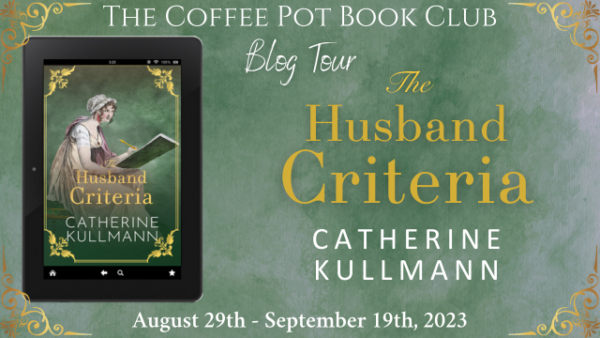 A light-hearted, entertaining look behind the scenes of a Season that takes a different course with unexpected consequences for all concerned.
BOOK INFORMATION
Book Title: The Husband Criteria
Series: The Lorings, Book #3
Author: Catherine Kullmann
Publication Date: 24 August 2023
Publisher: Willow Books
Page Length: 297
Genre: Historical Romance / Regency Romance
BLURB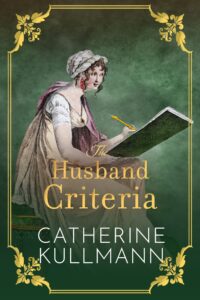 London 1817
The primary aim of every young lady embarking on the Spring frenzy that is the Season must be to make a good match. Or must it? And what is a good match? For cousins Cynthia, Chloe and Ann, well aware that the society preux chevalier may prove to be a domestic tyrant, these are vital questions. How can they discover their suitors' true character when all their encounters must be confined to the highly ritualised round of balls, parties and drives in the park?
As they define and refine their Husband Criteria, Cynthia finds herself unwillingly attracted to aloof Rafe Marfield, heir to an earldom, while Chloe is pleased to find that Thomas Musgrave, the vicar's son from home, is also in London. And Ann must decide what is more important to her, music or marriage.
And what of the gentlemen who consider the marriage mart to be their hunting grounds? How will they react if they realise how rigorously they are being assessed?
A light-hearted, entertaining look behind the scenes of a Season that takes a different course with unexpected consequences for all concerned.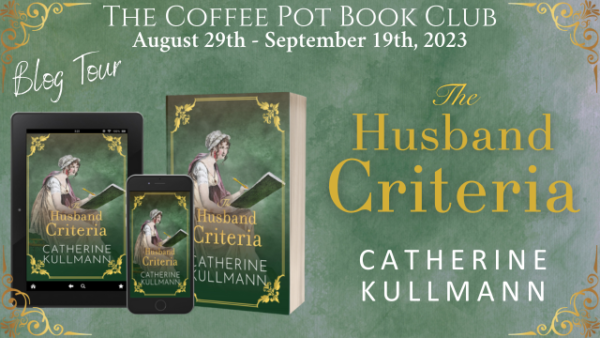 When I first saw the blurb for The Husband Criteria, it struck me that within the constraints of the Regency era, the author's heroines are seizing their power to make decisions for themselves, so I invited her to comment about this issue:
GUEST POST BY CATHERINE KULLMANN
Until well into the nineteenth century, on marrying, a woman gave up her own legal persona which was subsumed into that of her husband. This was known as coverture.
Under English common law, an adult unmarried or widowed woman was a feme sole, while a married woman was a feme covert. These are English spellings of medieval Anglo-Norman phrases (the modern standard French spellings would be femme seule "single woman" and femme couverte, literally "covered woman"). A feme sole had the right to own property and make contracts in her own name. A feme covert did not; she had very few recognized individual rights of her own. Husband and wife were one person as far as the law was concerned, and that person was the husband. A married woman could also not obtain an education against her husband's wishes.. If he allowed her to work, he was entitled to claim her income for himself. He could decide where she lived and whether she saw her children, forbid her access to the marital home or compel her to return there, under threat of imprisonment if she failed to do so. She, on the other hand, could not resort to the courts to force a deserter  husband to return to her.
By today's standards, Regency couples married hardly knowing each other. Think of Darcy and Elizabeth, and Jane and Bingley. In a modern relationship, they would just about have reached the point of exclusivity, or 'going steady' as we said fifty years ago, i.e. agreeing that they would not date anyone else. There would follow a longer courtship period; perhaps they would live together before marrying. These were not options during the Regency, Furthermore, it was almost impossible for a woman to get a divorce, while if her husband managed to divorce her—also a costly and long-drawn out procedure—she was socially ruined.
The patriarchal society also made it difficult if not impossible for a single woman to earn a living respectably, and the higher her social status, the more difficult this became. A lady could become a governess or companion without losing her status. These were generally live-in positions. She would be guaranteed bed and board, and receive a modest enough salary on top of it.
Marriage was the socially acceptable route to ensure a woman's livelihood and social status. But how to choose the right man?
Intelligent women were all too aware of the dangers of marriage. They would have seen examples of good and bad relationships within their families and acquaintanceship. Jane Austen, who chose to remain single, is subtly subversive in her descriptions of courtship and marriage. She describes the situations of women whose husbands and fathers do not make proper provision for them (Sense and Sensibility and Pride and Prejudice), the importance that your prospective husband is of good character (Mansfield Park), and the dangers of marrying for the wrong reason.  She also insists on that certain, indefinable quality that, in The Husband Criteria, Cynthia describes as attraction. Charlotte Lucas, who  is not attracted to Mr Collins, but schemes to marry him so as to have a comfortable home, has little hope, Elizabeth Bennet thinks, of being even tolerably happy.
Image of a Regency Wedding.  From The Matrimonial Ladder, Author's private collection.
EXCERPT
Chapter Four
"You and Marfield got on famously yesterday," Chloe said to Cynthia. The three girls had gathered in Chloe's sitting-room at Swanmere House to review the previous evening's entertainment.
"Yes, he is not as haughty as he appears. We were talking about the horrors of bad dancing partners." The others laughed as she explained their idea of dancing badges. "We should add them to our Husband Criteria."
"Husband Criteria?" Ann looked from one to the other.
"I'd forgotten that," Chloe said. "When we were in Weymouth two years ago, before either of us had come out, we talked about what we would look for in a husband, and how artificial an environment the Season is—the worst place to find the man one would wish to spend one's life with." She went to the little writing-desk and began to flick through the pages of a notebook. "Yes, here it is. The points are not ranked but in a mingle-mangle as they came to us." She took a breath. "He should be good-looking, but not an Adonis, well-dressed, but not a dandy, and definitely not slovenly. A good rider who also respects your riding abilities."
"Yes. There is nothing worse than being treated as a helpless Miss," Cynthia put in, "or having him ride too close to you, as if he must be ready to seize your reins."
"An interesting and interested conversationalist," Chloe continued. "He doesn't hold forth interminably, and expect you just to say 'yes and amen' but listens to what you have to say."
"That's really important," Ann agreed. "He should also share some of your interests. I could not marry a man who detested music, for example."
"Yes. He must be kind-hearted, care about his family and be on good terms with them. If he is a widower, he should be a loving father, not just looking for a wife to whom he can abdicate all responsibility for his children."
"How are you to discover that?" Ann asked.
"That is difficult," Chloe said. "One can observe his behaviour towards others, listen to how he speaks of his family, but ideally one would have to spend some time with him, say at a house-party—long enough for him to let the company mask fall."
"Easier said than done," Cynthia said gloomily. "What about family and fortune?"
"A gentleman, of course. He need not be wealthy, but able to support a wife and family," Chloe said at once.
"Not a fortune-hunter," Cynthia said.
"Nor a gambler or a rake," Ann added. "I suppose we are dependent on our men-folk to ascertain those aspects of his character."
"We must keep our eyes and ears open," Chloe said.
"This is all very well," Cynthia said suddenly, "but what about attraction?"
"Attraction?"
"You know, that indefinable quality that draws you to one gentleman rather than another, has you all aflutter in the ball-room, hoping he will invite you to stand up with him?"
The three girls looked at one another.
"Do you mean love?" Ann asked.
"Not exactly. I think this comes before love. You know what I mean, don't you? The tremulous feeling when he smiles at you, or the way you dance in perfect harmony?"
"It has to be there too," Chloe said, "but it can't be the be-all and end-all, can it? What was that phrase of your old nurse?"
"'There's more to marriage than four bare legs in a bed'?" Cynthia recited. "But at the end of the day, that is what it will come down to, will it not? So it is essential that we do not find him distasteful in any way."
A more solemn silence fell. If pressed, they might admit to having dreamt of a lover's kisses, and were aware that, in the old phrase, a bedding followed a wedding, that this year's bride was next year's young mother. But they had never considered the realities of this natural progression in terms of that shadowy figure to whom 'one day' they would cede complete control of their person, becoming, as the law insisted, a femme couverte, subordinate to him in all things.
© Catherine Kullmann 2023
Author Bio: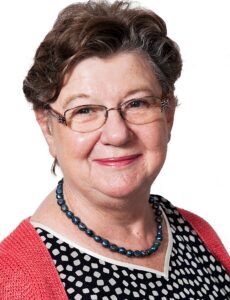 Catherine Kullmann was born and educated in Dublin. Following a three-year courtship conducted mostly by letter, she moved to Germany where she lived for twenty-five years before returning to Ireland. She has worked in the Irish and New Zealand public services and in the private sector. Widowed, she has three adult sons and two grandchildren.
Catherine has always been interested in the extended Regency period, a time when the foundations of our modern world were laid. She loves writing and is particularly interested in what happens after the first happy end—how life goes on for the protagonists and sometimes catches up with them. Her books are set against a background of the offstage Napoleonic wars and consider in particular the situation of women trapped in a patriarchal society.
She is the author of The Murmur of Masks, Perception & Illusion, A Suggestion of Scandal, The Duke's Regret, The Potential for Love, A Comfortable Alliance and Lady Loring's Dilemma.
Catherine also blogs about historical facts and trivia related to this era. You can find out more about her books and read her blog (My Scrap Album) at her website. You can contact her via her Facebook page or on Twitter.
Author Links:
Website:
http://www.catherinekullmann.com
Twitter:
https://twitter.com/CKullmannAuthor
Facebook:           https://www.facebook.com/catherinekullmannauthor
Book Bub:
https://www.bookbub.com/authors/catherine-kullmann
Amazon Author Page: http://viewauthor.at/ckullmannamazonpage
Goodreads: https://www.goodreads.com/author/show/15549457.Catherine_Kullmann