I wonder if other authors have a favorite character or a story that feels real to them, as though it actually happened – as though if they turn the next corner, the character will be there to greet them. My husband and I, who write together as Adriana Kraft, have such a character: Cassie O'Hanlon has been with us a very long time – in fact, hers was the first story we ever drafted.
That early work never saw the light of day, and with good reason – she wasn't fully developed, and her plot definitely needed work. But even then she had the elements that compelled us back to her story after we'd become published authors—elements that drove us, in fact, to craft an entire series around her and her circle of friends.
Those elements? The list is a long one. Hope-filled characters with abiding integrity in spite of their flaws. A sense of being grounded and a deep love of the land. Horses—a love my husband and I shared long before we ever met. And of course, suspense, romance, and a happy ending, with just the right dash of eroticism.
Cassie's Hope is set in my husband's ancestral turf, the north central Illinois farming region where his British ancestors settled in the 1840s. Her story was birthed while we were cruising that region looking at cemeteries, visiting county archives and gathering family history. We think maybe she's a distant relative—certainly she has lived out some dreams that were cherished by both of us.
And now we hope those dreams will grab some of you. Her four-book series, Riders Up, was published in 2013 and 2014. We're about to release our sixtieth romance, coming from Extasy Books early next spring. To celebrate, we'll be giving away autographed print copies of several of our earlier releases, one a month, and we're starting with Cassie's series.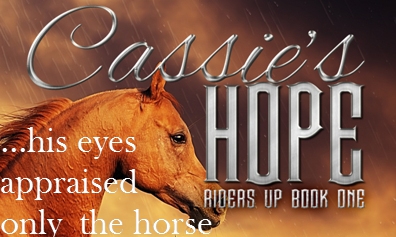 BLURB
High stakes, a fiery Irish redhead, her stunning racehorse, and a fiercely loyal rancher
What happens when a fiercely loyal widowed half-Ute cowboy meets a fiery redhead with an Irish temper to match? Cassidy O'Hanlon – Cassie, to her friends – has set aside her Chicago career for six months to train racehorses for her dad after his stroke.
Furious the interloper has shipped in a ringer from the Chicago circuit to his Wyoming turf, Rancher/trainer Clint Travers sets out to put her in her place. Sparks fly immediately, but after their rocky start, the two quickly forge a passionate relationship, and he follows her to Chicago.
When it becomes clear someone is drugging Cassie's horse, Clint sets out to solve the mystery, but storms off in a cloud of wounded pride when suspicions turn to him.
Can love trump pride?
Review:
Five Stars at Goodreads: "…I took their journey with them. I felt their pain, their sadness, their struggles, and most of all their love. And that is the mark of a truly good book." Faith, Goodreads