Welcome to MidWeek Tease, where authors share tempting snippets to tide you over till the weekend. A huge shout out to author Angelica Dawson for hosting our blog hop every week!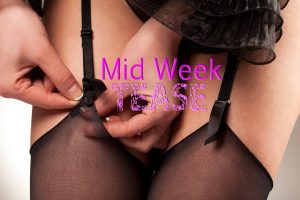 We're thrilled Extasy Books is re-releasing our Meghan's Playhouse series, which has been unavailable for over four years. When we started writing Book One, Seducing Cat, we simply planned an erotic romp and set about creating a scenario that would bring two women and one man together for some hot ménage scenes. But those three characters insisted on having more meaning, and it wasn't long before we had a series outlined. Seducing Cat earned five stars at The TBR Pile, and Book Two, A Woman for Zachary, was just released last Friday.
It's New York! Broadway beckons, but Meg has more fun keeping an erotic triangle going with her current flame, Zach Cullen, and her drama coach, Josie Patrice.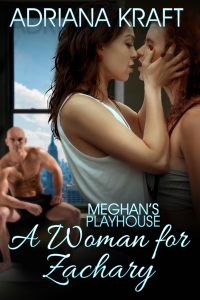 A Woman for Zachary
Meghan's Playhouse, Book Two
Erotic Romance Ménage
August 4, 2017
Four Flames:
Explicit Sex, MF, FF;
Ménage, FFM, FMF;
Sex toys
EXCERPT
"I'm leaving tomorrow for a couple weeks." Zach eyed Josie as if she'd just agreed to watch out for his interests while he was gone. "I trust you, Josie. I know Meg is in good hands with you. If there's anyone in the theater world who can develop raw talent into a star, it's you."
Josie flushed under his rare attempt at flattery. She knew he respected her work, but he seldom tried to voice it. At last she nodded. "I do my best. Meg has the innate talent, but she'll have to want to work very hard to develop it. What I offer can do little if she doesn't have the desire."
"I know. I think she does." His shoulders slumped a little. "But she can be flighty." He gave her an awkward smile. "Guess that may be a factor of age—or maybe it's simply part of being female."
"You," Josie said, rapping her fist against his firm chest.
He grabbed her wrist. "Sometimes I think you're as much of a spitfire as she is. Anyhow, I have to go. I'll leave Meg in your capable hands." Zach narrowed his eyes. "Let me know if she strays. I'm not about to tolerate that. I'll let her go when I'm ready."
Yanking her hand out of his grasp, Josie retreated a step. "I will not be your spy. If she wants to fuck every man and woman in New York, that's her business. And if she does, I'll never tell."
Laughter rumbled from Zach's diaphragm. "It always amazes me how you women stick together. And I don't believe even our Meg can do the entire population of New York City in two weeks. So long. Have fun."
Josie fumed as Zach turned away and headed for the foyer. She let him go. She had nothing to gain by pursuing him.
She turned back toward the stage.
Damn, did he only see her as some sort of surrogate mother? And Zach's ego aside, she highly doubted Meg had remained faithful during his many forays across the country. Most likely faithfulness had never even crossed the mind of the free-spirited Meg Keenan. Josie might not know her as well as Zach did, but in some ways, perhaps, she knew her better. After all, they were both women.
She let her gaze slide over the young woman, appraising her afresh. Even in jeans and a loose sweater, Meg exuded sex. Her ass curved so seductively. Her breasts bobbed ever so slightly as she moved across the stage. Her smile must light up lovers as well as audiences.
"Yes," Josie murmured to herself. "You have lots of potential." Josie's hands warmed as she allowed herself to briefly imagine learning the curves of the young woman's body.
Her breath caught in her windpipe. Zach was leaving Meg in her good hands. She shut her eyes and opened them slowly. Maybe she should show Zach just how faithful his young sprite could be—that knowledge might save him considerable pain down the road.
BLURB
Zachary Cullen has ignored Josette Patrice's overtures for years, but she agrees to take on his latest protégé-slash-arm-candy Meghan Keenan in her off-Broadway workshop theater. Though the girl has incredible talent, Josie would stake her reputation on that little thing being a switch-hitter, like herself, and she doesn't want Zach to be duped. Josie sets out to seduce Meg and expose her for what she is, but all bets are off when Meg turns the tables on Josie to hook her up with Zach.
BUY LINK
http://www.extasybooks.com/a-woman-for-zachary/
~ o ~ o ~ o ~ o ~ o ~
Don't forget to stop by all the other fabulous Midweek teasers: