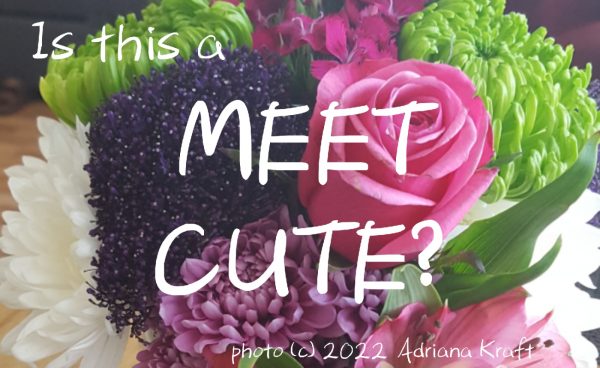 Since Hubs and I don't write Rom Com or Chick Lit, we don't really write Meet Cutes, at least not on purpose. A Meet Cute might set an odd tone for our romantic suspense and erotic romance stories…
But having got this far, I'm thinking that how he and I met might be a true-life Meet Cute. Here's our story—we'd love to hear whether it qualifies. For that matter, if any of you have a real Meet Cute in your life, we'd love to hear about it!
The first time I ever saw my husband, I was a grad student and an instructor in a new program at my university.
Early that fall, the entire school faculty were gathered in the lobby for the introduction of new hires. There were only two or three new faces, but a distinguished looking bearded man with mischievous eyes stood out to me immediately. It got even better when it turned out he was a new addition to the program I was teaching in. I won't say I stalked him—but I will say that when I got home, I told my roommate about him, and through her contacts in a similar field, she got me his bio.
Fast forward to a Chicago January: Snow is piled high in streets and on sidewalks, and our program is having a potluck an hour's drive away. I have a car (which I've duly shoveled out). The new professor does not have one. A fellow prof suggests that I give him a ride, he accepts, and we have an hour each way to talk to each other. I had two conclusions at the end of the evening – I was very definitely interested in him (okay, I was crushing on him), and I suspected he was living with someone (someone who wouldn't share her car? Wasn't sure).
The following week he materialized in my office doorway to ask me for the recipe of the dish I'd brought to the potluck. Triumph! I shared it – and nothing else happened for five more months. He had some loose ends to tie up, it turns out…
Our first date (finally!) was that June, and we married the following June.
Why is this the Eggplant Story? Because the dish I'd taken to the potluck was one of my favorite veggie recipes of my mom's, an eggplant-tomato-bacon casserole. Hubs and I had been married for over two years when the confession finally came: He'd had no idea which dish was mine—he was just looking for a way to start a conversation with me, and he hates eggplant.
We're still married.