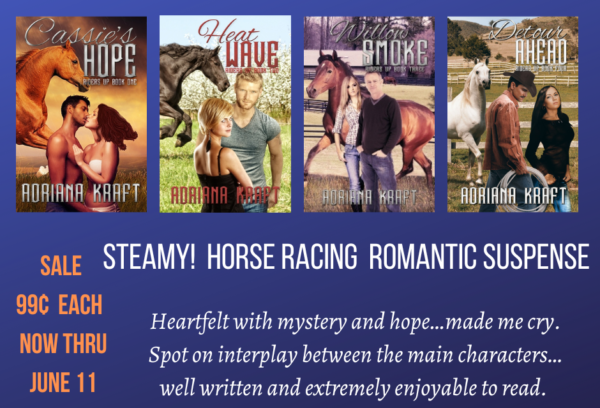 It's less than two weeks to the Kentucky Derby!
…so my Sunday Snippet is switching gears to prep for Triple Crown Fever. Do you love horses? I was a horse-crazy kid, and as fate would have it, so was my husband. We poured our love of horses and the experience gleaned from our brief foray into horse racing to pen a four-book steamy romantic suspense series set in the world of thoroughbred horse racing.
To celebrate the upcoming Triple Crown, all four books are on sale for just 99¢ from now through the Belmont Stakes in mid-June.
Here's our Sunday Snippet from Riders Up: Book One, Cassie's Hope
EXCERPT
Set up: Cassie has trailered her dad's prize thoroughbred filly from Illinois to Wyoming to try to get her first stakes win and is just getting Hope settled into her stall…
Shaking her head, Cassie grabbed a hoof pick from her back pocket, lifted one of Hope's front hooves, and began extracting dirt and pebbles.
"Nice lookin' filly."
Cassie groaned at the strange deep voice and the too-familiar line. Couldn't men anywhere be a little more original?
Dropping the hoof, Cassie glanced across Hope's back and gasped. The deeply tanned hunk behind the voice had shoulders that stretched taut a pale yellow polo shirt covered, in part, with a thin buckskin vest. The wide cowboy buckle appeared unnecessary to hold up well contoured Levi's. A sweat-stained brown Stetson, tipped low, cast a light shadow across his facial features. His worn boots were those of a working man. This was no drugstore cowboy.
REVIEWS

An emotional roller-coaster, with twists and turns you never see coming! …I feel I know them, I took their journey with them. I felt their pain, their sadness, their struggles, and most of all their love. And that is the mark of a truly good book. Faith, Goodreads

Just downloaded this book yesterday and didn't set it down until I was finished. Great story! Great characters with steamy love scenes. Will look for more suspense written by this author. Would recommend this book to all romantic suspense readers. Billie D.
BUY LINK
BLURB
What happens when a fiercely loyal widowed half-Ute cowboy meets a fiery redhead with an Irish temper to match? Cassidy O'Hanlon – Cassie, to her friends – has set aside her Chicago career for six months to train racehorses for her dad after his stroke.
Furious the interloper has shipped in a ringer from the Chicago circuit to his Wyoming turf, Rancher/trainer Clint Travers sets out to put her in her place. Sparks fly immediately, but after their rocky start, the two quickly forge a passionate relationship, and he follows her to Chicago.
When it becomes clear someone is drugging Cassie's horse, Clint sets out to solve the mystery, but storms off in a cloud of wounded pride when suspicions turn to him.
Can love trump pride?