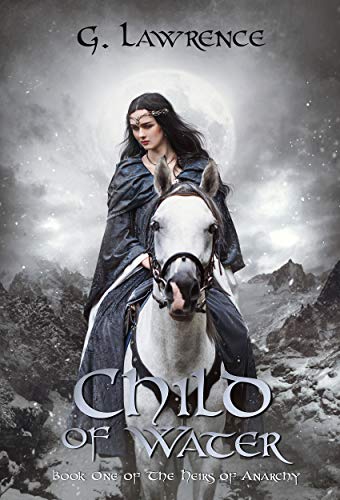 I've said elsewhere that I learned almost nothing in any of my history courses about the western world before the Renaissance. In recent years, I've read widely in both fiction and non-fiction about the British Isles throughout the millennium between the exit of the Romans (roughly 400 A.D.) and the onset of the Renaissance (1400 A.D.). And it has thrilled me to discover that not only is a great deal known about this era, but there is a vast amount of material about the powerful role of women. My next several reviews will feature some of these works.
One of the first Norman era books I picked up – available on Kindle Unlimited, which is always a treat – is Child of Water (The Heirs of Anarchy, Book I), by G. Lawrence. This book is the first of a four book series tracing the life of the only daughter of King Henry I (reigned1100 to 1135). Matilda (1102-1167), or Maude, as she was also known, came into power first as the Holy Roman Empress, through her marriage to the Holy Roman Emperor Henry V in 1110, when she was a mere child of eight; then, following his death, as the rival claimant to the English throne during the years of Anarchy, 1135-1154; and finally in Normandy, often acting as representative for her son, King Henry II, and presiding over the government of the Normandy Duchy
Almost all the events I just enumerated are things I knew nothing about before I picked up this book, but the book is nothing like a history lesson. Lawrence uses the first person point of view masterfully to create an engaging and highly readable narrative. There's just enough detail about events to enable unfamiliar readers to anchor themselves, but never so much as to overwhelm. Characters and events materialize on the page because Matilda is affected by them. We see what she sees, learn what she learns, and come to know what she fears, hopes, and decides as the events unfold.
Child of Water opens in Rouen, Normandy, shortly before Matilda's death, as she reflects on her life and her role. Here is a snippet that spoke to me:
One day, when I am gone, my ladies will tell their husbands and children of me. With a touch of pride, something they will attempt to conceal since noble women are not supposed to possess it, they will say that once they attended upon me, the Empress Matilda, Lady of the English, daughter of Henry I, wife to the Count of Anjou and the Holy Roman Emperor … the woman who waged war against men for a throne.
The book then drops us into the mind of eight-year-old Matilda as she waits on the beach for a longboat to bear her on the first step of her sea and land journey to marry the man who has been named Holy Roman Emperor but not yet crowned. We travel with her, study with her in her new home, grow up with her and see her crowned empress. This first volume then traces her life and her inner world as she returns to England upon the death of her husband. It concludes as she marries the man her father has chosen for her, Goeffrey, Count of Anjou – who wore a yellow flower in his hair and eventually ushered in the Plantagenet house of British royalty, through their son, Henry II. The details of these and subsequent events in Matilda's life form the remaining three volumes in the series.
In summary, I found Child of Water to be an intriguing and informative read. I was especially struck by Matilda's reflections (naturally the invention of the author, but plausible at the very least) as she navigated the male world of power plays among her husband the emperor, the Pope, the antipope, and the Germanic nobility, and then the world of her father and his holdings in England and Normandy. One might think such modern thoughts are anachronistic, but embedded as they were in very real events, I found them insightful.
I highly recommend this book for anyone interested in early Norman history in England, and even for those who are curious to discover if they might develop such an interest.
Child of Water (Heirs of Anarchy, Book I) is available exclusively at Amazon.
https://www.amazon.com/gp/product/B084KN8G8J/
Free to read at Kindle Unlimited