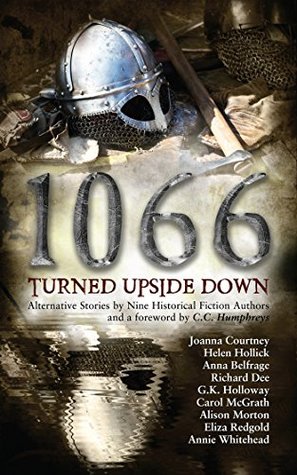 On my side of the pond, the history lessons I grew up with were woefully inadequate when it came to England. My college Western Civ history began with the Renaissance, as though nothing that came before either was known or would have mattered. I knew nothing about the Norman Conquest or the tribes and kingdoms that had preceded it across the British Isles.
I've been filling this gap in the last few years with marvelous history and historical fiction by, among others, Annie Whitehead and Helen Hollick. Annie Whitehead's Alvar the Kingmaker, suspenseful and rich with cultural details, brings us up to the accession of Æthelred the Unready (978-1016). And Æthelred's second wife, Queen Emma (984-1052), comes alive in Helen Hollick's engaging The Forever Queen. It is Emma's son, Edward the Confessor, whose lack of offspring sets the stage for the Norman invasion of 1066 – and it is Emma's grand nephew, William the Conqueror, who ultimately won the Battle of Hastings, now being turned upside down in fiction.
So I was intrigued a while back as I scrolled through my morning Triberr posts to discover the title 1066 Turned Upside Down, then further thrilled to realize I was familiar with some of its authors. It takes a special talent to make history come alive, and the nine authors who've contributed to this work have succeeded marvelously.
The book is organized chronologically and examines nine turning points in the autumn of 1066, any one of which could easily have led to a different outcome. Each chapter creates a compelling narrative of that different outcome and its consequences.
The stories make great reading, and I was struck that they would be an excellent resource for middle school or high school students to soak up the history that hangs by a thread. But they are also delightful reading at any age. The players were already familiar to me though my earlier reading, and I was entertained and intrigued to explore their actions and motivations at each twist of the story.
Amazon Buy Link:
https://amazon.com/1066-Turned-Upside-Down-Alternative-ebook/dp/B01I1V7G42/
With a forward by C. C. Humphreys, the book brings us stories by the following authors: