Welcome to MidWeek Tease, where authors share tempting snippets to tide you over till the weekend. A huge shout out to author Angelica Dawson for hosting our blog hop every week!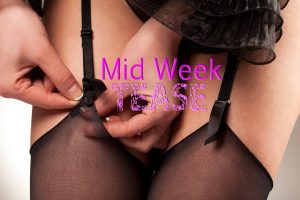 Meghan's Playhouse, Book 3, is now available at
Amazon.com and Extasy Books.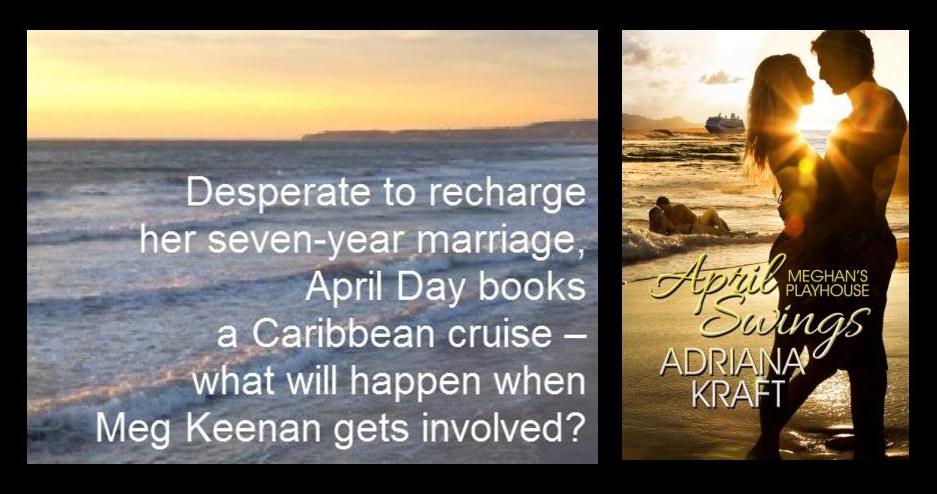 EXCERPT
Set Up: We set this story on a Caribbean cruise, long before Hurricane Maria. Click HERE if you'd like to donate through UNICEF.
Our foursome is on shore in Puerto Rico and have found a secluded cove…
"This is so stunningly beautiful," April said for the umpteenth time. She rested her chin on her knees and stared out at the small bay. "The water is so blue. How did you find such an isolated spot? The ridge of rock forms its own private cove."
"We spent most of a day exploring on an earlier cruise," Meg responded. "This is farther than most cruise passengers are going to walk, but there are so many resorts in the area I doubt this place is as isolated as it appears."
"The only people I've seen since we got here are the people on that boat out there." April inhaled. "So carefree. The girls on the boat didn't seem dismayed to see us walk down the beach."
Derek chuckled. "When two women stand and wave without bothering to put on their bikini tops, I'd agree they aren't too bothered by our presence. Their guys didn't seem quite so eager."
"Anyone want to take bets on how long before the bikini bottoms come off?"
April looked quickly at Clark. "They wouldn't."
"Modesty is not a necessarily a virtue out here." Clark shrugged. "Maybe these girls will wait until dusk."
"I wouldn't count on that," Meg interjected. "They're not looking for privacy. They have what they want—anonymity. They can do whatever they want. They're on the stage, and we are their audience." She brushed the back of a warm hand along April's shoulder. "Until we become the stage."
BOOK INFO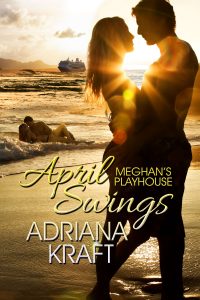 April Swings
Meghan's Playhouse:
Book Three
October 13, 2017
5 Flames:
Explicit Sex, MF, FF
Ménage, FFM, FMF, FMFM
BLURB
April Day deeply loves her husband, Derek, but something's missing. To heat things up, she books them on a Caribbean cruise for their seventh anniversary. She's not sure what she's looking for, but she knows she's found it as soon as she spots the delectable sprite of an actress who stars in the ship's daily shows.
Meghan Keenan's having a blast with her latest squeeze, Clark Hendricks, who writes and directs the shipboard main shows. Should she turn down April's request to heat up her marriage? And if she accepts, where will Clark fit in?
Derek is stunned by his wife's brash pursuit of the hot young actress. Must he match her boldness to keep her from leaving him?
BUY LINKS
https://www.amazon.com/dp/B076H826D9/
http://www.extasybooks.com/april-swings
~ o ~ o ~ o ~ o ~ o ~
Don't forget to stop by all the other fabulous Midweek teasers: