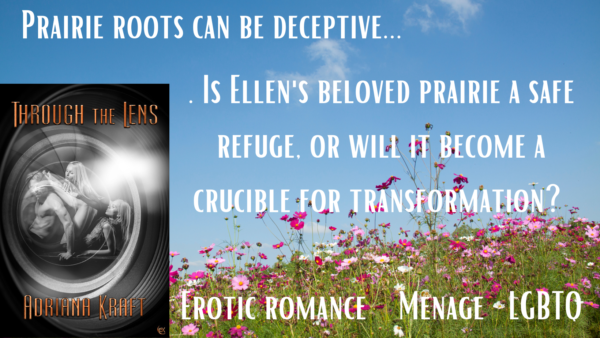 Welcome to MFRW Hooks, where the authors of Marketing for Romance Writers share snippets from their stories to entice you into wanting more. Be sure to click on the links at the end to travel!
For the rest of March, I'm featuring our erotic ménage story Through The Lens.
About Our Story
Does your family history contain scandal? Ours does, as recently as my mother's grandfather, who was born a bastard in an era when that status carried far more stigma than now. His mother – a logger's daughter who served as a camp cook – was shunned and shamed for much of her life. On the other side, my husband's grandfather was a bigamist. A threshing crew foreman in the early 1900s, he married and had children in Missouri, then married again in Kansas. When my husband's grandmother learned about the other family, she divorced him; their son, my husband's father, was ten years old.
We blessed—or perhaps cursed—our Through the Lens heroine with elements of these scandals. Naturally, she's heard some of the stories. Through the Lens chronicles her struggle with these long-forgotten roots. Will she claim them, or run the other way?
Tags: Erotic Romance, Ménage, Four-Way, Prairie, Photography, Erotic Portraiture
Release Date: June 26, 2020
Publisher: Extasy Books
Genre: Erotic Romance; Ménage
BLURB
Will Ellen Jeffers cling to the sedate past that's familiar, or will she embrace a different version of her history—one that includes tragedy, scandal, fortitude, and freedom?
It's 2002, and South Dakota third grade teacher Ellen Jeffers has signed up for a photography summer course and assistantship at an art academy in Minneapolis. Thirty-three, divorced for nearly a decade from her college boyfriend, she's not seeking major change. She just hopes the course will enhance her teaching skills and her resume.
Aaron Brewster comes from privilege, and he has used that status to flaunt his family's values and carve out a successful career as a photographer specializing in black and white erotic portraiture. Has he ever loved? His love is for beauty, sensuality, eroticism. His new uptight teaching assistant will never fit that vision. Should he send her packing? For reasons he cannot fathom, he takes her on as a challenge.
Aaron's frontal assault shocks Ellen, but it also triggers something deep inside she's never been willing to acknowledge. Is her beloved prairie a safe refuge, or will it become a crucible for transformation? The choice is not merely Ellen's.
EXCERPT
Ellen's first morning assisting Aaron with his summer class…
"Now then, if Ellen would step forward."
Ellen snapped to attention at the sound of her name. Now what?
Aaron motioned her to a stool. "Let me demonstrate a little what I mean by perspective and how it changes what the observer is seeing and feeling. That understanding will become sharper for you when you're looking through your cameras, but this will do for now."
Ellen sat on the stool facing the class with her hands folded at her waist. She'd deliberately chosen to wear a blouse and skirt that came nearly to the knees because she didn't want to stand out in the class. She tried not to grimace. So much for that.
"You've all been introduced to Ellen, and I'm sure you've chatted with her at break, so we've established some mutual comfort. Being comfortable with your model is extremely important when you're doing portraiture. While you remain in overall charge of the setting and the photo, you must be tuned into your model—to what she is thinking and feeling. Many won't tell you or can't tell you.
"Now then, let's take Ellen as she is." He smirked. "Tell me what you see. What's her mood? Who is she? Who might she want to be, and so on? Spit it out. One word or two. No more than three. Quickly now."
"Pensive," the college teacher said.
"Good. More. Don't take time to reflect. You don't have a lot of time to react in a sitting."
"School teacher."
Aaron laughed. "Yeah, I see that."
"Shy."
"Genuine."
"Determined."
"Capable."
"Great! Now I'm going to pose Ellen as I want her. Swivel on your butt so you're at a right angle to most of the group. Good. Now look back over your shoulder at them. That's right. Hold that. Now what do you see?"
"Goodness. Mystery," one of the stay-at-home moms said.
"Fun."
"Temptress."
"Almost sexy," one of the guys said.
Holding her pose like she knew she was expected to, Ellen wanted to hop off the stool and bop that guy over the head. She tried not to wince. Had the simple change in direction made that much difference? Given the look on the faces of the students, it must have. Aaron had proven an important point. Never accept the obvious front-on position as the best or only perspective.
If she looked that different, maybe she should walk around the city with her chin resting on her shoulder.
"Go ahead and pout." Aaron chuckled.
Without thinking, she did.
"As I thought. Even more sexy."
She knew she must be blushing now. It was one thing to have one of the students describe her as sort of sexy—but she was supposed to be working with Aaron, not reacting to him.
By the time Aaron finished having her pose one way and then another, the students were all chattering, seemingly quite happy with their choice of instructor and class. Actually, Ellen was rather pleased, too, even if she hadn't chosen him in the first place. Clearly, she could learn a lot from him.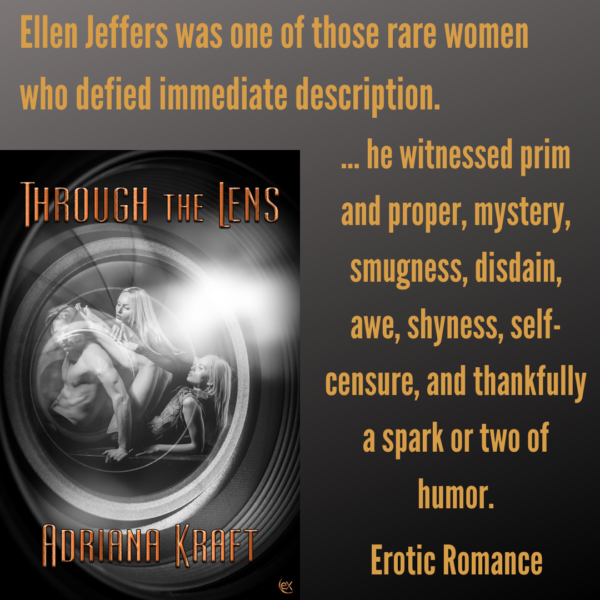 UNIVERSAL BUY LINK
Click on the links to travel to the rest of today's hooks: