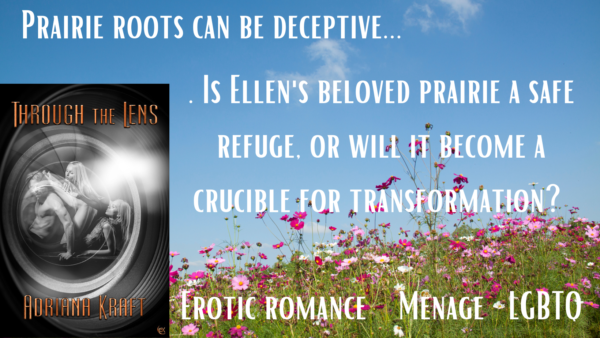 Welcome to MFRW Hooks, where the authors of Marketing for Romance Writers share snippets from their stories to entice you into wanting more. Be sure to click on the links at the end to travel!
For the rest of March, I'm featuring our erotic ménage polyamory story Through The Lens.
EXCERPT
Set-up: Aaron has taken his portraiture class on a tour of the Minneapolis Institute of Art, where they've just entered one of the Impressionist galleries.
"Isn't that the most lewd, despicable painting you've ever seen?"
Aaron looked up sharply from his notes. He hadn't even begun to talk about one of his favorite Impressionist paintings—Caillebotte's Nude on a Couch.
Ellen was standing with her arms crossed under her breasts, glaring with disdain at the painting.
"What's your problem, Ms. Jeffers?" Maybe calling her Ms. Jeffers would snap her out of her tirade.
"It's so huge. The woman is begging for attention, for sex. The painting must be life size. No wonder it's under glass. Someone might claw it to pieces."
Aaron gulped, trying to hold himself in check. Who would even think of such a thing? "This is one of Caillebotte's most famous paintings. We're quite fortunate to have it here."
"I've never heard of Caillebotte. He must be a third rank Impressionist."
"Well, you're wrong, Ms. Jeffers."
Tina grabbed Ellen's arm to warn her, but Ellen pulled away.
"Not only was Caillebotte an impressionist of the first rank—it was through his financial support and considerable influence that the group was able to attain recognition and stature in its own time. What is your problem? We looked at other nudes in the last corridor, and you didn't begin to flip out."
Looking at least somewhat chastened, Ellen sniffed, seemingly unable or unwilling to let it drop. "The others weren't in our face. She's too bold. Good grief, she's playing with a nipple. She's trying to seduce us." Her eyes widened. "She must've been a prostitute. Only such women would've posed like that during that era of French history."
In case you'd like to see what triggered Ellen's reaction, here is a link to the painting:
https://collections.artsmia.org/art/1655/nude-on-a-couch-gustave-caillebotte
You can read about how we came to first see the painting – and to write this moment – here: https://wp.me/p9O7pv-3bM
Through the Lens
Tags: Erotic Romance, Ménage, Four-Way, Prairie, Photography, Erotic Portraiture
Release Date: June 26, 2020
Publisher: Extasy Books
Genre: Erotic Romance; Ménage
BLURB
Will Ellen Jeffers cling to the sedate past that's familiar, or will she embrace a different version of her history—one that includes tragedy, scandal, fortitude, and freedom?
It's 2002, and South Dakota third grade teacher Ellen Jeffers has signed up for a photography summer course and assistantship at an art academy in Minneapolis. Thirty-three, divorced for nearly a decade from her college boyfriend, she's not seeking major change. She just hopes the course will enhance her teaching skills and her resume.
Aaron Brewster comes from privilege, and he has used that status to flaunt his family's values and carve out a successful career as a photographer specializing in black and white erotic portraiture. Has he ever loved? His love is for beauty, sensuality, eroticism. His new uptight teaching assistant will never fit that vision. Should he send her packing? For reasons he cannot fathom, he takes her on as a challenge.
Aaron's frontal assault shocks Ellen, but it also triggers something deep inside she's never been willing to acknowledge. Is her beloved prairie a safe refuge, or will it become a crucible for transformation? The choice is not merely Ellen's.
UNIVERSAL BUY LINK
Click on the links to travel to the rest of today's hooks: