Welcome to MidWeek Tease, where authors share tempting snippets to tide you over till the weekend. A huge shout out to author Angelica Dawson for hosting our blog hop every week!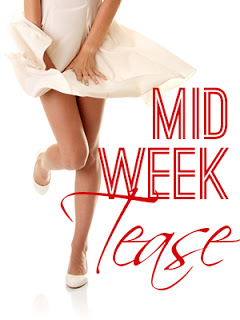 Seducing Cat is on tour through June 19 with a contest for an Amazon gift card – scroll to the raflecopter graphic at the end of this post to enter!
What could college English Professor Caitlin Shanahan ever have in common with the brash carpenter Kurt Davis?  The sexy sprite Meghan Keenan, that's what.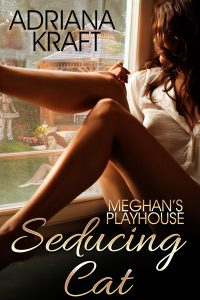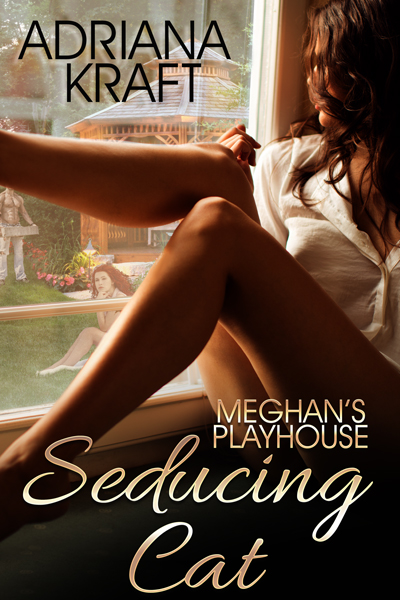 Meghan's Playhouse
Book One
May, 2017
Extasy Books
Novella, 28,000 words
Cover by Syneca Featherstone
Heat Rating
Four Flames:
Explicit sex: M/F, F/F;
Ménage: F/F/M, F/M/F;
anal sex; sex toys
Last week's tease gave us a peek at our trio's first ménage scene (and you can read it HERE 🙂 ). This week we're backing up a bit – do you remember your first kiss with the person who turned out to be the love of your life? I sure do, but my personal history contains nothing resembling the sniping that's been going on between English professor Cat Shanahan and carpenter Kurt Davis for the first two thirds of our newest release, Seducing Cat. They've been spitting bullets at each other.
They're an unlikely pair: She's 34, newly tenured at the college in the small town of Burntside Wisconsin, and author and director of plays at the community theater in town. Kurt's 24, a high school graduate who teamed up with a buddy to create a construction company and is doing very well. He volunteers as a set designer at the theater, and Cat's hired him to restore the century-old foursquare home she recently purchased.
That age difference quite possibly qualifies the novella as a Cougar Story, but it's so much more than that. To seize the love affair of their life, both Cat and Kurt have some deep-seated prejudice to overcome: upper class disdain for people who work with their hands, and working-class mistrust of the highly educated. Since our own extended families are filled with both academics and blue-collar workers, we're familiar with this scenario—and we know that the deep divide can sometimes be overcome in real life, as well as on the pages of fiction.
This five book series was originally released in 2009 by a different e-publisher. It's been unavailable for over four years, and we're thrilled Extasy Books has contracted to re-release it, completely revised and re-edited. In the meantime, Meg insisted we write one more adventure. The six books will release approximately every ten weeks. Watch for Book Two: A Woman for Zachary in early August!
EXCERPT
Set-Up: By the time of this excerpt, Meg and Cat are already lovers. Kurt knows this, but he's made clear he wants no part of whatever crazy scheme Meg is up to.
Wringing clammy hands, Cat stood in the small production booth behind the opening night audience. Openings inevitably made her anxious. There seemed no way to prevent it. This was her favorite place to watch the show, because from here it looked as if the cast performed only for her. Besides, no one bothered her when she was in the booth.
The first act had been superb. Meg had the crowd in the palm of her hand, hanging on every word and responding to every gesture, and yet she had a way of not stealing the show. The cast performed well together.
During intermission, Cat had visited briefly with cast members, giving them words of support before returning to the safety of her booth. Successful opening nights were so exhilarating, and this was one of those.
She startled when the door to the booth opened and closed quickly.
"Thought I'd find you here," Kurt said softly, squeezing into the tight space to stand behind her. "She's good, isn't she?"
Cat could barely make out his outline in the dark and quickly returned her gaze toward the stage. His physical presence took up so much of the tiny booth she feared suffocating. "She's superb. Meg should be in New York. Look at her work the crowd, and they don't even know it."
"She has a way about her, all right."
"She's a blend of mystery, innocence and eroticism." She wanted to take back her words as soon as she heard them.
"Ah." Kurt's breath heated her bare neck. "She's all of that, all right."
"Do you suppose she'll ever take the next step?"
"Maybe. If she's supported enough. She's more insecure about her acting than she lets on."
"I know. I've been trying to help her with those insecurities."
"I've heard. And I gather she's helping you with some of yours."
Cat's heart skipped a beat. She should bite his head off for that comment. But she was suddenly in a joyous mood as the crowd gave the cast a standing ovation. She squealed, "Yes! They loved it."
"Did you think they wouldn't?"
"I never know what to think until it's over. I better get out there." She turned around quickly and slammed against Kurt's solid chest. She caught herself on his shoulders, then suddenly felt his arms holding her steady.
In the dark, she couldn't tell if he was smiling or scowling. And then he brushed his lips across hers. Her breathing stopped.
BUY LINKS

~ o ~ ~ o ~ ~ o ~ ~ o ~
Be sure to check out the great teases from the authors below!

Click the graphic above to travel to other tour stops for more chances to enter!