Welcome to MFRWHooks!
Scroll to the end for more of this week's tempting excerpts!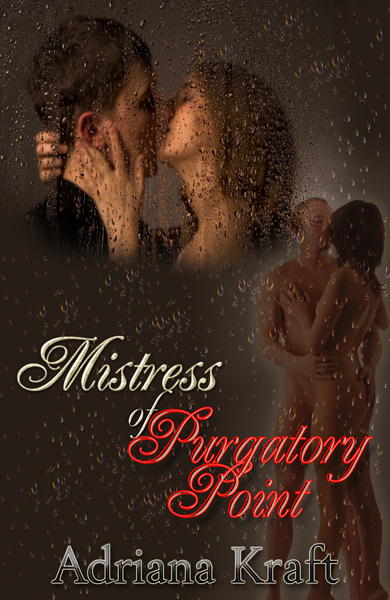 Mistress of Purgatory Point, by Adriana Kraft
BLURB
A tender ghost story and a sizzling erotic romance with a splash of BDSM, Mistress of Purgatory Point is also the deeply moving chronicle of the mid-life sexual awakening of a stoic widow who thought she'd already experienced her one allotted love.
Not quite fifty, recently widowed Martha Richards has just purchased the old sturdy house at the tip of Purgatory Point overlooking Minnesota's Boundary Waters. She and her pastor husband often dreamed of retiring there on their summer canoe trips. Now, she welcomes the solitude and time to hone her jewelry making craft.
Forest Ranger Dan Ford, her reticent neighbor to the south, thinks the aloof newcomer has no clue what it takes to survive North Woods winters. Reluctantly, he volunteers to help her prepare the place for the inevitable blizzards.
Martha is shocked when local shop owner Natalie Bjorg says her jewelry exudes erotic passion. Natalie doesn't stop there, but explains that as the new Mistress of Purgatory Point, Martha now holds the key to release its two ghosts: Ben and Stella have been trapped between worlds for nearly a century, waiting for an owner of their home to discover a love that matches their own and set them free.
One man, two women and two ghosts keep love's fires burning through the deep chill of a North Woods winter—but which love will hold the key?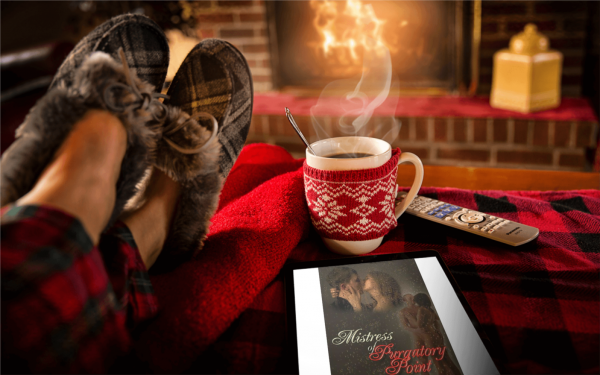 EXCERPT
Chapter One
"Aren't you the new Mistress of Purgatory Point?"
Martha Richards tilted her head to the side and stared at her inquisitor. She'd never met the sprightly blonde, but then she'd only been in the combination book-and-craft store once before, to see if it seemed a worthwhile place to consign some jewelry pieces. Mistress of Purgatory Point. Really!
"I bought that property about a month ago," Martha said in clipped tones. "I didn't realize it came with a title."
"Oh, it does," the petite blonde bubbled, not in the least put off by the purposely cool response. "Oh, excuse me," she said, smiling broadly, "I didn't introduce myself. I'm Natalie Bjorg. I own this place." She arched an eyebrow. "Well, I'm buying it from my parents, who moved to Florida over a year ago."
Martha narrowed her eyes, "So you make decisions about what you will or won't sell?"
"That's right." Natalie glanced at Martha's shoulder bag. "Are you an artist?"
"I'm not sure I'd go that far." Martha sighed. This was the hardest part of picking up her art again. Creating pieces, pouring her soul into them was one thing, but then she had to try and market them. "I do make jewelry from time to time, and I wondered if this shop might be interested in displaying them."
"Come on over to my table," Natalie said, pointing at one of four small round tables in a nook.
The intimacy of the nook surprised Martha. She could see it offered a pleasant place for customers to chat or read. So why were her palms sweating? Was she that anxious about her jewelry being rejected? There were several other shops in Ely that might work with her.
She scrutinized the shopkeeper as she pulled out a chair. Natalie Bjorg was hardly the kind of woman she'd expected to deal with when she'd entered the store, but if Natalie was the proprietor, she hardly had a choice. Natalie seemed rather young for the responsibility, though actually it was hard to determine the ages of women living year-round in Ely. Most of them spent so much time out on the Boundary Waters in the sun and wind or cross-country skiing in the winter that their tan skins made them appear ageless. "So you're a native to the area?"
"Yep. Born and raised in Ely. Couldn't imagine living any place else. Though I do want to travel more. Would you like some coffee? I don't have the special blends, but I make good coffee."
"Thanks. That would be nice." Martha sighed softly, relaxing in spite of herself. How could she not, faced with such an infectious, energetic presence?
"So show me what you have," Natalie said, after filling two coffee cups and pulling up a chair. "I am so pleased you came by. This is sort of our off season. Not much happens here until the snow flies."
Holding her breath, Martha reached into her bag for a couple pieces wrapped in cloth. Carefully, she unwrapped the first piece, watching Natalie closely. The woman's eyes rounded, and she gasped as soon as she saw the gold waxing moon pendant suspended from a circle.
"It's beautiful!" Natalie exclaimed, with a hand at her throat. "You made that?"
"Of course." Martha smiled. Why did people often seem so amazed by her creations? She pulled the cloth from the second piece, and again Natalie sat stunned. Martha caught herself grinning—probably the girl had seldom been without words.
"It's so…so erotic. It's absolutely stunning."
BUY LINKS
Mistress of Purgatory Point is on sale for $3.00 from the publisher:
https://www.extasybooks.com/mistress-of-purgatory-point
Also available at these retail outlets:
Amazon: https://www.amazon.com/Mistress-of-Purgatory-Point-ebook/dp/B003XRF09S
Kobo: https://www.kobo.com/us/en/ebook/mistress-of-purgatory-point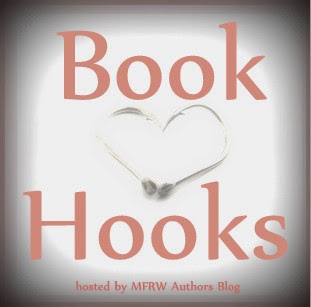 Be sure to click on the links to travel to the rest of today's excerpts!