Welcome to MidWeek Tease, where authors share tempting snippets to tide you over till the weekend. A huge shout out to author Angelica Dawson for hosting our blog hop every week!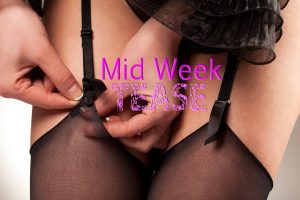 Getting excited – we're less than three weeks away! Today's tease comes from our upcoming release, April Swings (Meghan's Playhouse, Book 3).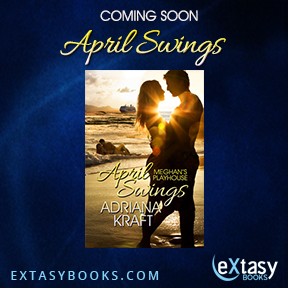 EXCERPT
"There she is," April Day whispered to her husband as they shared a late breakfast in the fourth deck restaurant of the cruise ship. "There's that vivacious girl who does everything in the floor show."
"You're infatuated with her," Derek grumbled. "You've been mooning over her for the past two days. Do you even know her name?"
"Meg something, I think." April thrust out her chin. "Names don't matter much for what I have in mind." April inhaled, letting her gaze take in the petite auburn-haired actress. "She's a woman's woman. That's what matters."
"How do you know that? She's having breakfast with the guy who directs the show." Derek chuckled. "She looks like a man's woman to me."
Shrugging, April faced her husband. "So, I'm a man's woman, too. Maybe she's bi."
"How can you be so certain?" Derek's features remained stolid.
"A woman knows." April sipped her orange juice.
BOOK INFO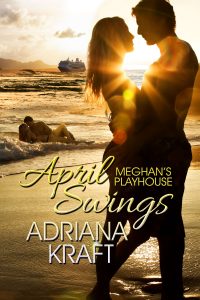 April Swings
Meghan's Playhouse:
Book Two
October 13, 2017




4 Flames:
Explicit Sex, MF, FF
Ménage, FFM, FMF, FMFM
BLURB
April Day deeply loves her husband, Derek, but something's missing. To heat things up, she books them on a Caribbean cruise for their seventh anniversary. She's not sure what she's looking for, but she knows she's found it as soon as she spots the delectable sprite of an actress who stars in the ship's daily shows.
Meghan Keenan's having a blast with her latest squeeze, Clark Hendricks, who writes and directs the shipboard main shows. Should she turn down April's request to heat up her marriage? And if she accepts, where will Clark fit in?
Derek is stunned by his wife's brash pursuit of the hot young actress. Must he match her boldness to keep her from leaving him?
PRE-ORDER

~ o ~ o ~ o ~ o ~ o ~


Don't forget to stop by all the other fabulous Midweek teasers: