Happy New Year!
Wherever you are, whatever your New Year's morning sky looks like, both of us who write as Adriana Kraft wish you the fresh beginnings of a bright new dawn.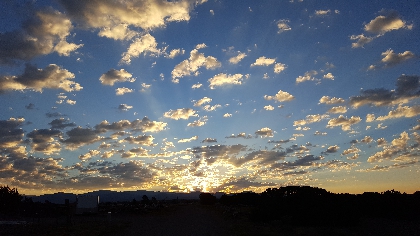 Looking East at the Sangre de Cristo Mountains
I took this photograph on my morning walk last summer just south of Santa Fe, New Mexico, where we spent a month traveling and touring. So many mornings looked just as beautiful that it was hard for me to select which picture to feature. As I sorted through them, it suddenly struck me that only with clouds do we receive the gift of the most brilliant sunrises. So our New Year's wish for you is that even when there are clouds, there will be new dawns that beckon with opportunity.
Maggie Anderson, heroine of Heat Wave, has come through a lot of dark times, including the loss of her parents and her husband. Now she's struggling to raise her two children and make a living off the Iowa farm her parents left her. Farmers around her are bailing out and selling off—instead of knuckling under, she makes a daring move and seeks her new dawn: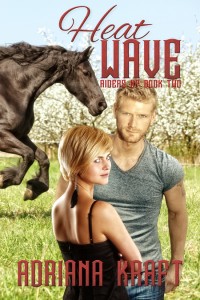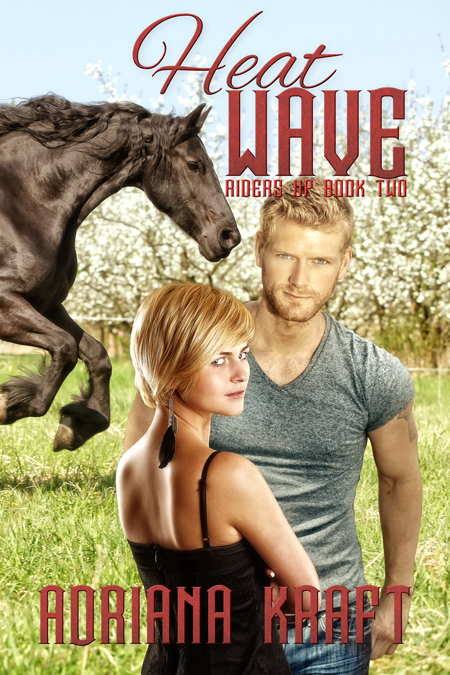 BLURB
During an oppressive Iowa summer of drought and farm foreclosures, widowed Maggie Anderson makes a bold decision: She'll merge her love of horses and her family's three hundred and twenty acres into a horse farm and try her hand at nearby Prairie Meadows Race Track, where racing purses have just been augmented by the recently added casino gambling.
Down on his luck after being falsely accused in a racing scandal and banned from training, former Arlington Race Track trainer Ed Harrington has skulked home to Des Moines to drown his sorrows and wait for the dust to clear. He's unprepared for the piercing robin's-egg-blue eyes of pint-sized Maggie Anderson, who finds him at a flophouse and offers him a job. Can he pull himself together and meet the challenge?
As the two forge a tumultuous working partnership, they soon discover someone is out to get Maggie's farm and will stop at almost nothing to force her off the land. Can they find and stop the culprit before someone is killed? Can they survive the far greater danger unleashed by the raw passion simmering just beneath the surface of their relationship?
You can read an excerpt HERE