INTERVIEW
CHARACTER NAME: You can call me The Shadowdancer
Tell us a little about yourself.
How do you know I'll tell you the truth? In fact how do you know what is the truth? It's such a fluidic term.
I am the shadows, they obey me. I am he who walks unseen, unheard. I am he who brings swift death and then is gone. I am he who serves none but the Oncoming Storm.
Tell us why you're embarking on this adventure?
My master the Oncoming Storm wishes it and so I wish it to be so.
We help those who cannot help themselves, we bring a freedom, of sorts in a land where freedom is sold to those who have the gold to buy it. We remove monsters, and those who inconvenience our plans.
We free elves – for they have no freedom, we rescue where we can and avenge where we cannot rescue.
Do you have a moral code? If so, what might it be?
*Laughs. I have killed more people than I can remember – men, women, even children once or twice for mercy, I have slain monsters and I have brought death to the highborn and the lowborn alike. There is no lock, cell or door in the whole of Erana that can keep out the Shadowdancer if he wants ingress. The laws of Erana mean nothing to me, I am beyond the law for I have no law.
Those who are my allies have my unwavering loyalty and the sharpness of my blades. Those who are my enemies – fear the shadows – for there I may be.
Do you believe in magic and the gods?
I am an adept – I use a magic of sorts although I am not a spellcaster.
Magic in Erana is complex, it goes where it will and shows itself in many forms. I am fast, faster than most, I can use the darkness and the shadows to cloak myself. If I do not wish to be seen, then I am not seen unless the looker is another adept or already knows someone is there.
I am not pious, I'm far too cynical to be a zealot but I pay homage to the gods if I need to. Do they exist? Yes, of course but whether they bother with the lives of mortals is another matter.
Are you a good man? What do 'good and evil' mean to you.
*Laughs again. Have you not been listening?
But good and evil are such relative terms in this land. The Witch-Hunters claim they are the force of good – they 'protect' the population against the mages and the elves, they keep order, they ensure the roads can be travelled safely….
It's all bullshit – they oppress the elves – elves and half-elves and anyone not human has no rights, no regress to law. If an elf is attacked in the street – the Order of Witch-Hunters will not intervene, in fact they may even arrest the elf for being an elf. Magic is illegal – sorcerers such as my master should not exist. The only good mage is a dead mage, and all that nonsense. But of course they use magic for their own devices. The best healers are magical, the best weaponsmiths and blacksmiths are magical, and the Order knows it.
My master's lady was taken, raped and beaten almost to death because she was an elven mage. She was kept as a slave and past around her Keeper's friends because she had no right to law, no rights as a woman to her own safety or body, and no property.
The Order rule by fear, the dissemination of lies and propaganda; they take a cut from the slavers – who kidnap elves, and sometimes humans.
And for the record – the roads are lousy. There are bandits all over Erana – outlawed men and women who either are living that way because they have no choice or who choose a modicum of freedom – at the risk of capture and death.
I kill, I steal, but I've never lain with a woman without her consent, I've never killed a mage simply because they are a mage, or dragged someone off to be a slave because it's a lucrative business.
I've risked my life to save strangers, to return something which was taken from an elf widow who had nothing but a worthless trinket from her husband, I've poisoned lords, and slit the throats of young men barely old enough to shave because of bad choices they made.
You tell me – am I a good man or a bad one? And either way, I do not care.
Who is your greatest friend?
The Oncoming Storm – he is my friend, my master, my mentor and the closest person to a father I have ever known or shall know. He saved my life, educated me, brought me freedom of a sort and wealth beyond that of any other elf in this land. He is kind to those worthy of it, and deadly to those who deserve it.
I would die for him.
Do you believe you will be successful in your quest?
I hope so. If we fail someone will pay for that.
What do you do on your days off?
I like good food, good books, walking in the hills. I am an alchemist as well, so I like to make things that go boom, or make other people regret meeting me. *Grins.
Are you offering?
I have Ozena, a forest elf we assisted. She's brave, and resourceful and her unworldliness is charming. For some reason I don't understand she thinks I'm a good man.
EXCERPT
Excerpt from The Light Beyond the Storm Chronicles – Book I
"I trust you are the chief of this band, sir, for you seem confident enough to sit apart from your fellows?"
The bandit spun around, sword drawn, to see the figure standing at ease near to him yet beyond sword reach, cloaked with the shadows swirling around his feet. "Who are you, that you come here? You yourself are confident sir considering I am armed and you do not appear to be."
Olek laughed and somersaulted with lightning speed over the bandit's head, kicking the sword from the fellow's hand, toppling him in the dirt and landing with his own sword against the man's throat.
"Appearances may be deceptive, my friend, but I do not come here as an enemy, for if it was so, you would now be in pieces."
The other bandits formed a circle, weapons drawn, as Olek sheathed his own sword and held his hand out to help the man up. "As for who I am and why I am here, I will discuss that with you at the fire, as a friend and not surrounded by a ring of swords. Believe me in what I say when I tell you that a good deal of you would fall to my blades before I lay slain and those who did not would feel the wrath of him whom I serve. But as I say, I come here in friendship."
The chief nodded reluctantly and the bandits sheathed their blades. "You have balls, sir, I give you that. Now perhaps you would care to join me and my companions in a beer from the barrel." The man gestured to the fire, walked to the barrel and fetched some beer.
He sat and motioned Olek down. "You know I have killed men for less than you just did."
Olek smiled and took the beer, saying, "I do not doubt it, but if I wanted you dead you would be now lying in the dirt with your head removed, or simply you would not wake to see the dawn. I am not honourable enough to feel remorse for killing a man in his sleep should it suit my purpose. I am known, amongst other names, as the Shadowdancer, and I come from my master with a business opportunity." As he sat, the cowl of the cloak fell enough to reveal his pointed elven ears.
The bandit chief smiled and held out a hand. "I am honoured to meet you, your reputation precedes you. My name is Tholin. I lead this band, but what could the Shadowdancer want with a band of rogues and outcasts such as us?"
Olek waited until the man was sipping his beer before drinking his own. "Ah, well, that is a good question. I have…other business to deal with and not even I can be everywhere, thus I find it useful to have contacts…eyes and ears around that I may use. Shadows in the shadows, you might say."
One of the other bandits approached. "How do we know this elf speaks the truth, Tholin? He uses the name of the Shadowdancer yet it could be a lie. Elves lie."
"Well, perhaps you should take it on faith, unless you want a personal exhibition of my skills…human," Olek said with a smile like a cat.
The man drew his sword. "Sure, I have not shed blood for a few days, and yours will do nicely, elf."
Olek simply laughed at the man and as he charged, side stepped and drew both his swords. The bandit charged again and Olek stepped back and disappeared into a patch of shadow beneath the trees to reappear behind the man, bringing his swords down a millimetre from the fellow's face and a lock of the bandit's hair fell past his eyes. He kicked the hand holding the sword and the weapon spun away. "Move one hair's breadth and you are a dead man, bandit. I am the Shadowdancer, if you doubt me further perhaps we can continue this…entertainment, and after I leave you scattered for the wolves, I will take my business elsewhere."
The bandit paled and held his breath until the swords were removed. "Apologies, sir, for the insult," he managed with a squeak.
Olek nodded and shrugged, pulling the cowl back to shield his face. "It is best to be cautious in your dealings. Now after so much dawdling, perhaps we may talk business, my time is short. Witch-Hunters pass these roads. It would please my master if they were to be delayed…removed…inconvenienced. The Witch-Hunters seek not only users of magic but those of us who, through choice or necessity, live apart from what they term as law. If you are caught, you will hang, if not worse. The 'hospitality' of the Order is well known for its brutality. Now do you not think it would suit us all for them to be inconvenienced?"
Tholin looked at him in awe. "The Shadowdancer has a master? This man must be truly great or truly to be feared. What you ask is dangerous."
Taking a slow swig, Olek merely replied, "The man I serve is both, for he is the Oncoming Storm. Now I can easily take this request elsewhere. You are bandits; you are supposed to be tough outlaws, the menace of the highways. It seems, however, that this is not the case."
He got up to leave and Tholin stood quickly, moving to stop him. "We accept. We patrol the roads from the edge of the Tremellic Valley to the bend in the Great River known as the Blasted Oak Crossing. I am sure the Witch-Hunters can be inconvenienced."
"Good will payment," Olek said, holding up a small bag of gold coins. "I can be contacted at the Sign of the Moon on the road from Eleiry to the Tremellic Valley. There is a box there, of bleached wood. You may leave a message there, and proof if needed. The message will get to me. If you please my master, there will be extra payment."
BLURB
The Light Beyond the Storm Chronicles – Book I
In a dark world where magic is illegal, and elves are enslaved a young elven sorceress runs for her life from the house of her evil Keeper. Pursued by his men and the corrupt Order of Witch-Hunters she must find sanctuary. As the slavers roll across the lands stealing elves from what remains of their ancestral home the Witch-Hunters turn a blind eye to the tragedy and a story of power, love and a terrible revenge unfolds.
*18 rated for adult scenes and violence.
Available as ebook, paperback, hardcover, large print and audiobook.
BUY LINK
Universal Link https://www.books2read.com/Lightbeyondstorm1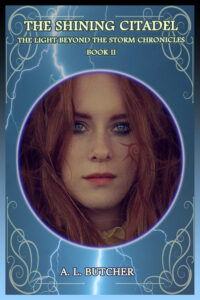 The Shining Citadel – The Light Beyond the Storm – Book II
Who rules in this game of intrigue where magic is forbidden, and elves enslaved? Journey where beliefs shatter like glass, truth is unwelcome, and monsters from ancient times abound: share the romance and revenge, magic and passion, and the wages of greed in a world of darkest fantasy.
*18 rated for adult scenes and violence.
Available as ebook, paperback, hardcover, large print and audiobook.
https://www.books2read.com/ShiningCitadel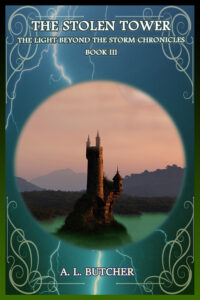 The Stolen Tower – The Light Beyond the Storm Chronicles – Book III
What stalks the land cannot be but is.
Where magic is outlawed a troll Shaman calls from her deathbed to her heiress, Mirandra Var, daughter of the storm. Mirandra vows to find her missing kin, sort friend from foe, and claim the dangerous secrets guarded by unthinkable creatures. If she succeeds, she will become the leader of her tribe. If she fails, there will be no tribe to lead.
*18 rated for adult scenes and violence.
Available as ebook, paperback, hardcover, large print and audiobook.
Universal Link https://www.books2read.com/StolenTower
AUTHOR BIO
British-born A. L. Butcher is an avid reader and creator of worlds, a poet, and a dreamer, a lover of science, natural history, history, and monkeys. Her prose has been described as 'dark and gritty' and her poetry as 'evocative'. She writes with a sure and sometimes erotic sensibility of things that might have been, never were, but could be.
Alex is the author of the Light Beyond the Storm Chronicles and the Tales of Erana lyrical fantasy series. She also has several short stories in the fantasy, fantasy romance genres with occasional forays into gothic style horror, including the Legacy of the Mask series. With a background in politics, classical studies, ancient history and myth, her affinities bring an eclectic and unique flavour in her work, mixing reality and dream in alchemical proportions that bring her characters and worlds to life.
Alex is also proud to be a writer for Perseid Press where her work features in Heroika: Dragon Eaters, Heroika Skirmishers – where she was editor and cover designer as well as writer – as well as Lovers in Hell and Mystics in Hell – part of the acclaimed Heroes in Hell series. http://www.theperseidpress.com/
Awards:
Outside the Walls, co-written with Diana L. Wicker received a Chill with a Book Reader's Award in 2017.
NN Light Book Heaven awards:
The Kitchen Imps and Other Dark Tales won the best fantasy for 2018
Echoes of a Song – one of her Phantom tales – won the best fantasy in 2019
Tears and Crimson Velvet won the best Short Story category in 2020
Dark Tales and Twisted Verses – won the best Short Story Category in 2021
LINKS
Blog https://libraryoferana.wordpress.com/about-a-l-butcher-fantasy-author-poet-author-promotion/
Facebook Author Page https://www.facebook.com/LightBeyondtheStorm/
Twitter https://twitter.com/libraryoferana/
Amazon Author Page http://amzn.to/2hK33OM
BookBub https://www.bookbub.com/authors/a-l-butcher
Goodreads http://bit.ly/GR2iqokvK
Linked In https://www.linkedin.com/in/alex-butcher-8342ab13b/
Instagram https://www.instagram.com/libraryoferana/
Tumblr https://www.tumblr.com/blog/libraryoferana
Pinterest https://www.pinterest.co.uk/abmonkey/
Books2Read newsletter sign up
https://books2read.com/author/a-l-butcher/subscribe/1/97541/
Independent Author Network https://www.independentauthornetwork.com/a-l-butcher.html
Google Play https://play.google.com/store/books/author?id=A.+L.+Butcher
Smashwords Author Page https://www.smashwords.com/profile/view/ALB123
Apple Author Page https://books.apple.com/gb/author/a-l-butcher/id895849667
Apple Audiopage https://books.apple.com/us/author/a-l-butcher/id895849667#see-all/audio-books
Kobo Author Page https://www.kobo.com/gb/en/search?query=a+l+butcher
Perseid Press Author Page http://www.theperseidpress.com/?page_id=523
Barnes and Noble Author Page  https://www.barnesandnoble.com/s/%22A.%20L.%20Butcher
Blog tour organised by Writer Marketing Services.