Welcome to MidWeek Tease, where authors share tempting snippets to tide you over till the weekend. A huge shout out to author Angelica Dawson for hosting our blog hop every week!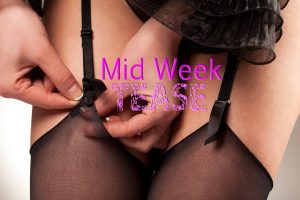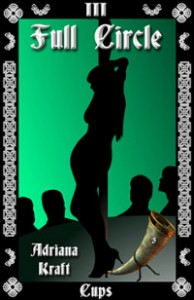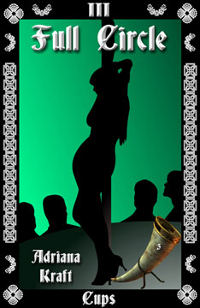 Tarot – Three of Cups:
Hot, sexy, tantalizing, steamy—exotic dancer Barbra Atkins has planned such sweet revenge for her former college roommates.
What will happen when the party's over?
Heat Level:





Explicit sex: M/F, F/F;
Ménage: F/F/M;
Toys, Anal sex, multiple partners
EXCERPT
We're continuing with a little backlist love. Last week we featured the opening lines of Full Circle, which released ten years ago this month. Here's a ménage snippet…
Barb closed her eyes and focused on the tongue so patiently playing with her folds, never quite approaching her portal. She whimpered when the woman chewed gently, then inched lower to tongue that sensitive ridge between pussy and anus.
Barb wiggled. She couldn't help it. She wanted more. She needed penetration. But Desiree ignored the hint. Instead, she shifted a little forward until she could nibble on Barb's clit.
Barb fought to stay focused. "Tongue me, girl. I've waited so long for this. I want your tongue in me." She reached down and laced her fingers in Desiree's thick curls. She hunched over and rocked back and forth on her knees. "Ah." At last, Desiree's curled tongue had found its way into her channel. Barb held on, thrilled with the ride as they rocked back and forth.
"Oh," Desiree grunted.
Barb smiled as she felt Sampson reestablish his role in their little tryst. Given Desiree's gasp, Sampson had likely reminded their lover that he indeed remained lodged deep inside her
BLURB
Exotic dancer Barbra Atkins has spent ten years carefully choreographing every step of her meteoric rise to success on the private club circuit. Now it's payback time for the two college roommates who didn't have time for their nerdy classmate ~ add three strapping spectacular hunks to the mix, and revenge can be so sweet!
BUY LINKS
~ o ~ ~ o ~ ~ o ~ ~ o ~
Be sure to check out the great teases from the authors below!