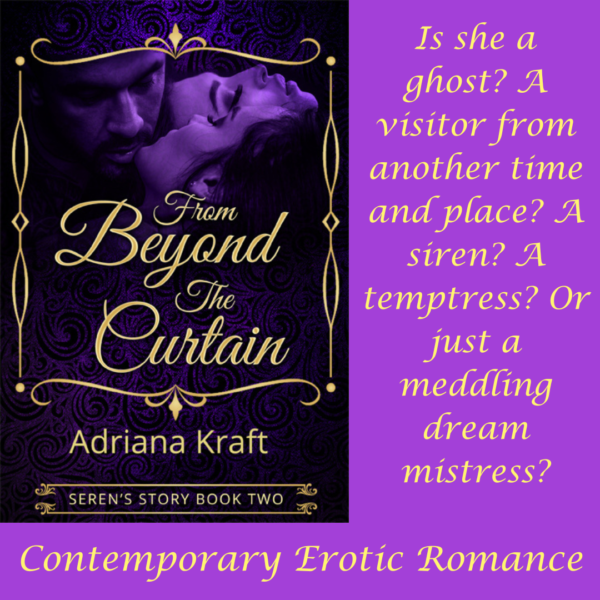 Welcome to the MFRW Steam Hop,
where the authors of Marketing for Romance Writers
entice you with steamy excerpts from their erotic romance stories.
Scroll to the end for more of this week's tempting excerpts.
For this month's steam, I'm sharing from my newest release, From Beond the Curtain (Seren's Story, Book Two).
EXCERPT
Set Up: After visiting a southern Arizona Native American site, Gwen and Dante have returned to her home. They're in her back yard – which has a tall privacy fence.
"Ah yes, this is what I dreamed of." Gwen struggled to get the words out. Fully nude, she lay back on the pool deck with her legs draped over Dante's shoulders. Equally nude, he stood in the pool and slid his tongue the full length of her pussy. His tongue traced her outer folds, then gently separated the inner folds. He seemed in no hurry, totally focused on her pleasure.
Gasping for air, Gwen tried to wait patiently. She'd never had a lover take this much time. Had he lost his way? Clearly not. The tip of his tongue began probing, seemingly a millimeter at a time. She kicked her heels against his back, spurring him on. She heard him chuckle. Then he suddenly drove his tongue home.
"Oh my god." Gwen squirmed trying to take more of him in. His tongue retreated and re-entered, finding its own rhythm. "I'm close," she muttered. "Make me come."
No sooner had she spoken than she felt a finger find her nubbin. "Yes." The finger tapped and the tongue increased its pace, driving her beyond knowing what or how.
Her body shook. She knew he somehow stayed with her. She felt her release. She'd forgotten to warn him. Too late, but just right. She heard him say something. Maybe amazing. But syllables were lost as he continued swallowing her offering.
At last her body stilled. Cool air chilled her pussy as Dante stood and lowered her legs. She pried her eyelids open. He looked overjoyed. She scooted back a little on the towel. "Don't go anywhere. Damn, you have an amazing tongue, counselor."
BOOK INFORMATION
Title: From Beyond the Curtain
Author: Adriana Kraft
Series: Seren's Story, Book Two
Publisher: Extasy Books
Release Date: July 14, 2023
Length: 22,500 words
ISBN: 978-1-4874-3897-5
Genres: Contemporary Erotic Romance, Paranormal, Time Travel
BLURB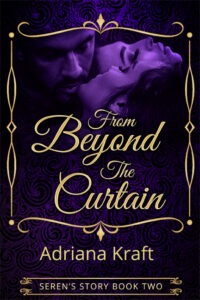 Is she a ghost? A visitor from another time and place? A siren? A temptress? Or just a meddling dream mistress?
Seren has bided her time for centuries, waiting for the moment when two of her descendants fall in love and release her, finally, from the place between worlds. The many gifts Seren has inherited from her ancestors—time travel, entering dreams, telepathic communication—have been unsuccessful thus far. Will Gwen and Dante be the ones?
Gwen McFarland has always been in touch with her Celtic roots. When Seren—who looks to Gwen like a Celtic goddess—materializes and invites her to a love tryst in another time and place, she does not hesitate. That Seren sometimes brings along another woman is simply an added benefit.
Fast paced trial lawyer Dante Emmanuel has no time for sentimentality or relationships. A string of satisfying sexual encounters suits him just fine. He's mystified when a recurring figure enters his dream life, but he won't turn down Seren's exotic sexual talents or the dreams that now seem more real than ever.
Who will make the first move in this three-part game of chess? Timing is everything.
BUY LINK
UNIVERSAL BUY LINK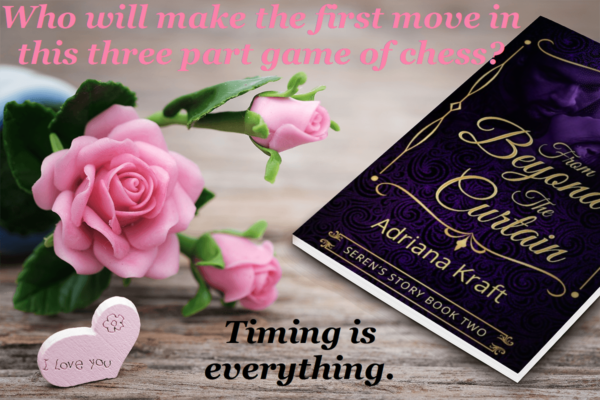 Don't forget to travel to the rest of the steamy excerpts!