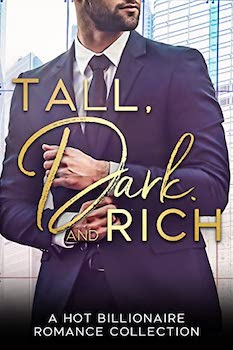 Tall Dark and Rich: A Billionaire Romance Anthology at an Incredible Price!
I hope this finds you in high spirits and eager for an exciting new reading adventure! I love writing billionaire romance novels, and sharing them with new readers, but there is nothing like an anthology to get the blood stirring. Think about it: more hot heroes, more steamy sex, more clever plot twists, more obscenely over-the top luxury.
I think one of the biggest challenge readers have is determining where to spend their limited reading dollars. This is especially true for mystery and romance readers who are particularly voracious. Readers return to the same authors again and again because they don't want to throw their money away on disappointing novels. To be honest, I have participated in anthologies before, only to be disappointed by many of the participating authors.
Not this time. As a romance reader myself, I find immense joy in sharing stories to make your heart race and your imagination soar. That's why I am thrilled to be part of Tall Dark and Rich, an upcoming billionaire romance anthology I feel confident will captivate your senses and fulfill your deepest romantic fantasies.
As of this writing, Tall Dark and Rich features thirty billionaire romances from sweet to scorching, novella to full length read, all written by talented authors. One third of the contributing writers are USA Today or NY Times Bestselling authors. One third! These gifted writers have poured their hearts and souls into crafting tales to transport you to a world of wealth, passion, and desire.
My own entry, A Crazy Rich Dilemma, is a full length, steamy contemporary romance about Leah, studying art and drowning in debt. Leah is still reeling from an out-of-character one night stand with Van when she is offered the opportunity of a lifetime. Renowned art collector, and disgustingly rich, Fletcher Donovan makes his own out-of-character move, loaning Leah his mansion for six months. Missing Van and their sizzling chemistry, Leah bonds with Fletcher over their shared love of art, soothing her battered heart by beginning a long-distance correspondence with Fletcher. Can the billionaire do more than lick her wounds?
Here's an excerpt from my new book, an All's Crazy in Love adjacent story and my entry for Tall Dark and Rich.
EXCERPT
Stanton approached, saving me from further discussion, and I watched with relief as Constance meandered away without a backward glance. She'd taken my advice and was hunting. God help the man she snared.
"Still trying?" We shook hands, happy to see one another. Stanton's grasp was powerful.
"Afraid so. I just want to have some fun, you know."
 "I didn't see you sneak in." Stanton surveyed the ballroom, looking past the Christmas trees decked in gold and silver that complemented the traditional styling and made the Drake a classic. "Plenty of fun here tonight."
 "Yes, there is. In fact, there is a woman I curious about—" I pointed to the back of the woman in the green dress.
 "Leah Rhodes.  She's staying with my sister while she finishes Art School. Interested?
 "Just curious," I deflected as convincingly as possible.
 "In fact—" Oh no, Stanton wanted something from me. I needed to escape.
 I didn't need more. I had her name and a tidbit of information with which to open the conversation. I waved off Stanton, started to make my move. But my host was still talking to me and I never learned how to be rude. Tuning him out but nodding at appropriate times, I watched as my beauty stepped from the room, my stomach plummeting at the idea that she would leave before I had my chance.
 I finally caught wind of what Stanton was saying. This woman needed a place to stay. He was suggesting my house. That was a monumentally bad idea, but—
  I scanned for Leah, hoping she would return. She was a standout, with that body, that sweetness about her mouth, and wonder in her eyes. It was a lethal combination. She was mesmerized in that crowd of jaded, rich bitches, fresh-faced and trying not to gape at the splendor. Or maybe she was trying not to judge the expense.
 It was the uniqueness of her that attracted me, but those curves draped in emerald green held my interest and notched up my temperature more than a few degrees. I felt the zing of electricity burgeoning with promise and sexual tension. I'd sensed it the moment we made eye contact. I couldn't lose her now.
 "I don't think it will work," I told Stanton, understatement of the century. I felt sick simply at the idea. But it was Leah. "Now's not a good time, and I'm really not good with people in my house. But maybe I could find some other way to assist."
 Certainly, the woman was a beauty, although not in the traditional sense. Her gown, obviously designer, was barely there, cut low, hugging her as I wished to, offering me a glimpse of cleavage that made my mouth water. All of which was icing on the cake, not the tasty confection that was this woman. I sensed much more to her, a depth I couldn't explain.
 Stanton continued talking until I wanted to punch him. The man had never been so loquacious. My expression must have signaled my impatience, because he wound down to the end of a speech, advocating hard for Leah. Who was she to him? Finally, Stanton quit yakking.
 "Like I said, I'm not really comfortable with the idea. Don't get her hopes up, but maybe—maybe I will think about it. Rhodes? Is she related to Melanie Rhodes? She was part of my legal team once or twice, so like I said, maybe I can help some other way."
 That was enough to placate my host so I said my goodnights, eager to find  Leah before anyone else could corner me or Stanford could gauge my level of interest.  One night with this angel was exactly what I needed to cleanse myself of women like Constance and start Paris with a fresh perspective. Having her my bed tonight. Definitely. Having her live in my house, not a chance.
 I found her resting in a traditional upholstered chair not far from the ballroom entrance, fingering through something on her phone. An urn behind her created the illusion she wore a flower crown. She resembled a goddess of Greek mythology.
 I wasn't wrong. Leah had no idea who I was. I couldn't believe my good fortune. For once a woman looked at me without dollar signs in her eyes. Leah was clueless about my family and I wanted to keep it that way as long as possible. I would be gone tomorrow, and she would be none the wiser while  I had the rare opportunity to spend one lovely night with a beautiful woman who wasn't after a Donovan, and what we could give her. This woman, this goddess, wanted me. I had a chance at an honest relationship, but only if I was dishonest. I appreciated the irony, and didn't think twice.
 "Van," I said, extending a hand toward hers, using my college nickname. It slid out of my mouth with ease. Her chin lifted to my face. She was more beautiful up close.
 Her eyes grew wide, obviously surprised to see me but not unhappy about it. I reached for a handshake and wound up engulfing her fingers, clasping them like fragile glass. She shook and not a limp handshake, mind you; more like she was proving a point. I resisted the urge to press a kiss on the inside of her wrist, wanting to leave my mark on her. "You're Leah, right?"
 She didn't hide her shock, rubbing a finger along her bottom lip. Was she checking her lipstick or wiping drool? Her expression didn't make it clear. 
 "I asked Stanton," I offered by way of explanation. "Dance?"
 I wasn't wordy, nor elegant, but my movements were swift and smooth, wrapping her in my embrace before she could refuse. I wasn't willing to risk no and it was obvious her feet were killing her.
 She was already halfway out of  the chair when she nodded yes,  her head barely reaching my nose. Hiding us from prying eyes, I kept us away from the ballroom but close enough to hear the music. She was tiny and soft in my arms and didn't question my choice of location.
 Leah fingered the fabric of my tux, then rested her hand like a whisper on my shoulder. Maybe I held her a little closer than appropriate, but she smelled sweet and felt breakable.
 "I'm not much of a dancer," she warned, her voice low and unconsciously seductive.
 "I promise not to step on your toes." Thanks to my years of dance lessons and decades of experience, I spun her to the edge of the lobby, lights and colors speeding past my view. A strong pine aroma emanated from the ballroom, but her floral scent rose above it as I twirled us around the groupings of lobby chairs.  I bent my head closer to inhale deeper. Whatever the perfume, it was a definite aphrodisiac.
 "How have we managed to miss each other before this? I think I've made most of Stanton's parties."
 "This is my first. I'm staying with his sister, Huntley."
 "Visiting from out of town?" I knew the answer but wanted to hear her version. "Where is home?"
 "Oh no," she clarified, meeting my eyes and holding me spellbound. "I live here, but a few months ago, I broke up with my boyfriend and he got custody of the apartment. It's been difficult finding a place since then."
 "Too busy nursing a broken heart?" I held my breath awaiting her response.
She laughed, a soft sound, and I finally got a glimpse of that wide smile in earnest. It transformed girl-next-door Leah into a force majeure. She was magnificent.
 "Hardly. More a question of affordability and proximity. I go to school downtown, and housing near the loop is pricey."
I breathed a sigh of relief. No attachment preventing me from pursuit. "I wish I could help, but I am living in a hotel room at the moment. Upstairs." Her blush was a giveaway. We were both thinking of that room, easily reached for a night of— "I leave in the morning, but if you are desperate, I could extend it a few days."
 "Leaving or the room?"
 "The room." I felt disappointed, surprisingly so. I was more intrigued than I'd expected.
If you're intrigued, now is the perfect time to preorder your copy of Tall Dark and Rich to ensure you don't miss out on this unforgettable reading experience. And the best part? For a limited time, the anthology is priced at only 99¢! That's dozens of captivating billionaire romances bundled together in one explosive collection, for less than a dollar! It won't last forever.
To reserve your copy, simply click https://books2read.com/TallDarkRich
You won't be disappointed.
ABOUT THE AUTHOR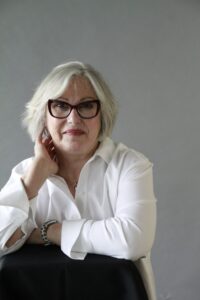 Madison Michael is the author of more than a dozen romance novels. She loves to create sassy heroines who know who they are and what they want. Add a hero who is every women's fantasy come true and watch the chemistry sizzle. Proud of her smart romances, Maddy tries to create flawed but loveable characters readers want to know, situate them in wonderful settings and then add a plot that allows them to flourish and fall madly in love. A smattering of mystery, humor, or meddling friends usually helps things along.
Madison lives in Chicago, close to her roots, friends, family and the best pizza anywhere.
She loves cats, cat jokes and cat videos, Hello Kitty, anything with too much sugar, and everything about being an author. She enjoys writing, learning about writing, promoting writing and writing while eating sugar, surrounded by cats.
Discover her Beguiling Bachelor or All's Crazy in Love series at www.madisonmichael.net/books
LINKS