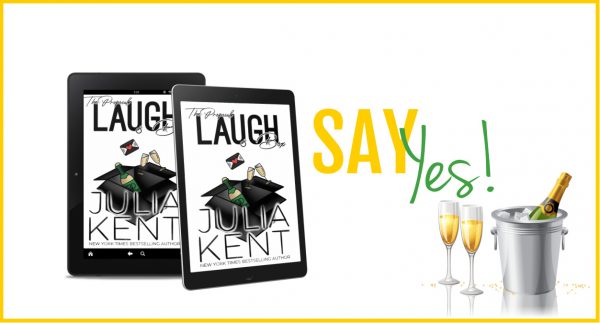 The Proposal Laughbox contains THREE full-length novels and TWO novellas – ONE ALL NEW! – from New York Times bestselling romantic comedy author Julia Kent's series.
Who doesn't love a funny, heartwarming proposal? Diamond engagement rings, flowers, candy, romantic dinners — it's all in here in rom com style.
Julia Kent's madcap style, that is.
Future brides swallow engagement rings, paparazzi crash tender moments when billionaires pop the question, mistaken identity causes mayhem, small-town lumberjacks ask their girfriends for their hands in marriage, and rock stars make grand gestures on New Year's Eve.
Laugh, swoon, blush and let your imagination heat up as you read across varying series, different heat levels, but all connected by love.
This boxed set includes:
Shopping for a Billionaire's Fiancée
Random Acts of New Year
Shopping for a CEO's Fiancée (A USA Today bestseller)
Random Acts of Yes
and an ALL NEW novella, Love You Fiancée, featuring Kell and Rachel from Love You Right, as Kell pops the question during the I Will Always Love You festival in his hometown of "Love You," Maine – where every day is Valentine's Day.
Sink into five fun books that leave you with all the feels, loads of laughs, and strange looks from people around you as you read, giggle, and fall in love.
Note: each of these books can be read as a standalone, but they are part of larger series. All of my Laughbox boxed sets are designed to give readers a taste of my books, centered on a specific concept (in this case, proposals and engagements). Full disclosure for readers.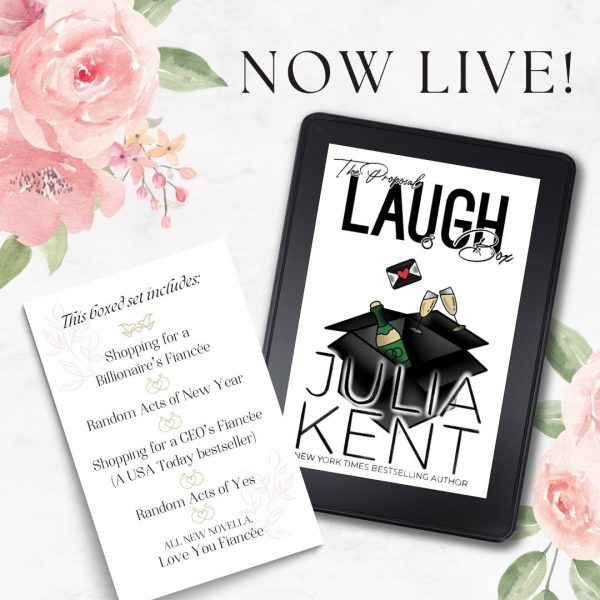 EXCERPT
From Love You Fiancée
He guided Rachel away from the gazebo, over to an old and dappled beech tree.
"Does the world feel different to you now, Kell?" she asked. "How can a few words make everything change so much? I feel it, too. It's as if we unleashed a force of energy we didn't know was out there. No one tells you this! All the articles on engagements and proposals and what to expect and what to do…" She took in a deep breath. "But no one talks about this, this feeling, this charge between the two of us…"
"Maybe they don't talk about it because they don't feel it. Maybe it's that unique."
She just blinked, once and then twice, the seconds passing as if all he were meant to do was share this space with her.
Nothing else mattered. Nothing else existed. Just the two of them, talking about how their love had exposed a secret aspect of existence.
You know. Everyday stuff.
BUY LINKS: 
 Amazon US:  https://www.amazon.com/Proposal-Laughbox-Boxed-Sets-Book-ebook/dp/B0B4MSM9XM/
Amazon UK:  https://www.amazon.co.uk/Proposal-Laughbox-Boxed-Sets-Book-ebook/dp/B0B4MSM9XM/
Amazon AU:  https://www.amazon.com.au/Proposal-Laughbox-Boxed-Sets-Book-ebook/dp/B0B4MSM9XM/
Amazon CA:  https://www.amazon.ca/Proposal-Laughbox-Boxed-Sets-Book-ebook/dp/B0B4MSM9XM/
Apple Books:  https://books.apple.com/us/book/the-proposal-laughbox/id6443007900
Kobo:  https://www.kobo.com/us/en/ebook/the-proposal-laughbox
Nook:  https://www.barnesandnoble.com/w/the-proposal-laughbox-julia-kent/1141675800?ean=2940185730058
Website:  https://jkentauthor.com/books/book-bundles/
BookBub:  https://www.bookbub.com/books/the-proposal-laughbox-laughbox-boxed-sets-book-2-by-julia-kent
Goodreads:  https://www.goodreads.com/book/show/61371661-the-proposal-laughbox
Author Bio:
New York Times and USA Today bestselling author Julia Kent writes romantic comedy with an edge. Since 2013, she has sold more than 2 million books, with 4 New York Times bestsellers and more than 21 appearances on the USA Today bestseller list. Her books have been translated into French, German, and Italian, with more titles releasing in the future.
From billionaires to BBWs to new adult rock stars, Julia finds a sensual, goofy joy in every contemporary romance she writes. Unlike Shannon from Shopping for a Billionaire, she did not meet her husband after dropping her phone in a men's room toilet (and he isn't a billionaire she met in a romantic comedy).
She lives in New England with her husband and three children where she is the only person in the household with the gene required to change empty toilet paper rolls.
She loves to hear from her readers by email at [email protected], on Twitter @jkentauthor, on Facebook at @jkentauthor, and on Instagram @jkentauthor. Visit her at http://jkentauthor.com
Social Media Links:
Website:  http://jkentauthor.com/
Facebook:  https://www.facebook.com/jkentauthor/
Twitter:  https://twitter.com/jkentauthor
Newsletter:  http://bit.ly/2PIBi9n
Instagram:  https://www.instagram.com/jkentauthor/
BookBub:  https://www.bookbub.com/authors/julia-kent
Goodreads:  https://www.goodreads.com/author/show/3238619.Julia_Kent
Amazon Author Page:  https://www.amazon.com/Julia-Kent/e/B00A99V268/
Release blitz organized by Writer Marketing Services.