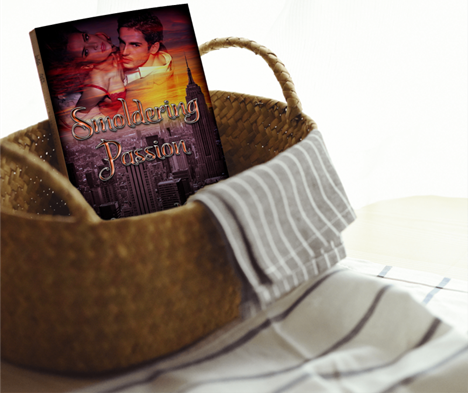 Her passion smolders – will it ignite?
Welcome to MFRW Hooks, where the authors of Marketing for Romance Writers share snippets from their stories to entice you into wanting more. Be sure to click on the links at the end to travel!
SMOLDERING PASSION
PASSION SERIES BOOK ONE
OUT NOW!
BUY LINK

Set Up: The Center where Melissa works regularly produces videos that might appeal to an older audience. When Harry assigned Melissa to work on camera wit Max, a recently widowed long time Center performer more than twice her age, she balked. Now she's waiting in a café to meet him for the first time.
EXCERPT
Melissa studied the man entering the café and looking around as if he was meeting someone. She knew immediately when his eyes met hers. His face lit up in a broad smile ,and he walked directly to her table. Clearly, Harry had shared her picture with him and hadn't bothered to give her the same courtesy.
"You must be Melissa," the man said easily. "I'm Max. May I join you?"
She nodded and shook his hand. He didn't have to bother asking. She was here at his request. The twinkle in his eyes was quite infectious. She smiled softly. "Please, have a seat. I've ordered coffee." She waved at the waiter.
"Let me take a moment to look at the menu," Max said. Melissa took the opportunity to consider him more carefully.
She gave him credit for staying in shape. While he wasn't buff, he wasn't flabby, either. He was mostly bald, with gray hair, including a mustache. What did they say about bald men? She couldn't remember, but she thought they were supposed to be more sexy.
She frowned. At least he didn't turn her off. He appeared healthy and seemed quite comfortable with their situation—more comfortable than she was. And there was that inexplicable sparkle about him. She sat back in her chair and relaxed a bit. Maybe this wasn't going to be as bad as she'd feared.
He sat the menu aside and smiled at her. "So do I pass?"
"What?"
"Figured you were sizing me up. Thought maybe you expected a dinosaur, or a dirty old man at the least."
"I…" She grinned at his broad smile. "I didn't know what to expect. You do seem quite civilized. And no, you don't strike me as a dirty old man. So what about me? Do I measure up for what you have in mind?"
Max leaned back and practically roared. "You're kidding!" He shook his head at her. "No, I see you're not. You're a very lovely young woman. Agnes would approve of you. She liked women with an air of mystery about them."
~ o ~
In case you didn't know, Mr. Kraft and I don't shy away from writing steamy romance featuring older characters. Max, who is in his sixties, will have his own story in Ripening Passion, scheduled to release in June. Stay tuned!
BOOK INFORMATION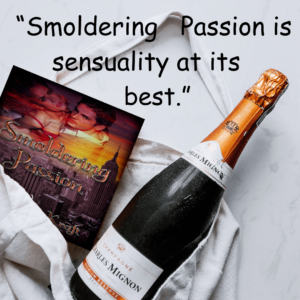 Title: Smoldering Passion
Passion Series, Book One
Can be read as a stand-alone
Author: Adriana Kraft
Publisher: eXtasy Books
Publication Date: April 7, 2023
ISBN 978-1-4874-3815-9
Length: 70,259 words
Genres: Erotic Romance, LGBT Romance
Pairings: MF, FF, FFF, FMF, MFM
Tags: Contemporary, Menage, Bisexual, New York City, struggling artist, age gap
Heat rating: four flames
BLURB
Her passion smolders. Will it ignite?
When art student Melissa Hopkins finally unpacks the two boxes her Aunt Phoebe left for her and sees Phoebe's black and white photos, it's like opening Pandora's Box. A simple quest to find a new job morphs into an about face—not just in her art, but in her career and personal life. Short on funds now that her graduate stipend is ending, she applies to work where Aunt Phoebe once worked: a center for sexuality and sex studies.
Sworn off women after a disastrous relationship, Center Director Harry Gage ignores the danger signals and hires the striking young woman who reminds him of his former lover. Her air of innocence will captivate center viewers, so he's sure she'll be a hit on camera. What he's not prepared for is how she pierces his heart.
When the sparks flare up, is it love or just sex—and what must each of them risk to find out?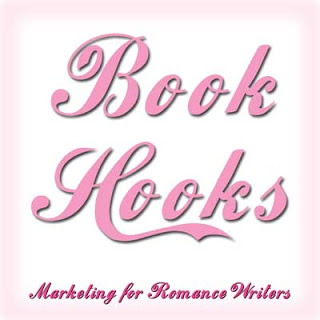 Don't miss the rest of today's enticing book hooks – click on the links to travel!