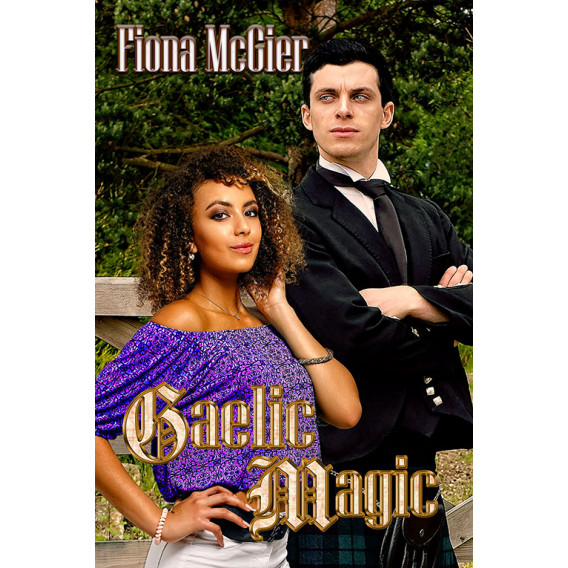 Gaelic Magic by Fiona McGier
BLURB
Naomi is a romance novelist. Her best-selling series is about a Scottish Thane from the past. Her other series is about a female spy.
When Naomi has anxiety attacks, she seeks help from an experimental dream therapy. The doctor warns her she'll have him in her head, watching as she remembers scenes from her life. She laughs and warns him about the other voices who live in her head, always telling her their life stories. His assistant, Will, wears a kilt to meet her for the first time. They both fight their initial attraction, but it grows stronger.
Finding out that Will is the seventh son of a seventh son is an amusing detail, until they discover that the unseelie have taken up residence in his head–but he has no idea why, or what they want him to do, to get them to leave. When Naomi and Will get close to the reason for her anxiety attacks, she realizes she could be in danger. Will their relationship survive? Will they?
BUY LINK
UNIVERSAL BUY LINK
EXCERPT
Set-up —Naomi is having coffee in a place on the campus, near where she's been going for her dream therapy. When she sees Will, the sexy young Scotsman who is the grad student helping her doctor, she waves him over to sit with her as they drink their lattes. She wants to date him but knows they can't—not until her therapy is over.    
"The kilt you were wearing the first time I met you didn't look that heavy."
"Ach, that's true. But Ah was wearin' what the website called an everyday kilt, made of a polyester and wool blend. So it wasnae as heavy as a traditional kilt. It also wasnae the Hamilton tartan neither."
"Oh, that's right. Every clan has a tartan of their own, right?"
"Aye, lassie. And some of the larger clans, like the Stewarts or the McDonalds, have more than one tartan, depending on which branch of the clan ye were descended from."
"But your family, the Hamiltons, only has one tartan?"
He nodded. "Aye. It's a red dominant, with three stripes o'blue close together and a thinner white stripe."
"I'd love to see you in your full formal dress wearing your proper tartan kilt. I'll bet you really look good in it."
Will's blush darkened, which was made all the more visible by his very pale skin.
"Oh, I'm sorry. I didn't mean to embarrass you. Was that too personal of a comment to make to someone I'm just having coffee with? I told you I really loved the Scottish culture when I was there. That is, after all, how I got the ideas for my very first book I had published. And where I got the idea for Laird Duncan MacLeod."
Will's lips twitched again. "But, lassie, if it's cold enough to be wearin' the kilt, ye'd be a fool to go bare-chested, wouldn't ye?"
Naomi smiled back at him. "I suppose so. But it's a romance novel, dude. We women aren't as visual as you men are, but we still like to look at a well-built man's chest. In fact, that's probably why your mom and sisters read my books. There's always a sexy man on the cover. Gives them someone to fantasize about while they read."
"And yer no embarrassed about the view into yer mind that ye give to yer readers?"
Naomi sat back, her eyes widening. "What do you mean?"
Will shifted around as if suddenly uncomfortable. "Well, Ah havenae read any of yer books, but Ah've paged through them when Ah found them lyin' aroon the hoose. They're, uh, explicit."
Naomi felt her lips twitching now. "Of course they are! That's what most romance readers want. They want to be swept off their feet by a romantic hero who falls so deeply in love with the heroine that he'll do anything to protect her, or to win her love, if she's hard to convince. And when they finally do get to fall into bed, the whole idea is to satisfy the readers as much as the characters."
Warming to her topic, Naomi continued. "And what few men seem to realize is that they don't have to ask that perennial question anymore about what it is that women want. All they have to do is pick up a romance novel, preferably one of mine, and read it. That will tell them all they need to know about how to satisfy a woman."
Will blushed again, an even darker shade of red.
ABOUT MY STORY:
For many years, I've resisted even READING Highlander romances, let alone writing one, since the accent doesn't say, "Hello, sexy Scotsman in a kilt," it says, "Hi, Dad." Me late faither was from Glesga, and his accent is what I hear in "me heed," when I think of him. But the idea for this book came to me in a dream, as the best of my story arcs usually do, so I had to write it. I just hope my dad doesn't haunt me once it's published–there are steamy scenes he'd not appreciate, when they're written by his daughter! LOL.
ABOUT THE AUTHOR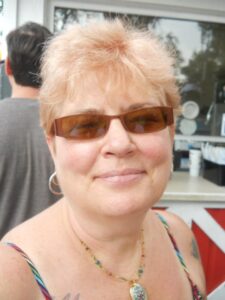 I write romances that involve strong, independent women who don't mind casual flings, but who are not looking to fall in love. Enter the man who decides this is the woman for him. I think that how they ultimately both realize that they have found the one, is the most interesting part of a romance. I read and review romance because, as I've told my long-time HEA, the only men I'll cheat on him with live in books. Some I write, some I read. And he's okay with that. Phew!
Blog and Website: http://www.fionamcgier.com
Facebook: https://www.facebook.com/fiona.mcgier/
Smashwords: Get the first 20% free!
https://www.smashwords.com/profile/view/fionamcgier
Free Download: Prescription For Love:
https://books2read.com/u/boEQD0
Amazon Profile: http://www.amazon.com/Fiona-McGier/e/B003J8QJGE
Goodreads:https://www.goodreads.com/author/show/2987252.Fiona_McGier