BOOK INFORMATION
Book Title: Turning the World to Stone
– The Life of Caterina Sforza Part One 1472 to 1488
Author: Kelly Evans
Publication Date: 2 May 2023
Publisher: Eska Publishing
Page Length: 385 pages
Genre: Historical Fiction
BLURB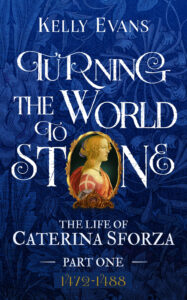 Vilified by history, Caterina Sforza learned early that her life was not her own. Married at age ten, she was a pawn in the ever-changing political environment of Renaissance Italy.
Resigned to her life as a fifteenth-century wife, Caterina adapted to the role she was expected to play: raising and educating her children, helping the poor in her new home, and turning a blind eye to her husband's increasingly shameful behaviour. But Fate had other plans for her, and soon Caterina's path would be plagued by murder, betrayal, and heartbreak.
"Could I write all, the world would turn to stone."
EXCERPT
"Can you imagine a life with," Luisa paused, "him?"
"Pope Sixtus IV's nephew. Girolamo Riario. You may as well get used to saying it." Caterina thought for a moment. As a Sforza, she had access to the famed Milanese library, only second to that of the Vatican, and had grown up on tales of knights and maidens and chivalry. None of them told the story of an overweight thirty-year-old with a permanent petulant look. She swallowed. "No, I can't imagine my life from now on. But there's nothing I can do, it's my father's decision."
They were staring at each other helplessly when Caterina's stepmother rushed in. Bona of Savoy, the duke's second wife, had only been married for three years but was already admired and beloved by Milan for her kindness, humour, and love of music and food. A devout woman, she had treated Caterina, one of many of the duke's illegitimate children, as her own, ensuring both the girl's mind and soul were seen to.
"You're here. Good. I must speak with you." She sat on an elaborately carved wooden chair next to the fireplace and waited for Caterina to join her. Luisa bobbed her petite body before Bona and, with a sympathetic glance at her friend, hurried from the room.
Bona wasted no time getting to the point. As soon as Caterina was settled, she spoke. "You're to be married."
"I know."
Keeping her surprise to herself, Bona merely replied, "How?"
"I was under the table in the study when father spoke about it."
"Your spying will get you into trouble someday." Seeing the girl's face begin to crumble, she smiled gently. "I'll forgive you this time."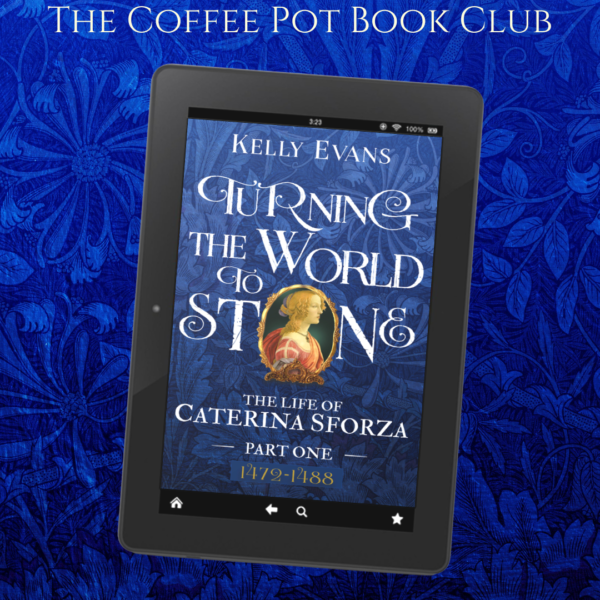 BUY LINKS
This title is available to read on #KindleUnlimited.
Universal Link: https://mybook.to/Caterina
Amazon UK: https://www.amazon.co.uk/Turning-World-Stone-Caterina-Sforza/dp/1778022421
Amazon US: https://www.amazon.com/Turning-World-Stone-Caterina-Sforza-ebook/dp/B0C1HZHT93
Amazon CA: https://www.amazon.ca/Turning-World-Stone-Caterina-Sforza-ebook/dp/B0C1HZHT93
Amazon AU: https://www.amazon.com.au/Turning-World-Stone-Caterina-Sforza-ebook/dp/B0C1HZHT93
AUTHOR BIO
Born in Canada of Scottish extraction, Kelly Evans graduated in History and English then moved to England where she worked in the financial sector. While in London Kelly continued her studies in history, concentrating on Medieval History, and travelled extensively through Eastern and Western Europe.
Kelly is now back in Canada with her husband Max and a rescue cat. She writes full-time, focussing on illuminating little-known women in history with fascinating stories. When not working on her novels, Kelly writes Described Video scripts for visually impaired individuals, plays oboe, and enjoys old sci-fi movies.
SOCIAL MEDIA LINKS
Website: https://www.kellyaevans.com
Twitter: https://twitter.com/ChaucerBabe
Facebook: https://www.facebook.com/kellyevansauthor
Instagram: https://www.instagram.com/kellyevansauthor/
interest: https://www.pinterest.ca/kellyewrites/
Book Bub: https://www.bookbub.com/profile/kelly-evans
Amazon Author Page: https://www.amazon.com/stores/Kelly-Evans/author/B0187JGTOQ
Goodreads: https://www.goodreads.com/author/show/14335541.Kelly_Evans
More excerpts available on other tour stops:
https://thecoffeepotbookclub.blogspot.com/2023/05/blog-tour-turning-world-to-stone.html