Welcome to Weekend Writing Warriors, where writers share an 8 to 10 sentence snippet of their writing on Sunday.  Be sure to visit other participants at http://www.wewriwa.com/  and read and comment on their #8sunday posts.
Spread the word: Twitter hashtag #8sunday
EXCERPT
Shaking her head, Cassie grabbed a hoof pick from her back pocket, lifted one of Hope's front hooves, and began extracting dirt and pebbles.
"Nice lookin' filly."
Cassie groaned at the strange deep voice and the too-familiar line. Couldn't men anywhere be a little more original?
Dropping the hoof, Cassie glanced across Hope's back and gasped. The deeply tanned hunk behind the voice had shoulders that stretched taut a pale yellow polo shirt covered, in part, with a thin buckskin vest. The wide cowboy buckle appeared unnecessary to hold up well contoured Levi's.
A sweat-stained brown Stetson, tipped low, cast a light shadow across his facial features. His worn boots were those of a working man. This was no drugstore cowboy.
About Cassie's Hope
Did you know that in addition to our steamy erotic ménage romance stories, my husband and I also write romantic suspense? One man, one woman, danger and intrigue – always a happy ending, but oh, what a ride! Our Romantic Suspense line delivers "warmth, blazing hot sex, and well-developed characters" (Romance Junkies Reviews) as our hero and heroine battle outer threats and inner demons to stay alive and fall in love.
We love horses and have, at various points in our life, owned a couple thoroughbred race horses, a quarter horse who didn't want to race and became a working cutting horse, and an arab/saddlebred who is now a dressage horse. We've been to the Kentucky Derby twice, the Belmont Stakes once, and the Arlington Million twice (none of our horses were at that level, of course). We put that passion and experience to work in a four book romantic suspense series set in the horse racing industry, Riders Up! Cassie's Hope is Book One. The scene above is set at a small track in western Wyoming, where both our quarter horse and one of our thoroughbreds ran briefly.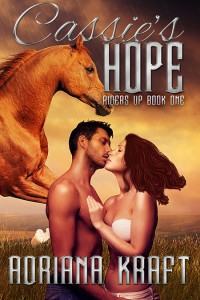 High stakes, a fiery Irish redhead, her stunning racehorse, and a fiercely loyal rancher.
Cassie's Hope
Series: Riders Up! Book One
B&B Publishing:
November, 2013
Ebook, Paperback
Novel: 71,000 words
Cover Artist: Rebecca Poole
Three flames:
Explicit sex: M/F
BLURB
What happens when a fiercely loyal widowed half-Ute cowboy meets a fiery redhead with an Irish temper to match? Cassidy O'Hanlon – Cassie, to her friends – has set aside her Chicago career for six months to train racehorses for her dad after his stroke.
Furious the interloper has shipped in a ringer from the Chicago circuit to his Wyoming turf, Rancher/trainer Clint Travers sets out to put her in her place. Sparks fly immediately, but after their rocky start, the two quickly forge a passionate relationship, and he follows her to Chicago.
When it becomes clear someone is drugging Cassie's horse, Clint sets out to solve the mystery, but storms off in a cloud of wounded pride when suspicions turn to him.
Can love trump pride?
REVIEW
Five stars at Goodreads: "…I took their journey with them. I felt their pain, their sadness, their struggles, and most of all their love. And that is the mark of a truly good book."  Faith
BUY LINK
Print and e-book: Amazon
Free at Kindle Unlimited
Be sure to stop by the rest of the
Weekend Writing Warriors at this LINK –
you'll be glad you did!