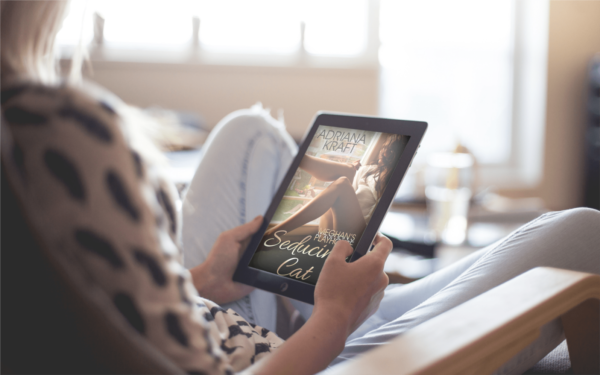 Welcome to the MFRW Steam Hop,
where the authors of Marketing for Romance Writers
entice you with steamy excerpts from their erotic romance stories.
Scroll to the end for more of this week's tempting excerpts
There's a first time for everything. Catlin, a heroine in Seducing Cat, is 34 and single. She has never considered the possibility of loving a woman – but it turns out Meghan Keenan, Caitlin's upstairs renter, is not only very persuasive but very enticing.
EXCERPT
Feeling better after showering, Caitlin donned her nightshirt, slid into bed, and reached for the novel on the nightstand. One of her favorite CDs filled the room with soft music that hopefully would not only drown out the noise from upstairs but also help her fall asleep.
She'd read three pages before she heard a soft rap over the strains of a piano concerto. Dumbfounded, she gaped at Meg entering the room and closing the door behind her. An oversized t-shirt fell to mid-thigh. Meg's obviously budding nipples pressed against the fabric.
Coming to a halt by the bed, Meg smiled softly. "I wanted to see how you were doing."
"I—I'm fine," Caitlin stammered. "I thought you'd be with Kurt. It is the weekend."
"Kurt's busy this weekend. I'm alone. Just like you."
"Oh." If breathing was a necessity for life, she was in deep trouble.
"Is it okay that I'm here?" Meg asked, her eyes filled with hope.
Caitlin smacked her lips and nodded.
"I would never force you," Meg said, brushing the back of her hand against Caitlin's bare arm.
"I know," Caitlin whispered, trying to breathe.
"May I join you?"
Patting the bed beside her, Caitlin struggled to find her voice. "I'd be devastated if you left now."
Meg's broad smile made Caitlin's flesh tingle. She held out her hand and helped Meg climb onto the bed. She sighed. There was no looking back now. She'd have plenty of time to analyze tomorrow.
Then there would be time for self-recriminations, if need be. Now she just wanted to hold and explore the gift of this young woman.
"I was afraid our kiss might have frightened you," Meg said, sliding a finger across Caitlin's cheek.
"I was afraid it might be our last kiss."
BLURB
Levelheaded English Professor Caitlin Shanahan has finally earned tenure and purchased the century-old two-story house of her dreams in the college town of Burntside, Wisconsin—at thirty-four, she'd better face facts: her future is teaching college and writing plays, not falling in love. So why is she so drawn to foxy little hometown actress Meghan Keenan, who's rented her upstairs apartment, or worse, to the girl's gorgeous hunk of a lover Kurt Davis, a carpenter who's never even been to college?
Twenty-year-old Meg has a plan. First she'll seduce the reluctant professor, then she'll share her sexual delights with both Cat and her brawny carpenter, and when she's successfully brought them together, she can make her escape and explore what's beyond the only town she's ever lived in.
Kurt can't stand the up-tight professor who's hired him to build a gazebo and refurbish her old house—the house he wanted for himself. Even if Meg's scheme succeeds, he knows Caitlin would never look at him twice. No need to go there in his fantasies…
BOOK INFORMATION
Seducing Cat
Series: Meghan's Playhouse, Book 1
Length: 28,000 words
Genres: Erotic Romance, LGBTQ, Menage,
Pairings: FF, FM, FFM
BUY LINK
Universal link:
https://books2read.com/u/mgPjn6
MEGHAN'S PLAYHOUSE SERIES BLURB
When the effervescent Meghan Keenan swept into our lives and condescended to let us start putting her story on the page, we had no idea what we were in for. In fact, all we set out to do was write a romp; turns out we couldn't really do that. Characters have a way of taking over, and Meg wasn't satisfied with just being a piece of fluff having hot sex scenes. Even in her first book, the erotic romance novella Seducing Cat, she's all about breaking social class barriers while she's having a good time. She's pretty egalitarian – men, women, carpenter, professor, it doesn't matter to her. The world is her oyster and she's going to enjoy every tasty morsel. The six-book series begins when she's almost 21 and follows her erotic matchmaking adventures for nearly a decade. We promise she does get a happy ending in book six, but we're keeping its details secret. Meg gives good advice – be open to surprise.
Meghan's Playhouse Series Buy Link
And don't forget the rest of today's steamy excerpts!