Welcome to MidWeek Tease, where authors share tempting snippets to tide you over till the weekend. A huge shout out to author Angelica Dawson for hosting our blog hop every week!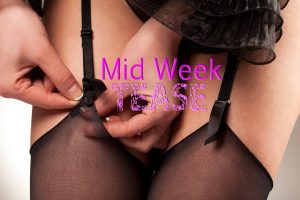 Just released! Meghan's Playhouse, Book 3, is now available at Extasy Books. Watch this page for other retail outlets as they become available.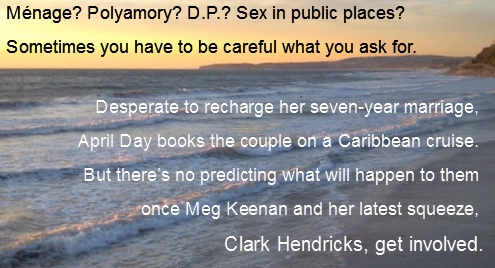 Set Up: If you're following Midweek Tease, this scene takes place the afternoon before last week's excerpt.
EXCERPT
Meg waited until Derek was out of earshot, then directed her attention to the eager, bubbly blonde. "I don't usually get involved with married couples. Unless I got them together in the first place."
April's smile broadened. "I knew I was right about you. Derek thought I was crazy."
"I like women and guys, if that's what you mean. But as I said, I don't usually get involved with married couples. So what are you looking for? A little diversion?"
April winced. "More than that. Not a long-term relationship—I have that with Derek." Her fingers curled around a napkin, showing the first sign of tension. "We've lost the sexual spark that used to be so important to both of us."
"Ah. That explains a lot." Meg glanced toward the exit. "So you're much more interested in rediscovering this spark than your husband is?"
April shrugged. "I don't think he knows how to go about finding it. He refuses everything I come up with."
"But you convinced him to come on this cruise?"
Nodding, April said, "It wasn't an easy sell. I guess he finally bought the idea that it would be easier to have an adventure onboard a ship than in Chicago. Less dangerous in the long run."
"Possibly. So why did you pick me out of all the women who are looking for action, much like you? This is my third cruise. You and your husband aren't as unusual as you might think."
"You've helped others on cruises?"
"I didn't say that." She paused. "I've had my hands rather full with Clark. But I must admit you're the first person to approach me so directly. You're not into a lot of games. I like that."
BOOK INFO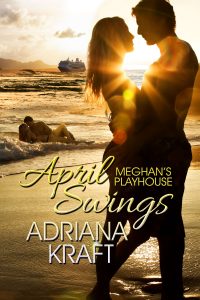 April Swings
Meghan's Playhouse:
Book Three
October 13, 2017
4 Flames:
Explicit Sex, MF, FF
Ménage, FFM, FMF, FMFM
BLURB
April Day deeply loves her husband, Derek, but something's missing. To heat things up, she books them on a Caribbean cruise for their seventh anniversary. She's not sure what she's looking for, but she knows she's found it as soon as she spots the delectable sprite of an actress who stars in the ship's daily shows.
Meghan Keenan's having a blast with her latest squeeze, Clark Hendricks, who writes and directs the shipboard main shows. Should she turn down April's request to heat up her marriage? And if she accepts, where will Clark fit in?
Derek is stunned by his wife's brash pursuit of the hot young actress. Must he match her boldness to keep her from leaving him?
BUY LINK

~ o ~ o ~ o ~ o ~ o ~
Don't forget to stop by all the other fabulous Midweek teasers: