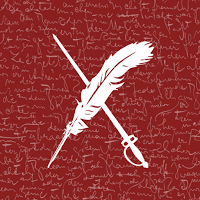 Welcome to Weekend Writing Warriors, where writers share an 8 to 10 sentence snippet of their writing on Sunday.  Be sure to visit other participants at http://www.wewriwa.com/  and read and comment on their #8sunday posts.
Spread the word: Twitter hashtag #8sunday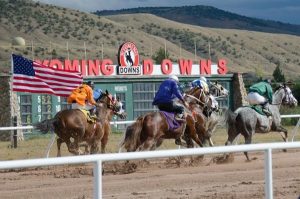 We've sat in the stands at Wyoming Downs and watched a California shipper breeze past the local Wyoming and Utah horses for an easy win, so we know something about why Clint Travers has a negative reaction to Cassie before they've even met. It's a bit of a stretch to think a Chicago trainer would go to the expense and effort to ship a horse in just to get a win – the small purse will hardly cover expenses. But Cassie's dad is a savvy trainer. He knows two things – the horse needs a win to build her confidence, and she'll come back to Chicago with an altitude advantage. If all goes well, her next purse – in Chicago – will more than make up the difference.
EXCERPT
The cowboy glared at Cassie and anger crept into his voice. "You're just trying to get a cheap win for your horse."
"That's horse racing, isn't it?" Cassie's voice rose, and she boldly returned his hard stare. "And the favorites win only a third of the time. So?"
"Uh huh—unless someone ships in a ringer. This filly will go off three to five. The bettors aren't gonna be very happy with you, either."
"Well, hot damn. I didn't come here to win a popularity contest. I came here to win a horse race. And that's what we're going to try to do."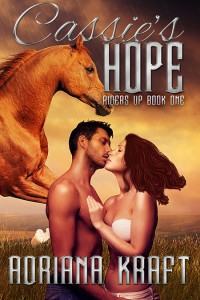 High stakes, a fiery Irish redhead, her stunning racehorse, and a fiercely loyal rancher.
Cassie's Hope
Series: Riders Up! Book One
B&B Publishing:
November, 2013
Ebook, Paperback
Novel: 71,000 words
Cover Artist: Rebecca Poole
Three flames:
Explicit sex: M/F
BLURB
What happens when a fiercely loyal widowed half-Ute cowboy meets a fiery redhead with an Irish temper to match? Cassidy O'Hanlon – Cassie, to her friends – has set aside her Chicago career for six months to train racehorses for her dad after his stroke.
Furious the interloper has shipped in a ringer from the Chicago circuit to his Wyoming turf, Rancher/trainer Clint Travers sets out to put her in her place. Sparks fly immediately, but after their rocky start, the two quickly forge a passionate relationship, and he follows her to Chicago.
When it becomes clear someone is drugging Cassie's horse, Clint sets out to solve the mystery, but storms off in a cloud of wounded pride when suspicions turn to him.
Can love trump pride?
REVIEW
Five stars at Goodreads: "…I took their journey with them. I felt their pain, their sadness, their struggles, and most of all their love. And that is the mark of a truly good book."  Faith
BUY LINK
Print and e-book: Amazon
Free at Kindle Unlimited
Be sure to stop by the rest of the
Weekend Writing Warriors at this LINK –
you'll be glad you did!