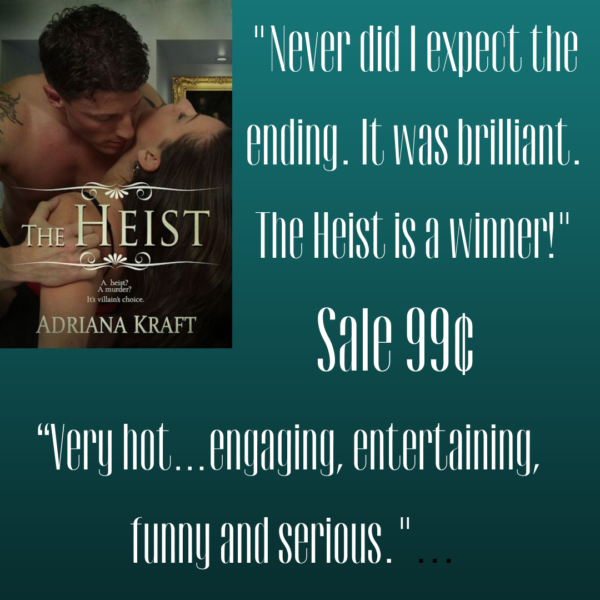 Welcome to Snippet Sunday – ten (or so) sentences from all your favorite romance authors! You'll find them all at this Facebook Group every Sunday:
https://www.facebook.com/groups/SnippetSunday/
Continuing with The Heist, romantic suspense.
EXCERPT
Set Up: Kara and Sasha are still puzzling over finding the museum unlocked…
"Don't worry about it," Kara said. "You're a valued member of this staff and our community. Ted Springs won't think any differently. Now let's get back to the tasks at hand. You've triple and quadruple checked the exhibit areas? Nothing is missing or damaged?"
Sasha nodded. "That's right. Irving and David have checked everything over and over, too. You walked through the entire building yourself. Nothing is missing. Nothing is damaged. That's what's crazy about this. Why would anyone go to the bother of disabling our computers and alarm system and steal nothing?" She paused. "And the creepy thing is we know they were in the building. The two soda cans on the floor in the vanPatten room didn't just walk in on their own."
BLURB
A special-order art theft? Tedious, but seamless – until small town museum director Kara Daniels calls in the experts. Furious her favorite trio of priceless impressionist paintings has been stolen from its traveling exhibit on her watch, Kara is determined to save not only the paintings, but her future in the art world. She'll stop at nothing to entrap the thief.
Ted Springs knows the underbelly of the criminal world a little closer than he might like—but he's turned it to good advantage, first as a police officer, and now as detective for the Upper Midwest Arts Council. His job? To guarantee the security of the valuable paintings in the Council's traveling exhibits.
Heat sizzles when Ted and Kara collide—can they work together, before it's too late?
BUY LINK
On Sale for just $0.99!
REVIEWS
Five stars at Goodreads: "The sex is hot and I loved the phone sex scenes. Never did I expect the ending. It was brilliant. The Heist is a winner!" Sheila G.
Five stars at Amazon: "From the start, the perspective of Kara, the museum's director and the thieves are cleverly interwoven…  rich in detail…   held my interest and kept me reading forward." Gaele  "Very hot…engaging, entertaining, funny and serious, well written and extremely enjoyable to read." Donna H.