Welcome to Weekend Writing Warriors, where writers share an 8 to 10 sentence snippet of their writing on Sunday.  Be sure to visit other participants at http://www.wewriwa.com/  and read and comment on their #8sunday posts.
Spread the word: Twitter hashtag #8sunday
EXCERPT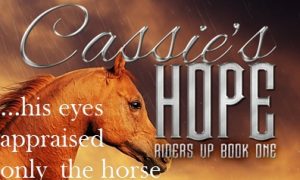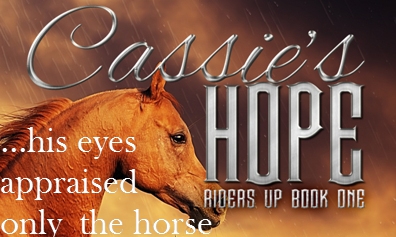 The cowboy stepped closer. Cassie could make out a scowl. Dark eyes snapped a foreboding anger. Raven black hair framed chiseled features, searing them into Cassie's brain. Her toes curled involuntarily. She rubbed Hope's coat vigorously. Who the hell was he? And to top it off, he didn't even seem to notice her. His eyes appraised only the horse.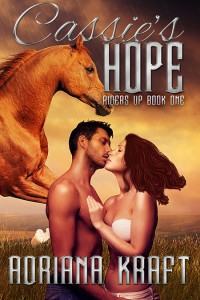 High stakes, a fiery Irish redhead, her stunning racehorse, and a fiercely loyal rancher.
Cassie's Hope
Series: Riders Up! Book One
B&B Publishing:
November, 2013
Ebook, Paperback
Novel: 71,000 words
Cover Artist: Rebecca Poole
Three flames:
Explicit sex: M/F
BLURB
What happens when a fiercely loyal widowed half-Ute cowboy meets a fiery redhead with an Irish temper to match? Cassidy O'Hanlon – Cassie, to her friends – has set aside her Chicago career for six months to train racehorses for her dad after his stroke.
Furious the interloper has shipped in a ringer from the Chicago circuit to his Wyoming turf, Rancher/trainer Clint Travers sets out to put her in her place. Sparks fly immediately, but after their rocky start, the two quickly forge a passionate relationship, and he follows her to Chicago.
When it becomes clear someone is drugging Cassie's horse, Clint sets out to solve the mystery, but storms off in a cloud of wounded pride when suspicions turn to him.
Can love trump pride?
REVIEW
Five stars at Goodreads: "…I took their journey with them. I felt their pain, their sadness, their struggles, and most of all their love. And that is the mark of a truly good book."  Faith
BUY LINK
Print and e-book: Amazon
Free at Kindle Unlimited
Be sure to stop by the rest of the
Weekend Writing Warriors at this LINK –
you'll be glad you did!