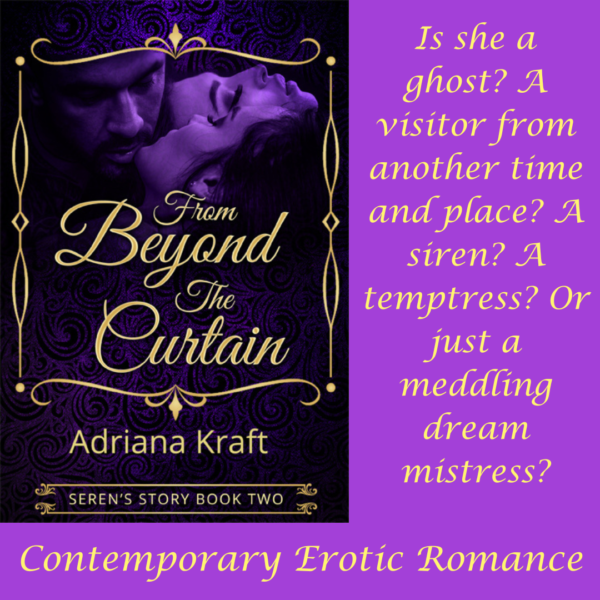 Welcome to MFRW Hooks, where the authors of Marketing for Romance Writers share snippets from their stories to entice you into wanting more. Be sure to click on the links at the end to travel!
Just Released: From Beyond the Curtain
Book Two of my Seren's Story series that began in Wales
during the Roman Occupation of Britain.
BOOK INFORMATION
Title: From Beyond the Curtain
Series: Seren's Story, Book Two
Publisher: Extasy Books
Release Date: July 14, 2023
Length: 22,500 words
ISBN: 978-1-4874-3897-5
EXCERPT
Set-Up: Seren has whisked Gwen away from her office desk, and they're at Seren's cottage in some other world.
"Sit down next to me." Seren rose to her knees and patted the mattress. "Let me comb out your hair. Your beautiful dark curls get so unruly during a night of lovemaking."
"Thanks," Gwen said, repositioning herself on the edge of the bed. She leaned over and brushed her lips across Seren's. "You're so lovely."
"And so are you. If Dante isn't smitten by you, I'll be amazed."
Gwen caught her breath. Was that why Seren's visit was so sudden? She'd mentioned Dante a couple other times, but Gwen had thought nothing of it until now. Dante Emmanuel was the client she'd been waiting for at work—the lawyer her best friend worked for. Why would Seren care?
Gwen chose her next words carefully. "From what Elizabeth's shared, Dante doesn't spend enough time with any woman to be smitten by her."
"That might be his way of defending himself, of saving himself for the one who will matter."
Definitely a loaded sentence. "Elizabeth warned me away from him. She referred him to my clinic, but she wanted me to avoid taking him on as my direct client. He's just there to rehab his injuries. I hardly think he's looking for the one who matters, now or ever. Where are you headed with this?"
Gwen waited for a response while relishing the feel of Seren's fingers stroking her hair, tugging at snarls, patiently separating strand from strand. Warm lips settled on her nape.
"In due time, my love, all will be clear."
BLURB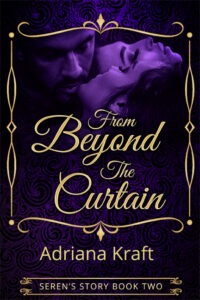 Is she a ghost? A visitor from another time and place? A siren? A temptress? Or just a meddling dream mistress?
Seren has bided her time for centuries, waiting for the moment when two of her descendants fall in love and release her, finally, from the place between worlds. The many gifts Seren has inherited from her ancestors—time travel, entering dreams, telepathic communication—have been unsuccessful thus far. Will Gwen and Dante be the ones?
Gwen McFarland has always been in touch with her Celtic roots. When Seren—who looks to Gwen like a Celtic goddess—materializes and invites her to a love tryst in another time and place, she does not hesitate. That Seren sometimes brings along another woman is simply an added benefit.
Fast paced trial lawyer Dante Emmanuel has no time for sentimentality or relationships. A string of satisfying sexual encounters suits him just fine. He's mystified when a recurring figure enters his dream life, but he won't turn down Seren's exotic sexual talents or the dreams that now seem more real than ever.
Who will make the first move in this three-part game of chess? Timing is everything.
UNIVERSAL BUY LINK
This is a blog hop! Click on the links to travel.