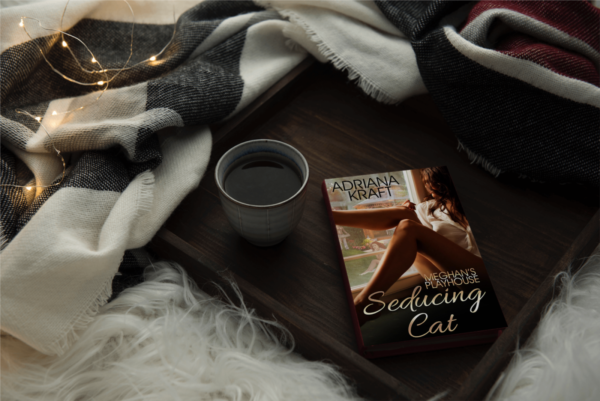 What could college English Professor Caitlin Shanahan
ever have in common with the brash carpenter Kurt Davis?
The sexy sprite Meghan Keenan, that's what.
Welcome to Snippet Sunday – ten sentences from all your favorite romance authors! You'll find them all at this Facebook Group every Sunday: https://www.facebook.com/groups/SnippetSunday/
This month I'm featuring Seducing Cat, Book one in a series about the modern-day Aphrodite, Meghan Keenan. We're still in Caitlin's point of view, peering out from her upstairs window – but Meg and Kurt just walked away from each other…
EXCERPT
At last Caitlin could breathe again. She'd watched the broad shoulders of Kurt Davis disappear into her tool shed, and she'd heard a downstairs door close and now heard Meg climbing the stairs toward her rooms.
What had happened just minutes ago in her backyard? Or what had nearly happened? If she saw it correctly, Meg had been ready to make love to Kurt right on her flagstone patio. But he'd rebuffed her and stormed off to work.
What had they argued about? It amazed her Kurt Davis would ever turn down a woman at any time or place. For a moment, she'd thought he'd spied her behind the curtain, but that wasn't possible. Of course, if he had, he wasn't about to wave at her – not with a naked woman in his arms.
FIND EVERYONE'S POSTS IN THIS FACEBOOK GROUP:
https://www.facebook.com/groups/SnippetSunday/
BLURB
Levelheaded English Professor Caitlin Shanahan has finally earned tenure and purchased the century-old two-story house of her dreams in the college town of Burntside, Wisconsin—at thirty-four, she'd better face facts: her future is teaching college and writing plays, not falling in love. So why is she so drawn to foxy little hometown actress Meghan Keenan, who's rented her upstairs apartment, or worse, to the girl's gorgeous hunk of a lover Kurt Davis, a carpenter who's never even been to college?
Twenty-year-old Meg has a plan. First she'll seduce the reluctant professor, then she'll share her sexual delights with both Cat and her brawny carpenter, and when she's successfully brought them together, she can make her escape and explore what's beyond the only town she's ever lived in.
Kurt can't stand the up-tight professor who's hired him to build a gazebo and refurbish her old house—the house he wanted for himself. Even if Meg's scheme succeeds, he knows Caitlin would never look at him twice. No need to go there in his fantasies…
BUY LINK
Universal link:
https://books2read.com/u/mgPjn6