Home
COMING SOON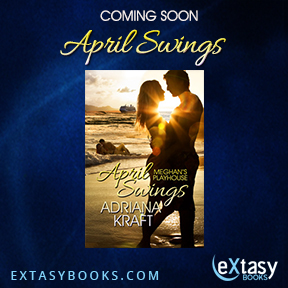 Meghan's Playhouse, Book Three, coming to Extasy Books Friday, October 13!
Booked as cruise ship entertainers, Meg Keenan and her latest squeeze, Clark Hendricks, spice up the Caribbean action with April and Derek Day.
Pre-Order April Swings at this LINK
RECENT RELEASES
A Woman for Zachary, Book Two in our Meghan's Playhouse series, is now available at Amazon and Extasy Books!
It's New York! Broadway beckons, but Meg has more fun keeping an erotic triangle going with her current flame, Zach Cullen, and her drama coach, Josie Patrice.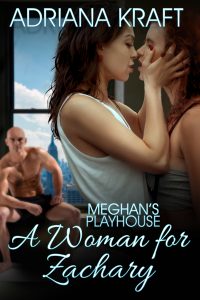 Zachary Cullen has ignored Josette Patrice's overtures for years, but she agrees to take on his latest protégé-slash-arm-candy Meghan Keenan in her off-Broadway workshop theater. Though the girl has incredible talent, Josie would stake her reputation on that little thing being a switch-hitter, like herself, and she doesn't want Zach to be duped. Josie sets out to seduce Meg and expose her for what she is, but all bets are off when Meg turns the tables on Josie to hook her up with Zach.
Hot to the Touch, Book Fifteen in our Swinging Games series, is now available at Amazon and Extasy Books!
Can the summer get any hotter? Swingers Brett and Jen
head north to a clothing optional RV resort,
but maybe cooling down will only heat things up more.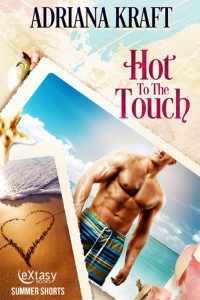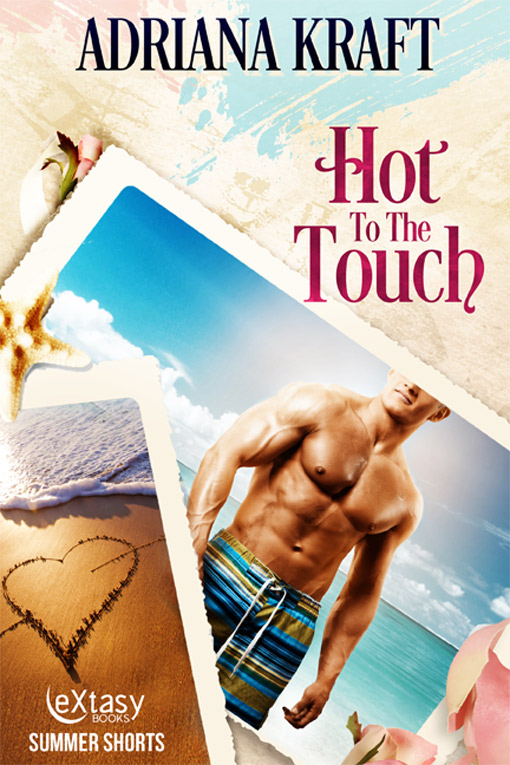 Escaping Southern Indiana summer heat, swingers Brett and Jen check out a Minnesota clothing optional RV resort, where the rules are very different from the swing lifestyle venues they're used to. When they spot a hot looking couple in the swimming pool, they're definitely interested, but they know better than to make the first move. Will Paul and Kim turn out to be players, or will Brett and Jen get a cold shoulder?
Seducing Cat (Meghan's Playhouse, Book One)
What could college English Professor Caitlin Shanahan
ever have in common with the brash carpenter Kurt Davis?
The sexy sprite Meghan Keenan, that's what.
BLURB
Level headed English Professor Caitlin Shanahan has finally earned tenure and purchased the century-old two-story house of her dreams in the college town of Burntside, Wisconsin—at thirty-four, she'd better face facts: her future is teaching college and writing plays, not falling in love. So why is she so drawn to foxy little hometown actress Meghan Keenan, who's rented her upstairs apartment, or worse, to the girl's gorgeous hunk of a lover Kurt Davis, a carpenter who's never even been to college?
Twenty-year-old Meg has a plan. First she'll seduce the reluctant professor, then she'll share her sexual delights with both Cat and her brawny carpenter, and when she's successfully brought them together, she can make her escape and explore what's beyond the only town she's ever lived in.
Kurt can't stand the up-tight professor who's hired him to build a gazebo and refurbish her old house—the house he wanted for himself. Even if Meg's scheme succeeds, he knows Caitlin would never look at him twice. No need to go there in his fantasies…
REVIEW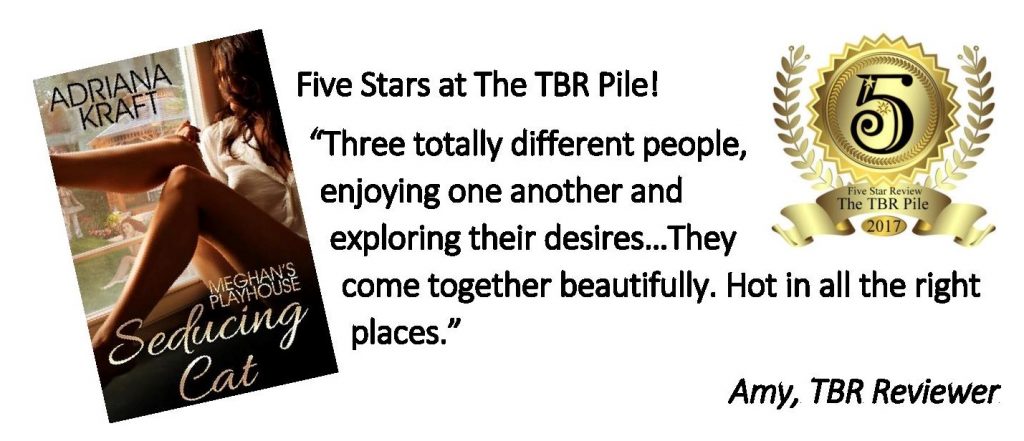 BUY LINKS

The Painter is a Lady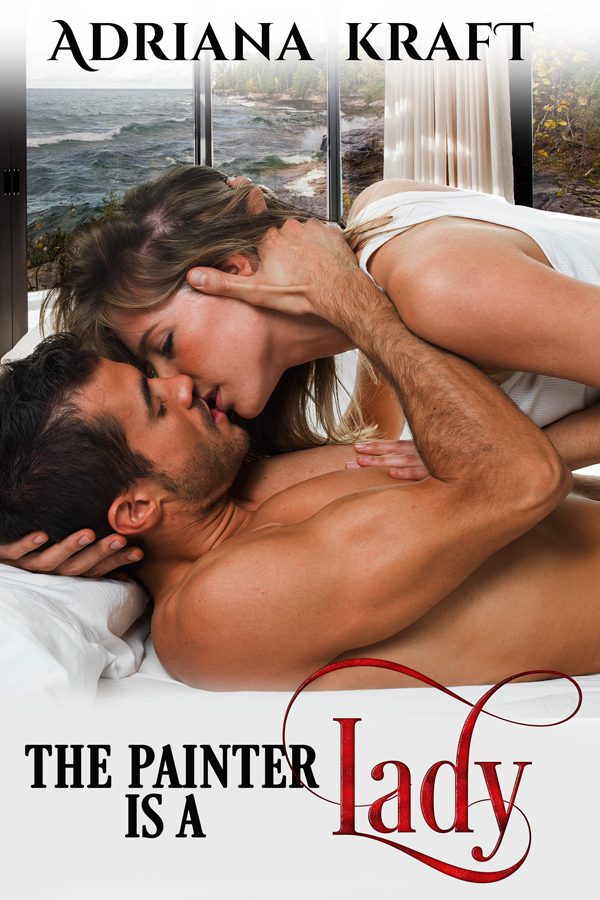 Secrets. Trust. Courage.

Who will knuckle under first—

the war hero?
The spirited single mom?
Or the former high school bully
who still hates them both?
Romantic Suspense Novel: 74,600 words
Heat Level: Three flames
Publisher: Extasy Books,  March 3, 2017
BUY LINKS
PRINT
Amazon
E-BOOK
Amazon   Smashwords   iTunes
Kobo   B&N   Extasy Books
BLURB
When war hero Michael Jarvis returns to his home town on the shores of Lake Superior, he doesn't plan to stay—he's undercover, investigating a possible sex trafficking ring operating on the Great Lakes. But he does want to sample the pesky girl next door he always turned down—and it wouldn't hurt if she'd clear up a few mysteries of her own along the way.
Successfully established as an interior house painter, Brenda Tower finally has her act together as a single mom—but it hangs by a thread, a secret she'll guard with her life. The return of her youthful crush Michael Jarvis threatens to unravel everything.
Jealousy has inflamed Brett Hill's hatred of Michael and Brenda for as long as he can remember. Revenge will be so sweet—and it will fit in perfectly with his high stakes game.
When the secrets break open, can Michael and Brenda find the courage to trust each other, or will revenge and betrayal triumph?
Read an excerpt HERE
Read more about our cover HERE

The Gift Exchange
It's Christmas Eve ~ what gifts will Tara, Mack and Carol unwrap together?
BUY LINKS


New Ménage  Bundle: Swinging Games Series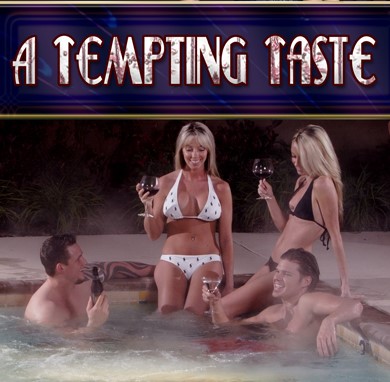 Swinging Games Books One through Five are now available at eXtasy Books as a bundle, saving you more than half the cost of purchasing each book individually!
A fun quick read full of sexual fantasies, lust and passion…a unique love story with a twist. Sandie, Fallen Angel Reviews
Featured in this Bundle:
Swinging Games Book One: Anticipation
Swinging Games Book Two: Hookups
Swinging Games Book Three: A Tempting Taste
Swinging Games Book Four: Complexities
Swinging Games Book Five: The Adventure Continues
BUY LINK
EROTIC ROMANCE
The Reunion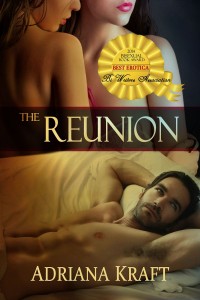 A dark and brooding bad boy, his petite Latina lover, and his unattainable former high school crush ~ a sizzling, combustible threesome.
REVIEWS
Night Owl Reviews Top Pick "The Reunion" by Adriana Kraft is a polyamory novel with real edgy characters with inclusive sexuality. I will just say this is not a read for the faint of heart. … I found "The Reunion" a very easy flowing smooth read. All the characters are well developed and so colorful. Once you start to reading you will be hard put to stop until you are at the end. … Very well written!   ArlenaDean
The Romance Reviews Top Pick Stories written by Adriana Kraft are done with a twist on the usual plots that you find within the genre. In this m/f/f ménage, the twist is the women fall for each other and the man is left to wonder where he stands… All of the characters are well-written; the sex scenes are scorching hot. The story flowed along nice and easy to read. This is another great read from Adriana Kraft. Laurie P.
Book Twelve
February, 2014
Friends with Benefits—what if some of those friends seek exclusivity?
BUY LINKS
 ROMANTIC SUSPENSE
Detour Ahead (Riders Up, Book 4)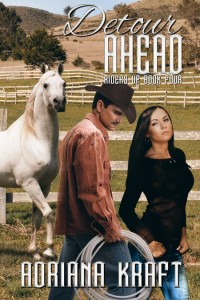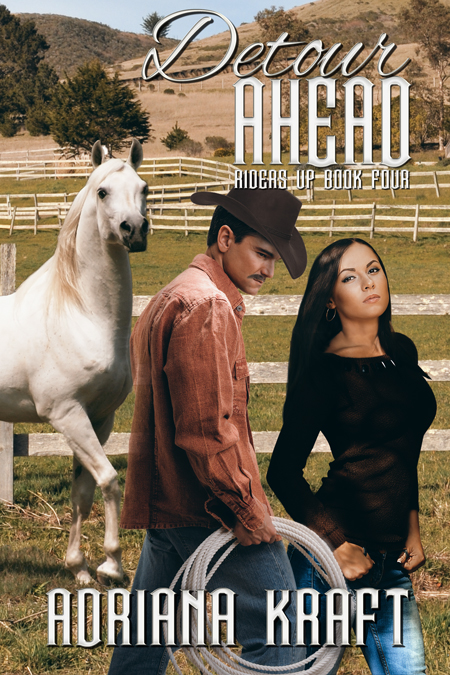 Threatened race horses, city slicker attorney, sexy California wrangler—what can possibly go wrong?
REVIEWS
Night Owl Reviews Top Pick This is a story about letting go of your past so you can move on to your future. It is a story about letting go of being the victim and becoming a survivor…Add into this touching story of recovery a mystery that will keep you guessing to the very end, and you've got a story you won't be able to put down. Angi
You Gotta Read Reviews Rich in romance and suspense, this book had me mesmerized from the first page. I was definitely drawn toward the main character, Traci, and all of the emotional barriers that she faced… a sensational job of combining just the right amount of suspense with a sauciness that leaves you longing for more. Run, don't walk to your nearest book store for this sensational book. Val
BUY LINK     Amazon
July, 2014
A heist? A murder? It's villain's choice.
REVIEWS:
Five stars at Goodreads: "The sex is hot and I loved the phone sex scenes. Never did I expect the ending. It was brilliant. The Heist is a winner!" Sheila G.
Five stars at Amazon: "Very hot…engaging, entertaining, funny and serious, well written and extremely enjoyable to read." Donna H.
BUY LINK Amazon