Welcome to Steam Hop, a monthly offering by members of Marketing For Romance Writers for readers who like their scenes hot and spicy. Click on the links at the end to travel to other Steam Hop posts, and enjoy!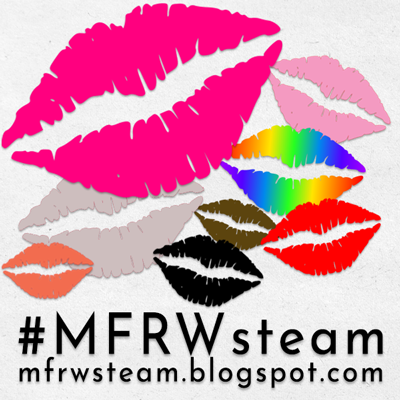 Today's excerpt is their first time, from our newest release, I Am Not For Sale.
EXCERPT
"Are you hungry?" Nadja asked, sidestepping Kevin's question.
"Only for you."
Her shy smile only reinforced his hope that she was indeed ready. He'd thought of little else since their last phone call. The miles between St. Paul and Jefferson City seemed to have doubled since he'd last made that drive.
She gave him a slight nod. "Come with me, please."
She cradled his hand in hers, and he let her guide him up the stairs toward her bedroom. Kevin tried to breathe evenly, but to no avail. Nadja walked directly to the bed and pulled back its comforter. Standing beside it, she turned and looked at him through half-closed eyes. She hesitated and then curled her fingers around the top button of her blouse.
She had four buttons undone before she spoke. The clasp holding her bra became visible. His eyes hurt from not blinking.
"I'm not sure there is a good way for a woman to undress in front of a man."
"I'm not sure there's a bad way." He flexed his fingers. "Please, don't stop."
She nodded. When she had the last button undone, she shrugged out of the blouse, letting it fall behind her. She craned her head to the side in her innocent way and unclasped the bra. It, too, fell to the floor. Her breasts tantalized him, the nipples growing taut.
"Jesus," he muttered, not budging an inch. "So stunning."
"I'm going to think I'll have to pleasure myself," she said coyly, "if you don't start undressing."
BLURB
It's nothing personal…
It all seems simple enough—Ukrainian immigrant Nadja Petrov is determined to hold on to her thriving new coffee shop, Nadja's Literary Cappuccino, and Java Beans District Rep Kevin Langley is equally determined to move into her North Iowa town with a franchise and run her out of business.
He scopes her out, she keeps a watchful eye on him, and the sparring begins. But there are other players involved, and the web of intrigue soon threatens Nadja, her shop, and her aunt as well as Kevin, his potential franchise, and his son. Within this cauldron simmers a sexual attraction between Nadja and Kevin that catapults them to overcome their fears of intimacy and commitment. Their lovemaking is tender and raw. Their love is nearly lost in tragedy—can it survive doubts, fire, and even a death?
REVIEW
Five Stars from N. N. Light: "The romance is so hot, you may have to call the fire department. But it's the character development throughout I am Not for Sale which makes this such an incredible story." https://www.nnlightsbookheaven.com/post/i-am-not-for-sale-bookreview
BUY LINKS
Amazon https://www.amazon.com/dp/B09L7WQH12/
Barnes & Noble https://www.barnesandnoble.com/w/1140503297
Kobo https://www.kobo.com/us/en/ebook/i-am-not-for-sale
Smashwords https://www.smashwords.com/books/view/1115419
ExtasyBooks https://www.extasybooks.com/I-am-Not-for-Sale
GoodReads https://www.goodreads.com/book/show/59582104
BookBub https://www.bookbub.com/books/i-am-not-for-sale-by-adriana-kraft