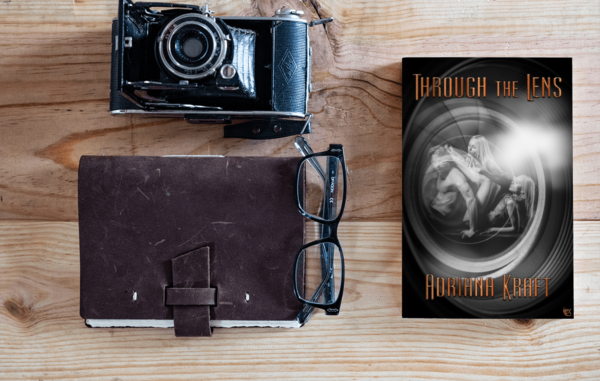 Are you old enough to remember cameras with film – and the long wait between taking a roll of photos and finally picking up the prints to learn what you'd accomplished? We remember. We even once had our own dark room, working with black and white film and prints.
For a while after that, we lived a couple hours south of the Minnesota Twin Cities. We'd finished writing The Heist, for which we studied about art museums, art theft, and the Dutch Masters. But our favorite artistic era is the Impressionists, which we'd often viewed in Washington D. C., Chicago, and New York. Once we knew we'd be moving out of the Midwest, we didn't want to miss the substantial Impressionist collection at the Minneapolis Institute of Art.
At the time, we also raised and showed Boxer dogs. Though we were winding down, we had four marvelous boxers living with us – whom we couldn't leave alone for an entire day with no relief. So we booked them for a day at our usual kennel and headed north on the interstate early on a Tuesday morning, arriving at the Institute when it opened at ten AM.
We studied the gallery map and took the elevator to the third floor, where we found gallery 355 and reveled in masterpieces by Monet (probably my all-time favorite artist), Van Gogh, Seurat, Gauguin, and others.
We next entered gallery 351: Morisot, Pissarro, Degas, familiar friends. Then we turned around to view the wall behind us and were stunned. Seeming larger than life, in an oil painting over six feet wide, a seductive nude woman lay stretched out on a vintage couch, making eye contact with the viewer, enticing, inviting erotic fantasies at the very least.
I'm not sure I'd heard of Caillebotte before seeing this painting. We later purchased a Great Courses DVD set focused on Impressionism and narrated by Prof. Richard Brettell, who for several years curated the European collection at the Art Institute of Chicago; I highly recommend the course.
What I didn't know at the time was that when the struggling artists who developed Impressionism were turned away from the annual Parisian salon held by the Académie des Beaux-Arts, Gustave Caillebotte was the person who financed exhibits for them and purchased many of their paintings. He willed his collection to the French government, and those paintings form the core of the Impressionist paintings now hanging in Paris.
But he also studied painting and became a respected Impressionist artist. I've since stood in front of his even larger Paris streetscape (7 feet by 10 feet) in Chicago's Art Institute, marveling at the tiny white brush strokes that make a diamond in a pedestrian woman's ear sparkle. [Paris Street, Rainy Day]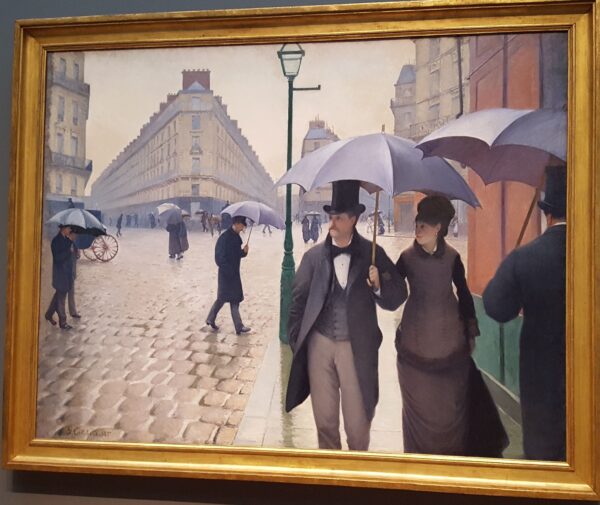 Above photo by Adriana Kraft
The nude that now dominates gallery 351 in Minneapolis was never displayed or sold during his lifetime, considered too risqué.
We weren't planning our next novel when we took this excursion. But our surprise at seeing Caillebotte's glorious nude became the kernel of Through the Lens, the next book we wrote, taking shape around a 3rd grade teacher's shock, our interest in photography, our love of the prairie where we then lived, and of course our erotic romance interest in happy endings for bisexual women.
We set the story in 2002 – when photographic film was poised to become obsolete with the transition to digital cameras. We wanted to give our characters a hands-on experience handling film and the nuances of black and white photography, both behind the lens and in the dark room.
You can read Ellen's reaction to viewing Caillebotte's nude for the first time in our Wednesday blog: https://wp.me/p9O7pv-3bG
If you'd like to see the scandalous painting for yourself, you can find it at this link:
https://collections.artsmia.org/art/1655/nude-on-a-couch-gustave-caillebotte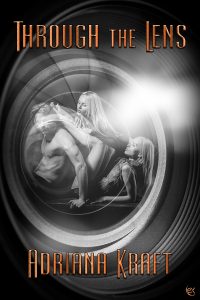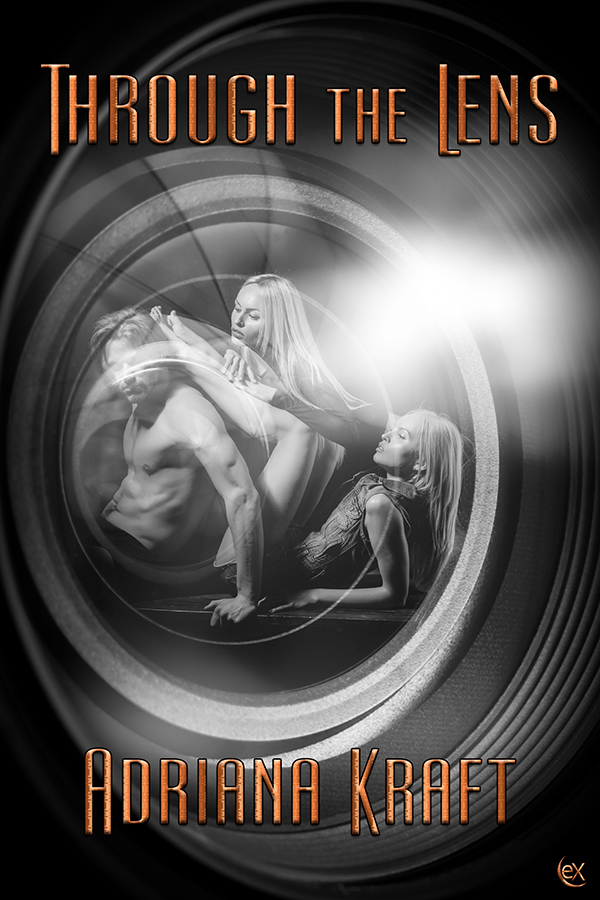 Through the Lens
Release Date: June 26, 2020
Publisher: Extasy Books
Genre: Erotic Romance; Ménage
Tags:
Erotic Romance
Ménage
Four-Way
Prairie
Photography
Erotic Portraiture
BLURB
Will Ellen Jeffers cling to the sedate past that's familiar, or will she embrace a different version of her history—one that includes tragedy, scandal, fortitude, and freedom?
It's 2002, and South Dakota third grade teacher Ellen Jeffers has signed up for a photography summer course and assistantship at an art academy in Minneapolis. Thirty-three, divorced for nearly a decade from her college boyfriend, she's not seeking major change. She just hopes the course will enhance her teaching skills and her resume.
Aaron Brewster comes from privilege, and he has used that status to flaunt his family's values and carve out a successful career as a photographer specializing in black and white erotic portraiture. Has he ever loved? His love is for beauty, sensuality, eroticism. His new uptight teaching assistant will never fit that vision. Should he send her packing? For reasons he cannot fathom, he takes her on as a challenge.
Aaron's frontal assault shocks Ellen, but it also triggers something deep inside she's never been willing to acknowledge. Is her beloved prairie a safe refuge, or will it become a crucible for transformation? The choice is not merely Ellen's.
UNIVERSAL BUY LINK