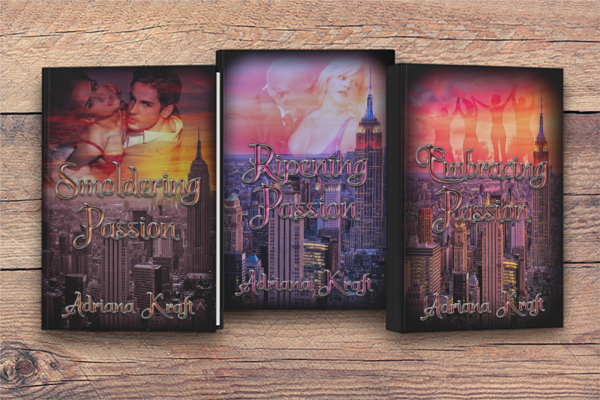 New Release! Book Three in the Passion Series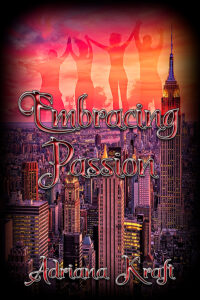 Embracing Passion, By Adriana Kraft
Release date: August 18, 2023
Genre: Erotic Romance
Themes: Polyamory, Menage, Exhibitionism
Pairings: MF, FF, FFM, FMF
ABOUT THE SERIES
The Passion series got its start over two decades ago, when I learned that my father's sister, a pioneering sex researcher, had died. I've thought of her often – how proud she would be of what my husband and I are writing, how advanced she was in her acceptance of all sexual orientations, her openness to all sexual practices that do not cause harm, and her enjoyment of erotic art. There's probably not much out there in the world of sex that she didn't encounter across the many interviews she conducted.
In some ways, our culture has become far more open about so many topics and practices that were still seen as taboo in her era. But many stigmas still remain. In the Passion series, we wanted to give a nod to my aunt's heritage – research in sexuality – as well as to provide erotic entertainment and a happy ending. We wanted to explore the stigma that attaches to adults who have sex on camera for others to view. How do they manage satisfying personal relationships, when their sexual activities will never be exclusive to one person? Can they find a partner who can accept what they do for a living?
In the first two books in the series, the partners who fall in love already work for the fictional Center for Sexuality and Sex Practices. They're challenged to sort out the difference between great sex and true love, but they don't have to overcome a partner's judgment. In Embracing Passion, the hero is an outsider. In fact, he's a cop, hoping to break up what he's convinced is a prostitution ring. He is in for more than a few surprises.
BLURB
A single wrong assumption can be costly…
Now in her late twenties, Rosanne Falcon's life has finally come together—a Ph.D., a prestigious research job, and two exquisite lovers, one of each gender, to complete the package. The intense bond she shares with Simone Stone was augmented rather than broken when Simone met and married Boyd Roberts, and the three have forged a fulfilling polyamory relationship. More would only be trouble.
Widowed by a tragic accident several years earlier, Detective Thomas Walker is nearing retirement after twenty years on the police force and ready to change careers. Fully convinced the hot redhead who meets truckers at the rest area he's staked out is a prostitute, he sets out to build his case against her. He is dead wrong, but each layer he uncovers of what she really does for a living challenges long held assumptions. Can he overcome his deep-seated bias to make room for what's possible?
BUY LINK
Available now at the publisher:
Coming soon to all ebook retail outlets