Welcome to My Sexy Saturday Week 186, where authors tease you with seven sentences or paragraphs from their sexy stories!


This week's theme is My Special Kind of Sexy: "Have you ever met someone who exudes a special kind of sexy? It may not be overt, it may be so understated that it takes a while to realize just how sexy this person is."
For today's excerpt, we've reached back in time – not just to our backlist, but to a different century. We thought perhaps an Edwardian era ghost might fit this description…
BLURB
A tender ghost story and a sizzling erotic romance with a splash of BDSM, Mistress of Purgatory Point is also the deeply moving chronicle of the mid-life sexual awakening of a stoic widow who thought she'd already experienced her one allotted love. One man, two women and two ghosts keep love's fires burning through the deep chill of a North Woods winter—but which love will hold the key?
BUY LINKS
E-BOOK
Amazon     Barnes & Noble  
Extasy Books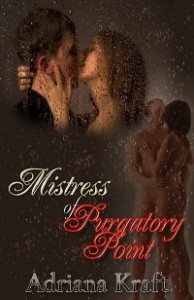 PAPERBACK ~ Books One and Two of the Purgatory series in a single volume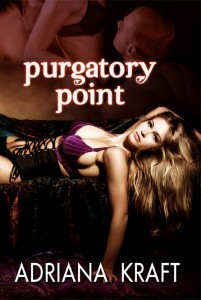 EXCERPT
Here is Martha's first encounter with the ghosts…
Martha closed her eyes and welcomed the drifting sensations of dozing.
He'd have strong hands. She'd have soft hands. Dan's fingers. Natalie's fingers. As if from a distance, Martha recognized her own soft moans. Her loins ached. It was an old ache, yet a familiar ache.
Her nipples pebbled and strained against the flannel gown. Fingers brushed against her inner thigh. She squeezed her legs tightly together, trapping them.
Whose fingers? Hers? His? Natalie's? She was dreaming. She knew she was. She had to be dreaming. She let herself sink farther into the darkness.
"That a girl," came a soothing whisper penetrating her fuzzy brain. "You're a passionate woman. Let it out. Cherish your passion. Let me help. Let me touch you."
"Natalie?" Martha whispered, unable to awaken.
A soft chuckle answered. "Not this time. Maybe later if you allow yourself. Now let me help you."
The pressure of fingertips on her thigh matched the pressure building behind her loins. Her brow furrowed as another set of fingers caressed her taut nipples still protected by flannel. "Oh," she moaned. She tensed and then relaxed. The fingers on her thigh slid upward to where she burned the hottest.
Martha bit down on her lower lip as a finger seeking more heat found it. She gasped and lurched up and down, helping to seat the intruder in her sex. "This can't be happening," she moaned, widening her thighs.
"But it is. You're not pretending it isn't, are you?"
Martha hesitated. The finger stopped its exploring. She shook her head in response to the question and to her overwhelming desire. She wasn't even certain what she wanted, but she wanted with her entire body.
A mouth settled over the flannel that covered a breast. "Good God," Martha whimpered. She heard laughter, and then the magic emanating from her vagina overtook her. The finger deep inside moved incessantly. Martha shook. She didn't know which would explode first, her head or her loins.
"God help me!" she screamed as her need, fulfilled, overflowed.
Exhausted, Martha shook herself awake. Her dream had been as vivid as a nightmare, but she wouldn't deceive herself labeling it as such. It had been too incredible for that. She hugged herself trying to quiet her still trembling flesh.
She'd orgasmed before, but…She threw an arm across her forehead. This one had been so explosive. So simple, and yet overwhelmingly complex. She shook her head. Since when had she become an analyst of orgasms?
Her nipples still tingled. Tentatively, she brushed a hand against a breast. Her eyes flew wide open and she started to a sitting position. The flannel covering her breast was sodden. She slid a hand between her legs. Wet. "Good grief," she murmured to the night, "what is happening to me?"
Be sure to click to travel to the other Sexy Saturday excerpts awaiting your enjoyment!