Welcome to MidWeek Tease, where authors share tempting snippets to tide you over till the weekend. A huge shout out to author Angelica Dawson for hosting our blog hop every week!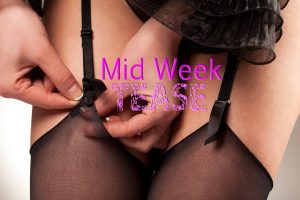 Ready for an adventure in Vegas? We know Meg is ready – here's how she's getting things started in our most recent release, Vegas Gambler (Meghan's Playhouse Book 5):
EXCERPT
Tia turned and began to gather her things.
Meg grinned. Her masseuse challenged her patience, and she'd always considered herself a very patient girl. She tried a different tack. "You look so sexy in that tank top and short skirt. Did you wear those for me?"
Tia shrugged. "I wear what is comfortable for my work."
"At least that doesn't include a bra. I'm pleased to know your nipples grow as taut as mine." She reached out to graze one.
"Don't," Tia pleaded, pulling away before Meg could touch her.
"They look so dusky through the white material. They must be quite dark. Not as dark as your hair," Meg said softly, running her fingers through Tia's long coal-black hair.
This time Tia did not pull away. Her eyes glazed in that French Vietnamese habit of hers when she tried to withdraw inward.
Meg had seen that ploy several times before. "Why do you insist on resisting me so?" Meg murmured, lazily drawing her knuckles across Tia's cheek. Meg's heart raced. Tia had never accepted her advances like this before. Were they finally at a turning point? Had she finally worn Tia down? Penetrated that oriental reserve?
"You're my client." Tia choked out the words. Her dark eyes rounded with emotion. "I've said that before."
"And I've said that I don't have to be your client." Meg cocked an eyebrow and let her hand fall from Tia's cheek to gradually settle over a small breast. "What if I fired you?"
Tia peeked down at the offending hand and then back at Meg. She wet her lips.
"What if I kissed you?"
Tia's lips parted tentatively.
WIN A FREE DOWNLOAD
Vegas Gambler is on tour through from now through April 5 – visit our tour stops to enter the Rafflecopter for a free download of any earlier book in the series!
BLURB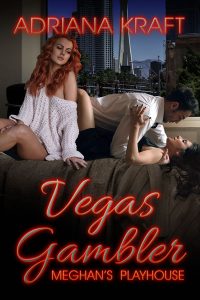 Time off in Vegas with her latest squeeze? Nothing could be better—unless maybe Meg adds another woman, or perhaps another man as well. What happens in Vegas…
Fresh with success from a recent stint in a musical on the Las Vegas Strip, Meghan Keenan takes some time off to play with her current flame, Jack Hawthorne, professional poker player. She's delighted to add her petite masseuse Tia Minh to the mix and even more thrilled when she learns Tia's relationship with her boyfriend Tony Sanders is on the skids. It's the perfect challenge!
Tia has different ideas—she thinks Tony would be perfect for Meg, and she conspires to throw them together any way she can.
Ever the gambler, Jack catches on to Tia's game quickly and keeps the ruse going behind Meg's back. Who knew his heart was up for grabs?

BUY LINKS
Vegas Gambler by Adriana Kraft
Meghan's Playhouse Book 5
Release Date: February 23, 2018
Extasy Books
Isbn 978-1-4874-1333-0
Word count: 26,000
Genre: Erotic Romance, ménage, LGBT
Heat Level: Five flames
~ o ~ o ~ o ~ o ~ o ~
Be sure to check out the rest of the Midweek teases from these marvelous authors: