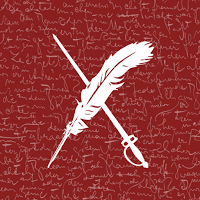 Welcome to Weekend Writing Warriors, where writers share an 8 to 10 sentence snippet of their writing on Sunday.  Be sure to visit other participants at http://www.wewriwa.com/  and read and comment on their #8sunday posts.
Spread the word: Twitter hashtag #8sunday
Continuing in the world of horse racing, our FREE book this weekend is Heat Wave (Riders Up, Book Two).
EXCERPT
Maggie stared thoughtfully at the curious man while her daughter climbed the stairs to her room. Her stomach muscles tightened. She needed his help desperately. But she hadn't counted on her body acting like that of some giddy teenager.
Ed Harrington was still thin, but there was a blurring of pain and challenge and mystery in his face that pulled and scared her at the same time. His hair was still shaggy, but it had been washed. His face, with its distinctive roman nose, reminded her of a shattered mirror. Was haggard handsome a decent way to describe a man?
Riders Up
Romantic Suspense Series

Danger, suspense, stunning race horses,
courageous heroines, and the
complicated men who love them!
These four books are the first my husband and I ever wrote when we took up the challenge of writing romance together. Each of us has loved horses since we were very young, and we've followed the triple crown races, attended three of them, and even (briefly) owned thoroughbreds—none of whom, of course, were triple crown contenders. But we learned a lot about the horse racing world at the level of the everyday average owner, and we poured that knowledge and our love for horses into those manuscripts.
It goes without saying that when we dusted them off years later, they required a LOT of editing, polishing, and even some plot changes. Still, it was a labor of love. This year, to celebrate the upcoming Kentucky Derby on May 5, we're offering each of the books in Riders Up free, one each weekend.
This week it's Heat Wave, Book Two, FREE at Amazon now through Tuesday April 24.
BLURB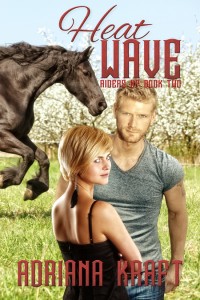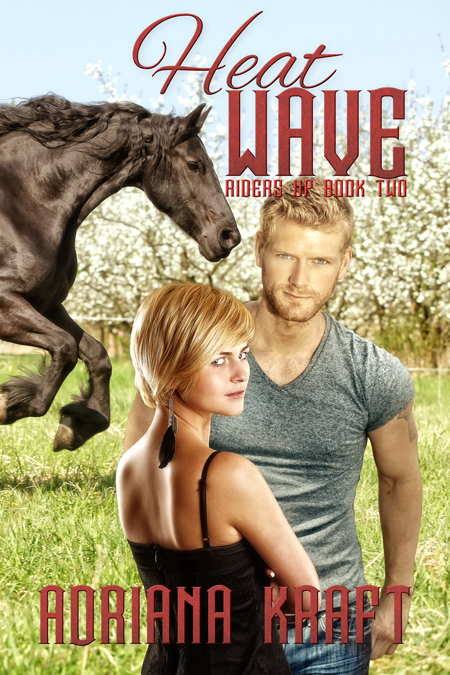 Hang onto the land – but at what cost?
Feisty widow hires ace racehorse trainer to salvage her family's heritage. Can they survive escalating threats to life and limb?
During an oppressive Iowa summer of drought and farm foreclosures, widowed Maggie Anderson makes a bold decision: She'll merge her love of horses and her family's three hundred and twenty acres into a horse farm and try her hand at nearby Prairie Meadows Race Track, where racing purses have just been augmented by the recently added casino gambling.
Down on his luck after being falsely accused in a racing scandal and banned from training, former Arlington Race Track trainer Ed Harrington has skulked home to Des Moines to drown his sorrows and wait for the dust to clear. He's unprepared for the piercing robin's-egg-blue eyes of pint-sized Maggie Anderson, who finds him at a flophouse and offers him a job. Can he pull himself together and meet the challenge?
As the two forge a tumultuous working partnership, they soon discover someone is out to get Maggie's farm and will stop at almost nothing to force her off the land. Can they find and stop the culprit before someone is killed? Can they survive the far greater danger unleashed by the raw passion simmering just beneath the surface of their relationship?
Book Information
Heat Wave
Riders Up, Book Two
April 2014, B&B Publishing
Romantic Suspense, 93,000 words
Heat rating: Four flames (explicit sex, M/F)
REVIEWS
Five stars at Amazon: Heartfelt with mystery and hope…made me cry. Spot on interplay between the main characters…well written and extremely enjoyable to read. Donna H.
I felt like I was on a roller coaster reading this story! Laughing one second, then felt like crying the next, always on the edge wanting to know what is going to happen next. Amy B.
FREE today through Tuesday April 24 at Amazon
Always FREE at Kindle Unlimited