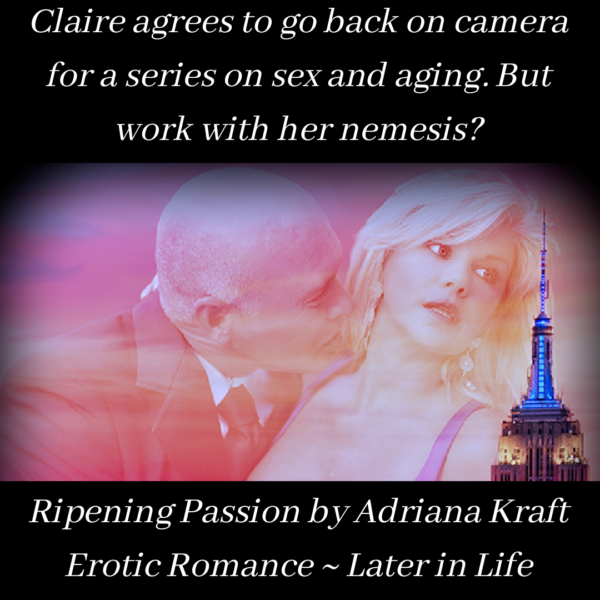 Characters in novels seem to always have the perfect witty comment at the tip of their tongues. I was wishing for that skill the other morning, and the exchange made me think of our latest heroine, who would have done far better than I. She was just interviewed over at the Romance Lives Forever Blog. You won't want to miss her snappy repartee!
I was at our small town's local market picking up eggs and tortillas. When I came to the cashier line, a good-looking Afro-American man in dreads motioned me to get in front of him; I'm sure he was at least two or three decades younger than I. I thanked him, and then he said "May I give you a compliment? I really like your hairstyle." I thanked him for that as well and added, "and I really like dreads, so we're even," and he laughed.
What I wish I'd said? "I'm lucky enough to be old and gray, so I like to look sharp."
I know that's what Claire Johnson would have said – though since she tints her blonde hair to hide the gray, it wouldn't have quite fit for her.
She and I have so many characteristics in common. I've loved writing her story in Ripening Passion (and her role in book one, Smoldering Passion) and am sorry she only plays a minor role in book three, coming August 18. She'll be hard to let go of. She and I are both trim, look good for our age, take pride in what we look like, and are dedicated to health and fitness. I can't claim to be as svelte as she is – I must be at least ten inches shorter. And I will say I've never cultivated the icy exterior she's so skilled at. Oh, perhaps I should add another difference – I've never had sex on camera.
It's been a great pleasure being inside her head and above all having the time to come up with her witty responses as her ice starts to melt. She's recently been interviewed at a couple blog spots, so I thought I'd throw in one of her responses here (and thank you, Kayelle Allen, for this interview question):
Please provide a physical description of yourself.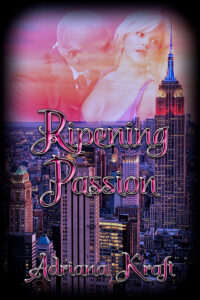 Claire: Thank you for asking – call me vain if you like, but I'm really proud of the fact that I can still turn heads at age 59. I'm a tall trim blonde, and yes, I do touch up my hair color a tad. I used to keep a severe short hairstyle, but I've let it grow out a bit. By now I can rely on my presence and my stature to intimidate when I need to. Did I mention trim? I work out and I watch what I eat.
You can catch Claire's entire interview HERE, and of course I hope we've tempted you into checking out Ripening Passion at this link:
BUY LINK
UNIVERSAL BOOK LINK
BOOK INFORMATION
Title: Ripening Passion
Series: Passion Series, Book Two
Author: Adriana Kraft
Published by: eXtasy Books
ISBN: 978-1-4874-3813-5
Length: 254 pages, 75813 words
Publication Date: June 2, 2023
Genres: Erotic Romance, LGBTQIA, Contemporary Romance 
Tags: Menage, Bisexual, New York City, Later in Life
Heat Level: Four Flames
Pairings: MF, FF, FFF, FMF, MFM
BLURB
Can Max melt the Ice Queen? Should he even try?
Claire Johnson's dedication to sex—the cornerstone of her career—led her to help found the Center for Sexuality and Sex Practices. Now in her fifties, she knows the Center must keep pace with the rapidly growing Baby Boomer market, so she agrees to go back on camera for a series on sex and aging. But work with her nemesis?
Former English Professor Max Wilson has championed the cause of the Center ever since his now deceased wife sought the Center's help to rekindle the nearly extinguished sexual flames of their relationship. He loves working on camera and welcomes the challenge to perform with the svelte but icy temptress.
Sparks fly immediately on and off camera. The jury is out on whether either Max or Claire can transform those sparks into a fire of sexual desire for their viewers—let alone for each other.