Book Blurb
Theirs was a marriage made in heaven, a marriage meant to last forever or so they thought.
A once-perfect marriage was thrown into a fragile state as a result of tiny whispers, and an unfortunate encounter causes the marriage to collapse. The once happy couple separate and a heartbroken Leilani returns home to London. And then out of the blue, Folarin's family needs Leilani's help and she must return to her ex-husband's side. A series of unfortunate events have brought them together again and Folarin and Leilani must come to terms with the realisation, that somebody, somewhere was wrong. As they spend more time together, falling in love seems inevitable; even though one of them is promised to another, they must find a way to learn to trust and forgive each other in other to move on.
Will Folarin be able to trust Leilani?
Will Leilani be able to forget the pain of their first marriage?
Will they both believe in second chances?
Available from:
Amazon UK: https://www.amazon.co.uk/dp/B0BVMZGVJV
Amazon US: https://www.amazon.com/dp/B0BVMZGVJV
Smashwords: https://www.smashwords.com/books/view/1344338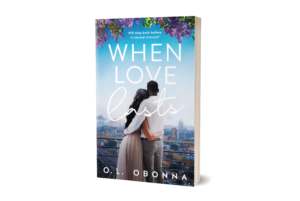 Excerpt
Folarin wasn't surprised Leilani had hung up on him yesterday.
He had expected her to be angry and yes, she was right to be angry, but still, he was angry with himself for calling her and even more annoyed that she hung up on him. And he was also a little bit tipsy.
Damn Leilani.
All she had to do was listen to him, was that so difficult to do? He got to his car, a sleek black BMW X6, and fumbled with his keys, cursing when they dropped from his hands. Placing his left arm on the bonnet for balance, he bent down to look for his keys.
He located them by his feet and gave a whoop of delight. Straightening up, he opened the door on the driver's side and got in. He squinted. Everything looked blurred. But he could see the wide road before him, so he was good to go.
Starting the engine, Folarin gripped the steering wheel and drove out of the restaurant premises, his eyes focused on the road before him.
He had only gone a few miles when he ran a red light.
He didn't hear people screaming and he didn't see the truck coming until it rammed into the passenger side of his car. The impact lifted his car, and it rolled over a couple of times, the windscreen shattering as the car tumbled down the poorly lit street, finally coming to a stop at the end of the road.
As his life flashed before him, Leilani was the last person he thought of just before the airbag deployed in his face.
And then he blacked out.
Author Biography
O.L OBONNA was born in Lagos, Nigeria. For as long as she can remember, she has always wanted to tell stories about love and romance by creating and immersing readers in the romantic adventures of fascinating characters. Her stories are a peek into her version of the excitement, allure, and mystery of the age-old sentimental narrative of love, which she so beautifully and intricately weaves together into a genuinely fascinating read. When she's not surrounding herself with words or reading a romance novel, you can find her in the kitchen trying out new recipes or painting with her children.
She lives in London and is happily married with three children.
Website: www.omoscorner.com
Instagram: @omos_corner
Twitter: @omoscorner
Release blitz organised by Writer Marketing Services.